30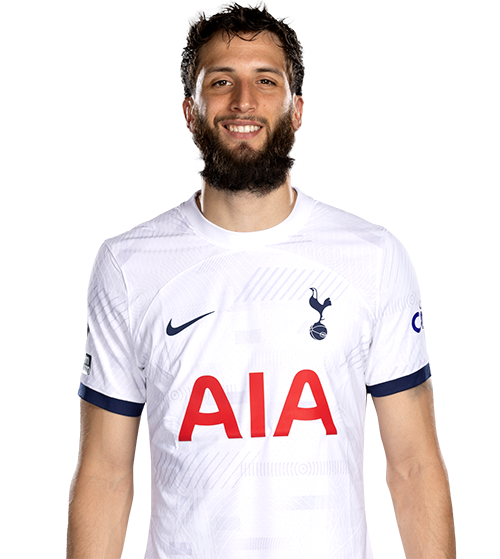 Rodrigo
Bentancur
Born: 25 June 1997 (Nueva Helvecia, Uruguay)
Rodrigo Bentancur
Influential midfielder Rodrigo Bentancur joined us from Juventus in January, 2022, signing a contract until 2026.
After impressing so much after his arrival from Serie A alongside Dejan Kulusevski as we qualified for the Champions League by finishing fourth in 2021/22, Rodrigo moved up another gear in 2022/23 - until injury cruelly cut it short.
Until February, 2023, Rodri had made 26 appearances in all competitions, starting 24, and contributed six goals. That included late winners in comebacks against Bournemouth and Leeds (where he scored the equaliser and winner in a 4-3 classic) in October and November.
Rodri started all three games for Uruguay at the FIFA World Cup in Qatar in 2022 but was injured and had to leave the action early against Ghana in a dramatic finale to Group H, where South Korea's late winner against Portugal took them into second and the knockout phase by virtue of more goals scored.
Back from World Cup duty, Rodrigo returned from injury on 19 January and started our next five games, however, having scored at Leicester on 11 February, sustained a serious knee injury that would end his season early. At the end of 2022/23, Rodrigo had made 44 appearances for us, scoring six goals.
Born in Nueva Helvecia, Uruguay, Rodrigo came through the ranks at Boca Juniors, making his senior debut for them in 2015 and subsequently winning two Primera División titles and a Copa Argentina during his time at the club.
He moved to Juventus in 2017 where he continued to achieve success, winning three consecutive Serie A titles between 2018 and 2020, in addition to lifting the Supercoppa Italiana twice and the Coppa Italia twice, in 2017/18 and again in 2020/21.
He featured regularly in Serie A and the UEFA Champions League throughout his time with I Bianconeri, playing against us in the latter competition during the 2017/18 season.
Rodrigo made a huge impact after joining us in the second half of the 2021/22 campaign, making 18 appearances and starting 16 of our final 17 matches as we secured fourth place in the Premier League and a return to the UEFA Champions League. A box-to-box ball winner with an eye for a pass, Rodrigo partnered Pierre-Emile Hojbjerg in our final 13 league matches, winning nine.
On the international stage, Rodrigo has represented Uruguay since 2017. Part of the young side that won the Under-20 South American Championship in 2017, he made his senior international debut later that year and has subsequently represented his country at the 2018 FIFA World Cup, the 2019 and 2021 instalments of the Copa America and the 2022 FIFA World Cup.
He scored his first senior goal for Uruguay against Venezuela in World Cup qualifying just a day after completing his move to Spurs. At the end of 2022/23, he'd moved up to 54 caps and that goal for Uruguay.
Latest Rodrigo Bentancur news