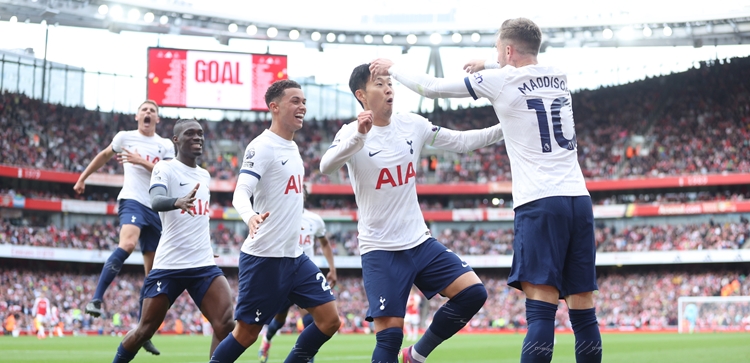 Sonny talks us through his double at Arsenal: "They are 'team' goals..."
@SpursOfficial
Mon 25 September 2023, 14:15|
Tottenham Hotspur
Heung-Min Son wasn't ready to take any credit for the two wonderful finishes that earned us a point at Arsenal on Sunday.
The captain led from the front by converting from two James Maddison assists as we twice came from behind to take a deserved point at the Emirates - one with his left foot just before half-time, one with his right just after Arsenal had retaken the lead in the second half - preserving our unbeaten start to the Premier League campaign.
It was a special day for the South Korea icon as he notched up his 150th goal for us in all competitions and moved into the top 10 all-time north London derby goalscorers with his sixth and seventh goals against the Gunners.
Yet, typically of the man, Sonny was quick to turn the spotlight elsewhere.
Here's what he had to say about his goals at the Emirates...
First goal - 1-1 - 42 minutes
Sonny: "These are team goals. I'm not really comfortable talking about 'my' goals, because they are always 'team' goals. That's really important. In the end, I score the goals, I get the last touches, but the work that goes in... Brennan had a chance to score before we scored, a cross from Pape, then it was a bit of chaos, Brennan shot, saved, then we lost the ball, then Madders won it back, worked really, really well to the line left side, he found me with an amazing cross with his left foot and then it's just a touch with my left foot and luckily it goes to the goal. We were 1-0 down and just before half-time we came back strongly, so, very, very important."
Second goal - 2-2 - 55 minutes
Sonny: "The second goal was something special, but I talked about this situation to Madders before the second half. They made substitutions and we wanted to be more aggressive when their midfielders had the ball, and Madders did it. He won the ball, drove forward and played it at the right time, obviously, he didn't pass too early or too late, he passed at the right time to make my finish really easy. Inside the box, if I have this chance, I'm really confident I can score the goals and running to the fans, that was really special. They were celebrating with me, together, it was special. I'm very pleased and happy with the team performance."
More - Sonny on The Review Show