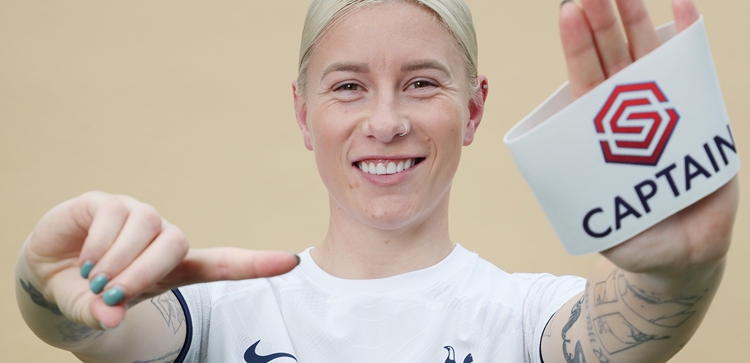 Bethany England appointed captain
@SpursOfficial
Fri 15 September 2023, 10:00|
Tottenham Hotspur
We are delighted to announce that Bethany England has been named as our new captain ahead of the start of the new Women's Super League season.
The experienced England international striker joined us from Chelsea in January, 2023, and enjoyed a terrific start to life in north London, scoring 13 goals in 14 games in all competitions and being named both our Adult and Junior Supporters' Player of the Season.
A former WSL Player of the Season in 2019/20, Bethany was part of the England squad that won Euro 2022 and was a World Cup finalist with the Lionesses this summer.
Molly Bartrip and Olga Ahtinen have been named vice-captains.
Bethany said: "It means a great deal – I'm very humbled and thankful that I've been given the opportunity to lead this football club. I'm excited to get going with the girls, get out onto that pitch and hopefully give some good moments – and some good winning moments especially – to the Club.
"I think I've grown up a lot in the last few years. I've thrived under the opportunity here, I've enjoyed playing my football, I've been playing some great football and scoring some good goals. Hopefully I can continue to score those goals and lead this team in the best way that I know how.
"I'm very much a people person. I value everyone, I think there's a lot of responsibility on being able to speak up when things get difficult and I think on top of that, it's good to make sure that there's good morale in the dressing room. Everyone knows that you play your best football when you're happy. I've obviously met Robert (Vilahamn) a few times now, I've seen the style of play that he's trying to implement and it's great to see how much the girls have taken that on board. For me, I'm just excited to get out there, implement all these things and show everyone that Tottenham Hotspur can play some really good football and that we're going to put in some really good performances this year."
Head Coach Robert Vilahamn said: "Bethany is a true professional who always gives her best and demands the best from her environment. She's a winner and a great role model for others as she always puts the team first. Together with this, she is a very humble person who treats everyone with respect, which makes her the perfect leader and ambassador for Tottenham Hotspur. Molly and Olga are very similar to Bethany as they are very professional footballers who perform and demand excellence in everything they do, both on and off the field, and at the same time they always treat people with respect. They always want to develop and with their great leadership qualities, they set an example for the team to follow."
Introducing our new captain...