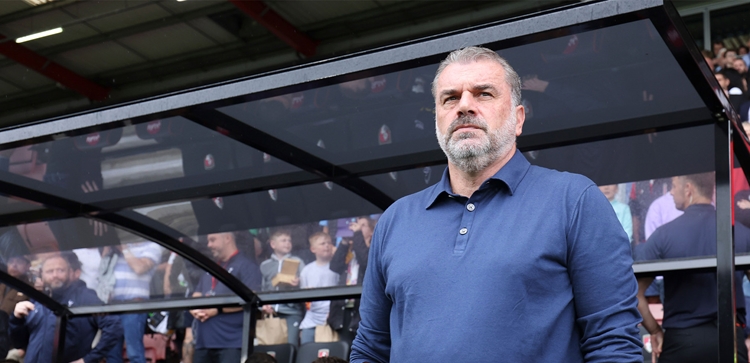 Ange: "I want to bring success to this football club and play in a certain way"
@SpursOfficial
Wed 13 September 2023, 10:30|
Tottenham Hotspur
Ange Postecoglou has underlined his desire to create 'sustainable' success and play a certain way that excites fans.
The Australian has made an instant impression as Head Coach, guiding us to second in the Premier League with an unbeaten start after four games following a draw at Brentford and three wins on the bounce against Manchester United, Bournemouth and Burnley leading to his nomination for the Manager of the Month award for August.
Although it is still early days to his tenure, the former Celtic boss has wasted no time in implementing his attacking philosophy which has seen us notch 11 league goals in the process – bettered only by Brighton & Hove Albion (12) so far – and helped endear him with supporters through playing an attractive brand of football.
Whilst Ange understands success means winning matches and silverware, the 58-year-old is driven by building a mentality and embedding a style of play that delivers sustained success and creates a long-term connection with the fan base.
Speaking to talkSPORT on Tuesday morning, Ange said: "The challenge is, for me, the same everywhere: to get the team to play a certain kind of football that gives its own fans something to get excited about on a weekly basis and brings success to the Club.
Watch - All league goals under Ange so far
"There's no other reason I do what I do. I want to bring success to this football club and play in a certain way. That never changes - I'm uncompromising in that. Success, for me, is winning things.
"But it's not a desperation around just winning something, because I just don't think that gets you a sustainable opportunity to be successful. The foundation is just to play the game a certain way, which I believe brings success but also excites the punters."
Outside of our impressive showing in the league, it hasn't all been plain sailing with us exiting the Carabao Cup in the second round on penalties at Fulham being the only blip so far.
Although Ange has admitted his disappointment on the night back in August, he emphasised the need to build a winning mentality that delivers success year on year and doesn't want to settle for winning a trophy just for the sake of it.
"I'm here because I want to create a club that has the opportunity to win things on a yearly basis," added the ex-Australia national team manager.
Watch - Ange gatecrashes Sonny's post-match after Burnley win
"I want to win every game; trust me, I was disappointed on that night as well. But that's not the endgame for me. It's not about just winning something for the sake of winning something.
"It's about building something. That's what's always driven me my whole career. I want to build clubs that have sustainable success and supporters go into every season feeling good about their prospects and watching their team play football."
Our Head Coach is the first to admit there are challenges ahead as he navigates his maiden campaign in England's top flight, but he has been impressed by how the squad have been receptive to his ideas and really embraced the challenge.
Of course, building a winning culture is the end goal but above all else Ange is fully focused on ensuring his players understand and believe that the manner of victory and performances are more important than just simply winning.
"My thing is: it's not just about the winning, it's about playing the game," he explained. "You've got to believe in something more than just the victory because everyone wants to win, and for me it's the way we play. That's what it comes down to.
"What I've seen since I got here is a group of players who are open to that, have embraced that. It's challenging, it's going to test us, we're going to stumble and fall along the way, but when we get to where we want to and play the football we want to, the winning should take care of itself."