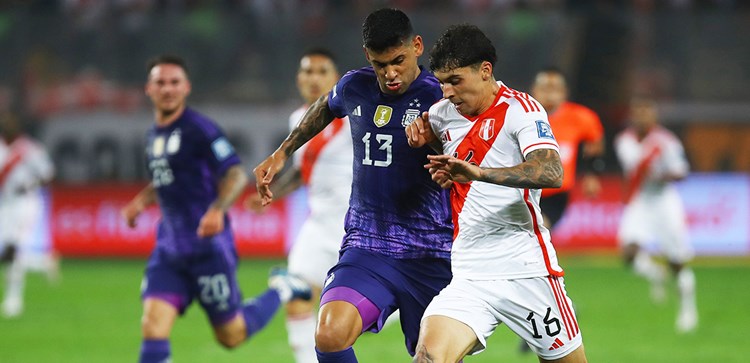 November international fixtures for our players
@SpursOfficial
Wed 15 November 2023, 13:20|
Tottenham Hotspur
We're getting to the business end of qualification for next summer's European Championship, with a number of our players set for potentially crucial matches with their countries over the next couple of weeks.
Italy, Wales, Denmark, Croatia, Israel and the Netherlands could all book their places at the tournament during this international window – we have players in the former three squads (Guglielmo Vicario for Italy, Ben Davies, Brennan Johnson and Joe Rodon for Wales and Pierre-Emile Hojbjerg for Denmark), with our usual representatives for the latter trio (Ivan Perisic, Manor Solomon and Micky van de Ven) all missing out through injury.
Outside of Europe, there are World Cup qualifiers on the agenda for several members of our squad – some of whom will be facing each other with Brazil, Argentina and Uruguay scheduled to meet in various combinations. Of course, among those matches will be Rodrigo Bentancur, who is back in the fold for Uruguay for the first time since last year after his recent return from injury.
There's plenty of action for our Academy players too – Dante Cassanova has received another opportunity to attend a senior training camp for Nigeria, while Will Lankshear has earned his first-ever England youth call-up, joining four of his Club team-mates in the Under-19s' squad for a tournament in Marbella.
The action started earlier this month for Mikey Moore and Callum Olusesi – both star performers for our Under-18s this season – as they produced fine goalscoring displays to help England Under-17s book their place in March's elite round qualifiers for the European Under-17 Championship with three consecutive wins in Croatia. Mikey stole the show with a hat-trick in a 5-1 win over the host nation last Thursday (9 November), having also scored in an 8-0 thrashing of the Faroe Islands in the first game six days earlier. Callum bagged an equally impressive brace in a 5-0 triumph over Kosovo on 6 November.
Here's the full list of international matches involving our players during the international break (all kick-off times are UK)...
Wednesday 15 November
Jamie Donley, Alfie Dorrington, Luca Gunter, Will Lankshear and Ashley Phillips - England Under-19s tournament match against Romania in Spain - kick-off 5pm
Thursday 16 November
Heung-Min Son - South Korea home 2026 FIFA World Cup qualifier against Singapore - kick-off 11am
Dejan Kulusevski - Sweden away Euro 2024 qualifier against Azerbaijan - kick-off 5pm
Alfie Devine and Dane Scarlett - England Under-20s home Euro Elite League match against Italy - kick-off 7pm
Friday 17 November
Cristian Romero and Giovani Lo Celso / Rodrigo Bentancur - Argentina home 2026 FIFA World Cup qualifier against Uruguay - kick-off 12am
Emerson Royal - Brazil away 2026 FIFA World Cup qualifier against Colombia - kick-off 12am
Yves Bissouma - Mali home 2026 FIFA World Cup qualifier against Chad - kick-off 7pm
Pierre-Emile Hojbjerg - Denmark home Euro 2024 qualifier against Slovenia - kick-off 7.45pm
Guglielmo Vicario - Italy home Euro 2024 qualifier against North Macedonia - kick-off 7.45pm
Josh Keeley - Republic of Ireland Under-21s away European Under-21 Championship qualifier against Norway - kick-off 5pm
Saturday 18 November
Ben Davies, Brennan Johnson and Joe Rodon - Wales away Euro 2024 qualifier against Armenia - kick-off 2pm
Pape Matar Sarr - Senegal home 2026 FIFA World Cup qualifier against South Sudan - kick-off 7pm
Troy Parrott - Republic of Ireland away Euro 2024 qualifier against the Netherlands - kick-off 7.45pm
Jamie Donley, Alfie Dorrington, Luca Gunter, Will Lankshear and Ashley Phillips - England Under-19s tournament match against Japan in Spain - kick-off 1pm
Sunday 19 November
Dejan Kulusevski - Sweden home Euro 2024 qualifier against Estonia - kick-off 5pm
Monday 20 November
Yves Bissouma - Mali home 2026 FIFA World Cup qualifier against Central African Republic - kick-off 7pm
Pierre-Emile Hojbjerg - Denmark away Euro 2024 qualifier against Northern Ireland - kick-off 7.45pm
Guglielmo Vicario - Italy Euro 2024 qualifier against Ukraine in Germany - kick-off 7.45pm
Alfie Devine and Dane Scarlett - England Under-20s away Euro Elite League match against Germany - kick-off 5pm
Tuesday 21 November
Heung-Min Son - South Korea away 2026 FIFA World Cup qualifier against China - kick-off 12pm
Pape Matar Sarr - Senegal away 2026 FIFA World Cup qualifier against Togo - kick-off 4pm
Ben Davies, Brennan Johnson and Joe Rodon - Wales home Euro 2024 qualifier against Turkey - kick-off 7.45pm
Troy Parrott - Republic of Ireland home friendly against New Zealand - kick-off 7.45pm
Rodrigo Bentancur - Uruguay home 2026 FIFA World Cup qualifier against Bolivia - kick-off 11.30pm
Josh Keeley - Republic of Ireland Under-21s home European Under-21 Championship qualifier against Italy - kick-off 5.30pm
Jamie Donley, Alfie Dorrington, Luca Gunter, Will Lankshear and Ashley Phillips - England Under-19s tournament match against Mexico in Spain - kick-off 5pm
Wednesday 22 November
Emerson Royal / Cristian Romero and Giovani Lo Celso - Brazil home 2026 FIFA World Cup qualifier against Argentina - kick-off 12.30am