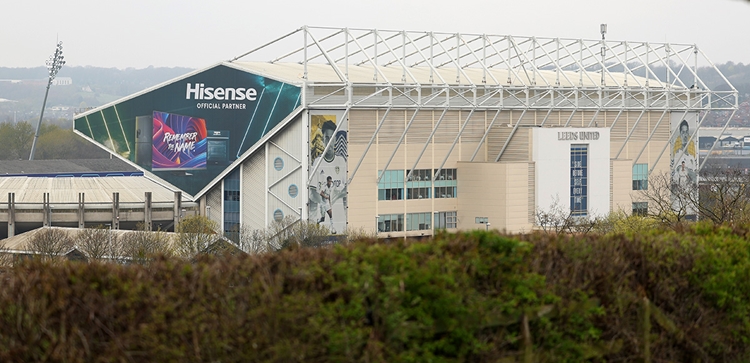 Information for fans travelling to Elland Road on Sunday
@SpursOfficial
Fri 26 May 2023, 11:15|
Tottenham Hotspur
Supporters making the trip to Elland Road for our final Premier League fixture of the season against Leeds United on Sunday should be aware of the following information...
A reminder that we kick-off at 4.30pm, with gates opening at 2.30pm.
Supporters are asked to take particular note of the information regarding the unauthorised use of tickets which can be found below. Supporters without tickets should not travel to the stadium.
Getting to Elland Road
Supporters are advised to plan their travel in advance and are requested to arrive at the stadium early.
Train
Supporters arriving in Leeds by train are advised to use the shuttle bus service from the city centre to Elland Road. Services depart from opposite the Hilton hotel on Sovereign Street, a short walk downhill from Leeds station. Buses will operate from 2.30pm and will take approximately ten minutes to reach Elland Road. Closer to kick-off it will take around half an hour. All shuttle services are wheelchair accessible.
Shuttle Bus
A return journey is £4 and payment is by cash only. Supporters are advised to have the correct money as change may not be given.
Walk
Alternatively, Elland Road is a 40 minute walk from Leeds City Centre and is well signposted.
Car
Supporters are advised of roadworks on the M621 close to Elland Road which will cause delays of up to 40 minutes. Please allow extra time for this in your journey plan.
Limited parking is available at the Fullerton Car Park. This is operated on a first come first served basis with a charge of £6 per vehicle.
Entering the stadium
The visitors' section is located in the south west corner of the stadium on upper and lower tiers of the John Charles West Stand and accessed via Entrances 1 and 2.
Supporters will have tickets checked before entering the stadium footprint.
Accessibility
Leeds United's Access Statement can be found by following the link here.
Accessible parking is available in the Fullerton Car Park, which is close to the visitors' section. Supporters are advised to arrive early as spaces will be limited.
Disabled supporters will be located in the lower tier of the visitors' section and will enter the stadium via Entrance W1.
Please note, some concessions serving accessible areas only accept cash.
Accessible toilets are available and supporters without their own RADAR key will be able to request one from a steward.
Access Stewards will be present in accessible viewing areas along with Tottenham Hotspur Access Stewards should any support be required.
Fan Zone
There will be a Fan Zone located next to the John Charles West Stand which will be available to Away Supporters.
Payments
Payments inside the stadium are predominantly cashless, though some smaller kiosks may only accept cash so supporters are advised to bring cash to the stadium.
Bag Policy
Bags larger than A4 will not be permitted in the stadium. Bags will be searched on arrival at the stadium for security reasons.
There is no bag drop facility at the stadium.
Reporting anti-social behaviour
To report an incident at Elland Road, please notify the nearest steward as soon as possible.
Spurs Respects
We are proud of our superb and loyal support at home and away.
We recognise that most supporters want to watch a football match and not listen to abusive or indecent language from the stands. Discriminatory or violent behaviour, including racist, homophobic, sexist or anti-disability shouting, chanting or actions, is unacceptable.
The Club reserves the right to indefinitely ban supporters found guilty of using discriminatory language or violent behaviour.
Ticket Office
Supporters requiring any assistance from the Leeds United Ticket Office can visit the John Charles West Stand Ticket Office which is adjacent to the Away Turnstiles 1 and 2.
Supporters collecting tickets can do so from the away ticket collection window to the left of the turnstiles. Duplicate tickets must be requested by emailing ticket.office@tottenhamhotspur.com. Supporters will be required to present an email from the Club confirming a ticket has been left for collection before entering the stadium footprint. Identification will be required to collect tickets.
Flags and banners
Supporters wishing to display a flag or banner in the visitors' section are asked to seek permission from Leeds United in advance by emailing stewarding@leedsunited.com with a photo of the flag and its Fire Safety Certificate, along with its dimensions.
Flags and banners must not obstruct the views of others, cover advertising signs or cause a safety hazard. Nor may they display abusive or threatening words, images, political statements or be deemed unacceptable. Flag poles are not permitted. All flags and banners must carry a valid Fire Safety Certificate.
Supporters are also reminded of the Club's own Flags and Banners Policy which is in effect at away matches.
Unauthorised use of tickets
Supporters are reminded that the unauthorised reselling or passing on of tickets is strictly prohibited. In line with the Club's Sanctions & Banning Policy, supporters selling away match tickets above face value will receive an indefinite ban and deduction of all Ticketing Points. Supporters passing on away match tickets equal to face value or less will receive a written warning and a 50% reduction of Ticketing Points.
Supporters unable to attend
Supporters unable to attend the match should contact the Ticket Office as soon as possible. The Club will make best endeavours to reallocate tickets to other eligible supporters and issue refunds upon receipt of original tickets.