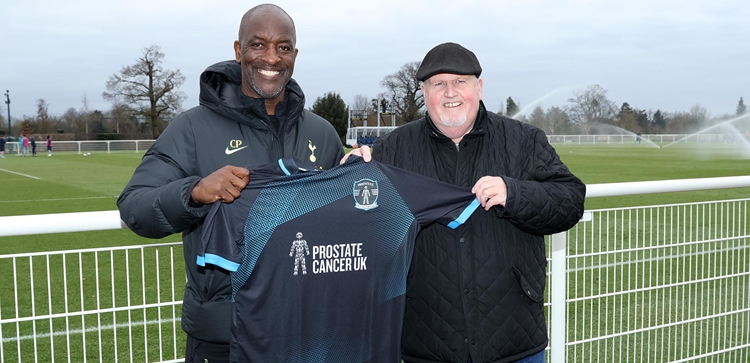 "If it wasn't for Chris Powell, I wouldn't be standing here today" – football fan Keith Smith
@SpursOfficial
Fri 03 March 2023, 12:58|
Tottenham Hotspur
Academy coach Chris Powell has been reunited with a football fan whose life he helped to save – and now he hopes to encourage more supporters to be aware of the risks of prostate cancer.
Back in 2018 when Chris was manager of Southend United, he advocated the work of renowned charity Prostate Cancer UK in encouraging people to get themselves checked; statistics show that one in eight men will get prostate cancer during their lifetime, a figure which worsens to one in four in black men.
Having heard Chris' message, Keith Smith – a fan of the Shrimpers – went to his doctor and was subsequently diagnosed with prostate cancer. Thankfully, having caught the presence of the disease early, plus an additional tumour on his kidney, Keith was able to have successful treatment and is now cancer-free.
Feeling an emotional bond with Chris after what happened, Keith has stayed in touch with the former left-back, who is now Head of Coaching within our Academy, and was invited to attend our recent Under-21 fixture against Brighton & Hove Albion at Hotspur Way along with his wife Brenda so the pair could be reunited.
"Since I was diagnosed with cancer back in 2018, I've felt this kindred spirit with Chris," explained Keith. "I've got no doubt in my mind that if it wasn't for Chris, I wouldn't be standing here today, it's a simple as that. I'll be eternally grateful to him, he's a top guy as everyone already knows and it's just nice to catch up again. I've followed his career, seen him on the England bench, here at Spurs as well, so to be here today with him at the Training Centre is a real honour. The facilities here are brilliant, absolutely unbelievable, out of this world. I never realised, especially supporting a lower league team, how different it could be – everything is new, crisp, the people are so nice, the staff are so friendly… it's absolutely fantastic and anyone who works for the club or plays for the club here is a very lucky person.
"My message now is the same as the one Chris gave me – it's very important that awareness of prostate cancer is raised among the general public and to encourage people to get checked. My mantra has always been 'a blood test won't kill you, but prostate cancer can' so everyone has that incentive to go. If you've previously had any cases of prostate cancer in your family, go and get yourself checked as well so that we can help to beat this disease."
Keith's relationship with Prostate Cancer UK has continued and he and Chris, who continues to be an ambassador for the charity, have both joined the 'Prostate FC' initiative, which aims to raise awareness of the risk factors, fund research and save lives in every football club across the UK.
Chris proudly ran the London Marathon in support of Prostate Cancer UK in 2018 and was thrilled to be able to welcome Keith to take in a game at Hotspur Way.
"It means so much to me that I've got to know someone who was suffering from prostate cancer, who heard my message and is a survivor. Sometimes I don't realise how big that is, to have helped save someone," he said. "If it wasn't for my work and involvement with Prostate Cancer UK, we may have lost Keith but thankfully he's still here to enjoy his life. It's great that we're still in touch – he loves football, he loves Southend, but I think I've got us another Spurs fan now! He and his wife were my guests to watch an Under-21 game and I know they couldn't believe what the club is like in terms of the Training Centre, how it works and how great everyone here is. I just wanted to spend some time with him, as we're both big ambassadors for the cause now.
"What I would say to any Spurs fan is to be aware of the signs and symptoms of prostate cancer, which include age, ethnicity and family risk. Fans can go on the Prostate Cancer UK website where there is so much information, including a brilliant 30-second risk checker which may save your life. More importantly tell your partner, your uncle, your brother and talk to your GP if you are worried. I get myself checked on my birthday every year – that's my gift to myself – so that's the way I remember."
Prostate FC is free to join, and you can access lifesaving information about prostate cancer and find out how you can help save men's lives. To join Chris and Keith at Prostate FC, visit prostatecanceruk.org/prostatefc