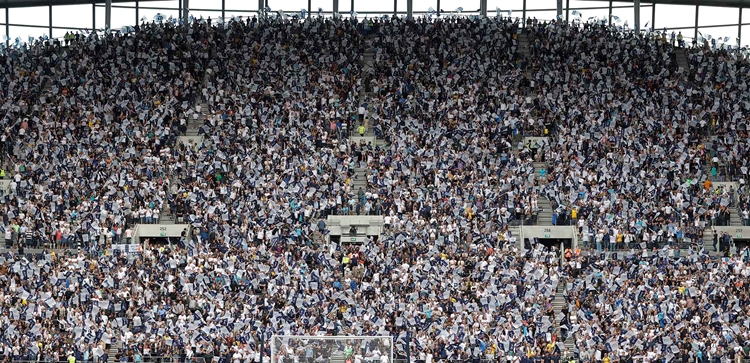 Daniel thanks fan groups behind formation of Fan Advisory Board
@SpursOfficial
Fri 09 June 2023, 18:00|
Tottenham Hotspur
Club Chairman Daniel Levy has held a video call with representatives of our key supporter groups ahead of the launch of our new Fan Advisory Board (FAB).
As announced earlier this year, the FAB will ensure significantly greater fan engagement, providing a forum for elected members from the widest representation of sections of our fanbase, inclusive and reflective of its diversity.
Daniel chatted with members of the Tottenham Hotspur Supporters' Trust, Proud Lilywhites, SpursAbility and Spurs REACH, and thanked them for their roles in negotiating the terms of the FAB while also discussing a range of current topics including new football personnel, fan diversity and inclusion, and greater fan engagement.
On the formation of the FAB, Daniel said: "We are delighted that we've set up this organisation to work together – better communication will bring our fans closer to the Club. This enhanced dialogue will enable us to better consult and communicate."
Asked about the appointment of Ange Postecoglou as our new Head Coach, Daniel explained: "We made a conscious decision that we wanted a coach who would understand what we really wanted as a Club, which was to play attacking football, to enable everyone to enjoy coming to a match and be entertained, and also someone who understood the importance of the Academy."
On the subject of player recruitment, Daniel said: "The notion that Tottenham haven't backed certain managers is incorrect. We're currently paying the price, perhaps, where some of the acquisitions have not turned out to be as we hoped."
Daniel subsequently discussed our plans to raise greater awareness of the much-praised disabled access provisions at our stadium as well as our ongoing endeavours to collect informed data on diversity within our overall fanbase, all with the aim of improving supporter experience and maintaining a welcoming and inclusive environment for all.
Responding to a question on how we can ensure the diversity of the area in which we are based is reflected in the stands on matchdays, Daniel continued: "We have taken perhaps a greater role than other clubs do in trying to lead and influence the regeneration of the area. We do give a lot to the local community and the Foundation plays a very important role – we have given more than 11,000 tickets to the local community over the past 12 months for both football and concerts. We would like to see our fanbase becoming increasingly diverse – that's something that we will look to grow as we promote inclusivity and monitor this."
When asked about financial fair play, Daniel said: "Changing UEFA rules mean there will be greater cost controls and scrutiny of revenue sources and on the percentage that is spent on transfers and wages in order to get to a much more sustainable business model. This will reduce the risk of clubs going out of business. But the rules need to be applied.
"There are also discussions taking place at Premier League level on how rules should be tightened. That's why from a league perspective it's good that we're now openly discussing how we can make clubs more sustainable and viable."
We should like to thank Rachel Martin and Steve Cavalier of the Tottenham Hotspur Supporters' Trust, Sachin Patel from Spurs REACH (Race, Ethnicity and Cultural Heritage Supporters' Association), Chris Paouros of Proud Lilywhites (LGBTQ+ Supporters' Association) and Dee Bright of SpursAbility (Disabled Supporters' Association) for taking part in yesterday's discussion.
Applications for supporters to join the FAB closed in mid-May. Please look out for your opportunity to take part in the elections, set to begin later this month – details of the voting process will be communicated shortly.
The first FAB meeting is set to take place in July, with quarterly meetings thereafter. The elected Chair of the FAB's representatives will also be invited to attend Club Board meetings four times per year.