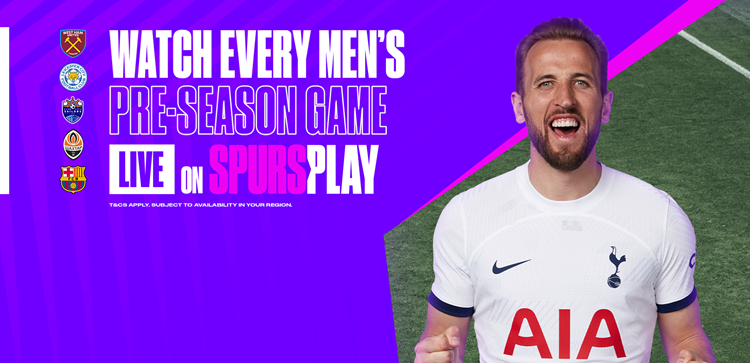 Watch Spurs vs West Ham live on SPURSPLAY – subscribe today!
@SpursOfficial
Mon 17 July 2023, 11:00|
Tottenham Hotspur
This Tuesday (18 July), you can watch us take on West Ham United live on SPURSPLAY!
We begin our triple-header of Asia-Pacific Tour pre-season friendlies with an enticing London derby against the Hammers in Perth's Optus Stadium (kick-off 11am BST/6pm local time)*. With pre-season preparations in full swing under Head Coach Ange Postecoglou, SPURSPLAY is the only place to watch the dawning of a new era in our first outing since the Australian took charge on 1 July.
As well as featuring all five pre-season friendlies live and exclusive on SPURSPLAY, the platform will also be the place to go for behind-the-scenes content as we follow Ange and the squad across the tour and beyond, while it is also the first place to listen to our brand new official podcast, Off The Shelf.
Launched in July, 2022, the channel enjoyed a busy first year with no less than 45 matches broadcast live, including six Men's First Team games and 38 Academy games, while over 130 full-match replays were made available. There were also nine original features released as we brought you up close and personal with all things Spurs.
To add to all of this, subscribers have access to our ever-growing library of Spurs content, which includes our historic documentary collection as well as match highlights of over 700 of our games from the last 14 campaigns.
*Subject to availability
Our confirmed men's pre-season schedule is as follows:
• Spurs vs West Ham United, Optus Stadium, Perth: Tuesday 18 July, 11am (UK time)/6pm (local time)*
• Leicester City vs Spurs, Rajamangala Stadium, Bangkok: Sunday 23 July, 11am (UK time)/5pm (local time)*
• Spurs vs Lion City Sailors, National Stadium, Singapore: Wednesday 26 July, 12.30pm (UK time)7.30pm (local time)*
• Spurs vs Shakhtar Donetsk, Tottenham Hotspur Stadium: Sunday 6 August, 2pm  (UK time)
• FC Barcelona vs Spurs, Estadi Olímpic Lluís Companys: Tuesday 8 August, 7pm (UK time)/8pm (local time)**
*SPURSPLAY broadcast unavailable in host territory
**SPURSPLAY broadcast only available in the UK
SPURSPLAY - what's included?
For an annual subscription of £45 – reduced to £35 for Season Ticket Holders and One Hotspur Members – fans will also be able to gain access to all our premium content, including:
LIVE Men's First Team pre-season friendlies
LIVE Home Under-18s and Under-21s matches plus select Under-21s away games
Selected LIVE Women's First Team matches.
An enhanced matchday offering including full-match replays of EVERY fixture.
Exclusive behind-the-scenes content of Ange Postecoglou's first few weeks at the Club.
First access to our new official podcast, Off The Shelf.
Hundreds of hours of archive footage celebrating the most exciting moments and legendary players in the Club's history.
How to subscribe to SPURSPLAY
Supporters can subscribe to SPURSPLAY via play.tottenhamhotspur.com - you must subscribe via the website, and not the Spurs Official app.
When you arrive on the site, a selection of free content will be available to view immediately, with premium content available only to those with a subscription.
Season Ticket Holders and One Hotspur Members have been sent a SPURSPLAY Pass via email to redeem against their exclusive subscription price at the checkout.
Hit 'Subscribe' or click on the Premium video you want to watch and you will either be asked to log in using the existing Client Reference Number/email address you have registered with us or to create an account.
Then, once you're logged in and subscribed, you're good to go! Sit back and enjoy hours of content either via play.tottenhamhotspur.com, tottenhamhotspur.com or the new Spurs Official app - download the latest version from your app store.
The mobile experience has been optimised so you can enjoy videos anywhere, anytime, whether on a computer, smartphone or tablet while videos are available in high definition with excellent picture and sound quality.
For our frequently asked questions please visit our SPURSPLAY Ask Spurs article here.