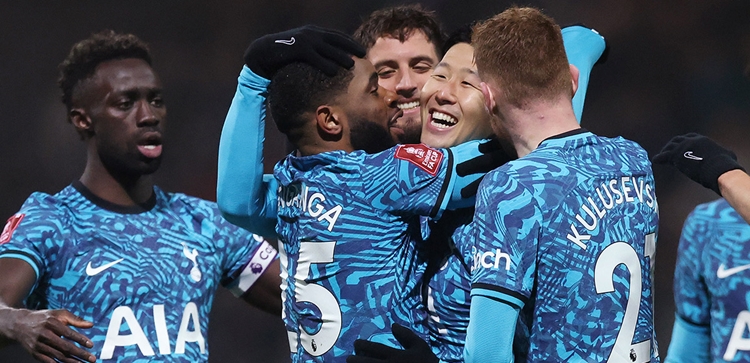 Sonny up to seventh in Club's all-time goalscoring list
@SpursOfficial
Mon 30 January 2023, 12:00|
Tottenham Hotspur
Heung-Min Son's brilliant double at Preston North End on Saturday evening has moved him up a place in the Club's all-time goalscoring list.
Sonny opened the scoring five minutes into the second half of our FA Cup fourth round tie at Deepdale with a now trademark left-foot curler into the top corner before a spin and clinical finish for 2-0 on 69 minutes. Arnaut Danjuma's debut goal completed the 3-0 scoreline, and we'll find out who we face in the fifth round in the draw this evening (Monday 30 January).
Match report, stats, gallery, goal of the game, key moment - it's all there in our new-look report!
The goals took Sonny's total in a Spurs shirt to 139 goals in 352 appearances, taking him ahead of George Hunt, who scored 138 goals for us in 198 appearances in the 1930s.
Meanwhile, both Sonny and Harry Kane are now amongst our top FA Cup goalscorers. Harry is joint-sixth with Jermain Defoe on 15 goals while Sonny's brace at Preston takes him to 14, level with Teddy Sheringham, Les Bennett and Len Duquemin. Jimmy Greaves tops the list by 10 goals with 32 in the competition.
Watch - all angles of Sonny's goals at Deepdale
Our all-time top 10 goalscorers
1 = Jimmy Greaves - 266 goals in 379 appearances - 1961-70
1 = Harry Kane - 266/415 - 2011-
3 - Bobby Smith - 208/317 - 1955-64
4 - Martin Chivers - 174/367 - 1968-76
5 - Cliff Jones - 159/378 - 1958-68
6 - Jermain Defoe - 143/363 - 2004-2014
7 - Heung-Min Son - 139/352 - 2015-
8 - George Hunt - 138/198 - 1930-37
9 - Len Duquemin - 134/307 - 1947-57
10 - Alan Gilzean - 133/439 - 1964-74
Our all-time top FA Cup goalscorers
1 - 32 goals - Jimmy Greaves - 1961-70
2 - 22 - Bobby Smith - 1955-64
3 - 21 - Alan Gilzean - 1964-74
4 - 20 - Len Duquemin - 1947-57
5 - 16 - Cliff Jones - 1958-68
6= 15 - Harry Kane - 2011-
6= 15 - Jermain Defoe - 2004-14
8= 14 - Heung-Min Son - 2015-
8= 14 - Les Bennett - 1946-54
8= 14 - Teddy Sheringham - 1992-2003
8= 14 - Johnny Morrison - 1933-39
12 - 13 - George Hunt - 1930-37
More from Deepdale - Sonny's post-match