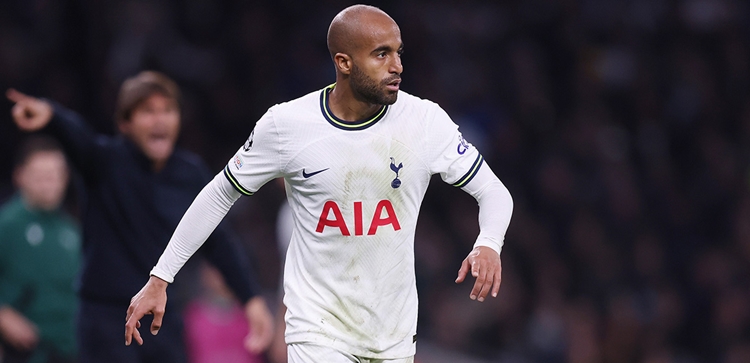 Lucas Moura to feature for Under-21s against Arsenal tonight
@SpursOfficial
Fri 27 January 2023, 16:45|
Tottenham Hotspur
Lucas Moura will return to action for our Under-21s against Arsenal in the Premier League 2 at Boreham Wood this evening (Friday 27 January, 7pm) – the game is live on SPURSPLAY.
The speedy attacker has been hit hard by a tendon issue that has restricted him to 11 appearances in our 29 matches in all competitions so far this season. Indeed, Lucas hasn't featured since coming off the bench in our final match before the break for the World Cup, a 4-3 win against Leeds on 12 November.
Antonio Conte's assistant Cristian Stellini reported after training on Friday that the Brazilian will feature for Wayne Burnett's team against the Gunners at Meadow Park.
Speaking to SPURSPLAY, Cristian said: "Lucas is coming back, and to try to analyse his situation, tonight, he can play one half for the Under-21s. We are happy to know that maybe Lucas can come back. We've lost him for a long time, and it's a problem that you don't know until you try to play a game, to understand if you can be available or not."
How can I watch the game?
You will be able to watch tonight's match live on SPURSPLAY.
The broadcast will begin shortly before kick-off (7pm UK) with live commentary throughout the 90 minutes.
To watch the match, subscribe to SPURSPLAY now.
SPURSPLAY explained
Launched in July, SPURSPLAY is our home of live and on-demand video.
For an annual subscription of £45 – reduced to £35 for Season Ticket Holders and One Hotspur Members – fans have access to our extensive library of Spurs video content, full-match replays of all Men's First Team games as well as live matches.
Our library of video content includes our ever-growing collection of original documentaries, such as:
And there is so much more still to come from our in-house production team over the coming months...
Alongside our documentaries, there are also a whole host of live matches to be broadcast on the platform covering our Under-21s, our Under-18s and our Women's First Team.
Plus, as part of the subscription, fans will have access to the archive collection, which includes full-match replays of some of the most iconic matches in our history, including:
Both legs of our UEFA Cup Final triumph over Anderlecht from May, 1984
Our League Cup Final victory over Chelsea from February, 2008
Our final game at White Hart Lane as we defeated Manchester United in May, 2017
The second leg of our Champions League semi-final victory over Ajax in May, 2019
Meanwhile, the platform also has highlights of over 600 of our games from our last 13 campaigns, including Premier League, FA Cup, League Cup, Champions League, Europa League and friendly matches.
How to subscribe to SPURSPLAY
Supporters can subscribe to SPURSPLAY via play.tottenhamhotspur.com – you must subscribe via the website, and not the Spurs Official app.
When you arrive on the site, a selection of free content will be available to view immediately, with premium content available only to those with a subscription.
Season Ticket Holders and One Hotspur Members have been sent a SPURSPLAY Pass via email to redeem against their exclusive subscription price at the checkout.
Hit 'Subscribe' or click on the Premium video you want to watch and you will either be asked to log in using the existing Client Reference Number/email address you have registered with us or to create an account.
Then, once you're logged in and subscribed, you're good to go! Sit back and enjoy hours of content either via play.tottenhamhotspur.com, tottenhamhotspur.com or the new Spurs Official app – download the latest version from your app store.
The mobile experience has been optimised so you can enjoy videos anywhere, anytime, whether on a computer, smartphone or tablet while videos are available in high definition with excellent picture and sound quality.
For our frequently asked questions please visit our SPURSPLAY Ask Spurs article here.