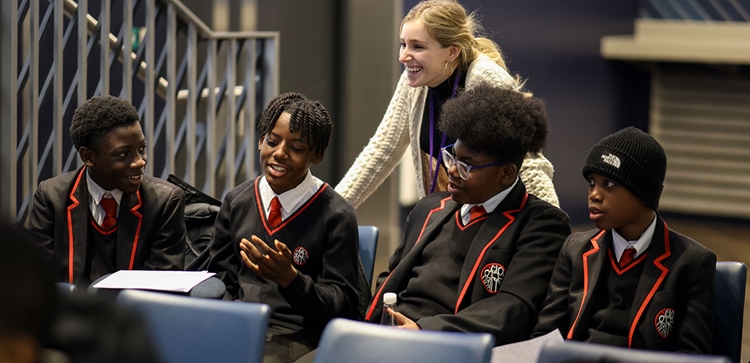 Local students develop life skills at Tottenham Hotspur Stadium through Premier League inspires
@SpursOfficial
Wed 18 January 2023, 15:30|
Tottenham Hotspur
Today (Wednesday 18 January), students from across Haringey and Enfield took part in a series of educational and life skills workshops at Tottenham Hotspur Stadium as part of the Premier League Inspires Programme.
Over 60 young people from Edmonton County School, Enfield County School for Girls, Holy Family Catholic Secondary School, Park View School, and Heartlands High School all took part in a range of activities designed to help build resilience, wellbeing, teamwork, and confidence.
The students began their day by taking part in a first aid session delivered by Direct Action Training. First aid training provides children with a vital knowledge base for dealing with any medical emergencies they may be faced with. It also improves their understanding of health issues and how to care for themselves, building a new generation of lifesavers.
After the workshop, the schools were treated to a behind-the-scenes tour of the stadium, following in the footsteps of our players, the students were able to explore the first team changing rooms, tunnel and pitchside areas.
To end the day, the students enjoyed a surprise zoom call with special guest Club Ambassador Michael Dawson. The students were able to ask Michael questions including how he overcame any setbacks in his career, how he used to deal with pre-match nerves, and what advice he would give to help build confidence.
The activities are the culmination of a 10-week programme in which students have learnt about life skills through the Tottenham Hotspur Foundation and Premier League Inspires - an educational programme aimed at inspiring and motivating young people aged 11-16.
Myri Demetrious, Senior Education Lead at Tottenham Hotspur Foundation, said: "The aim of the programme is to inspire young people and we certainly did that today! Through the different activities, the students were able to discover some life skills which they can take away and use in their every day lives. But most importantly, today was about learning new things and having fun."
Speaking after the event, one of the participants added: "I had a fantastic day at Tottenham Hotspur Stadium. It's my first time here and the stadium is very impressive! I've absolutely loved taking part in the programme and I've learnt a lot throughout and during today's workshops as well."
Premier League Inspires forms part of the wider work delivered by the Club and its Foundation to create life-changing opportunities and experiences for young people across its community.
Our Foundation delivers Premier League Primary Stars, a six-week programme supporting the delivery of physical education whilst encouraging students to engage in Maths and English and Premier League Kicks, which aims to help young people reach their potential through free weekly football sessions and educational workshops, helping to create stronger, safer, and more inclusive communities.
The Club also has a programme providing local schools with free educational tours of the stadium, giving students an insight into the engineering and architecture that has gone into making our stadium one of the best in the world.