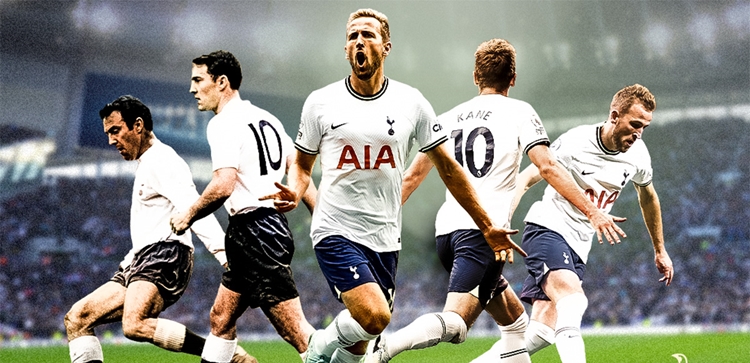 Harry, Greavsie and me - a portrait of two greats by Jimmy's friend, writer and Spurs fan, Norman Giller
@SpursOfficial
Thu 26 January 2023, 12:40|
Tottenham Hotspur
To have two generational goalscoring talents at one club is one thing; to be able to tap into the knowledge of one of Fleet Street's finest, who just happened to be a close friend of one of them, and a Spurs fan of over 70 years' standing to boot, is another.
Norman Giller is that person.
A Spurs fan first, Norman walked through the gates of the Lane at the age of 10, just in time to witness Arthur Rowe's great 'push and run' title-winning team of 1950/51. Ten years later, he'd joined the Daily Express, just in time to report on Bill Nicholson's great double-winning team of 1960/61. Seven decades on, he's still writing about Spurs, swapping the press box at the Lane for Tottenham Hotspur Stadium.
Friends with Jimmy for 64 years, Norman has penned more than 100 books, including 20 with Greavsie – all detailed in his last two publications, The One and Only Jimmy Greaves and My Seventy Years of Spurs.
As Harry Kane equalled Jimmy's seemingly-unattainable mark of 266 goals for the Club with his superb strike to beat Fulham on Monday evening, who better than Norman, who was there for most of Greavsie's goals (apart from what is widely-regarded as his best, as described below) and has now watched a product of our Academy reach the peak of this goalscoring Everest...
A Rolls Royce and a Ferrari...
"It was my privilege to have seen them both at their peak. It's like comparing a Rolls Royce with a Ferrari, but we have to remember Jimmy was a Rolls Royce on terrain that matches would have been abandoned today. Jimmy played on mud-heaps and played with a ball that weighed twice as much, and there's Jimmy treating it like they do today's beach balls. Did anyone ever see his inswinging corners? Goalkeepers hated them. The number of times I saw Jimmy score direct from a corner... but I have to say, Harry is the Ferrari. He is more powerful than Jimmy was. Jimmy used to pass the ball into the net, sometimes it would only just cross the line, and that's what Jimmy wanted, whereas Harry likes to take the netting out. In my dreams, I see the pair of them playing together and that, I promise you, is paradise. That would have been even better than the 'G Men', Alan Gilzean and Jimmy Greaves, it would have been better than Bobby Smith and Jimmy Greaves. Harry Kane and Jimmy Greaves would have been the best thing ever in English football."
Watch - Harry's record-equalling goal at Fulham
Messi, with bells on…
"Fasten your safety belts if you never saw Jimmy. He was Messi, with bells on. And I'm not exaggerating. Could Lionel have done it on the mud-heap pitches that Jimmy played on? And with the likes of 'Bites Yer Legs' (Norman) Hunter (Leeds), Tommy Smith (Liverpool) and 'Chopper' (Ron) Harris (Chelsea) not only allowed, encouraged by the laws of the game at the time to kick him up in the air. So, every time Jimmy received the ball, he knew he was going to get a whack. So, he would jump, and then off he'd go. It was like seeing an express train. Jimmy wasn't the fastest runner over 100 yards, but over 10 yards, he was the fastest thing on two feet. He was perfectly balanced, and he was like Messi in as much as he was two-footed. I defy anybody to say whether Jimmy was left-footed or right-footed."
'You do the counting...'
"I used to always say, 'Jim, you know you're coming up to your 200 goals, it's the earliest it's ever been done', and he'd say, 'you do the counting, I'll do the scoring', and he didn't say that out of conceit, he just couldn't care less about how many goals he was scoring, all he wanted to do was entertain the crowd and if he came off the pitch having scored a goal, two goals, three goals, he was still the same Jimmy Greaves who went on at the beginning. He was always good in the dressing room to cheer players up with a deadpan face. He'd let Bill Nicholson do his 10-minute talk before a game and then at the end of it, Jimmy would say, 'Bill, lovely listening to you, but you can either do it, or you can't', and Bill Nicholson used to say, 'oh, get out on the pitch'. There was a wonderful camaraderie between all the players in those days."
Special feature - remembering Jimmy Greaves...
I missed his greatest-ever goal...
"Unfortunately, the cameras weren't there for his greatest goal, which was against Leicester City. I didn't see it, because got involved in a car crash, and I ran up the stairs as all the crowd were standing applauding, and they applauded for five minutes, non-stop. Jimmy always unbalanced defenders. If you committed yourself to a tackle against him, you were dead. He scored his first-ever goal for Chelsea against Tottenham at White Hart Lane and if you look at the photos, there was Danny Blanchflower, Maurice Norman, Peter Baker all on the floor. Jimmy then just walks away, he used to trundle back to the centre circle as if it was an everyday occurrence."
The great entertainer...
"I was good friends with Jimmy from 17. We wrote 20 books together. Jimmy's greatest victory was beating the bottle, because from 1971 when he was at West Ham until 1976, he was a lost man. All his friends had turned their backs on him because he was a nuisance to be around, because he was an out-an-out drunk. But thanks to the love of his wife, Irene, who divorced him to bring him back to his senses, he managed to pull himself together and then had another incredible career as not only a TV pundit, but a newspaper man and, later on, as a stand-up comedian. And he was as funny as any comic around. He was an astonishing man, Jimmy. I called him the 'great entertainer'. I just wish he was here now..."
The '100 Club' - our all-time record goalscorers
1 = Jimmy Greaves - 1961-70 - 266 goals in 379 appearances
1 = Harry Kane - 2011- - 266/415
3 - Bobby Smith - 1955-64 - 208/317
4 - Martin Chivers - 1968-76 - 174/367
5 - Cliff Jones - 1958-68 - 159/378
6 - Jermain Defoe - 2004-2014 - 143/363
7 - George Hunt - 1930-37 - 138/198
8 - Heung-Min Son - 2015- - 137/351
9 - Len Duquemin - 1947-57 - 134/307
10 - Alan Gilzean - 1964-74 - 133/439
11 - Teddy Sheringham - 1992-2003 - 124/277
12 - Robbie Keane - 2002-2011 - 122/306
13 - Les Bennett - 1946-54 - 117/294
14 - Jimmy Dimmock - 1919-31 - 112/438
15 - Glenn Hoddle - 1975-87 - 110/490
16 - Bert Bliss - 1912-22 - 104/215
17= Billy Minter - 1908-19 - 101/263
17= Johnny Morrison - 1933-39 - 101/154
Records from joining the Football League in 1908/09
Watch our special feature - Norman on Greavsie and Harry...