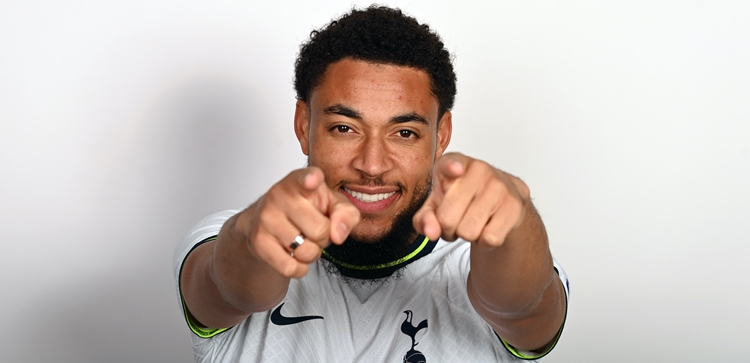 Danjuma: "I'm delighted to be here. This opportunity is very important to me"
@SpursOfficial
Wed 25 January 2023, 18:30|
Tottenham Hotspur
Arnaut Danjuma is determined to make an impact during his time in lilywhite.
An explosive winger who operates mainly on the left but can also play centrally and on the right of the frontline, Arnaut joined us today (Wednesday 25 January) on loan from Villarreal until the end of the 2022/23 season.
Born in Lagos, Nigeria, before moving to the Netherlands at a young age, the forward began his career with NEC Nijmegen before heading across the border to Belgium and join Club Brugge in 2018. After a single season in Bruges, he then joined AFC Bournemouth in 2019 and spent two seasons in England before signing for Villarreal in 2021, where he enjoyed a fine debut campaign, most notably in the Champions League as he scored six goals to help the Spanish side to the competition's semi-finals.
Now our newest recruit in north London, he is keen to make his mark as we look to push on in the second half of our campaign.
"I'm delighted to be here," the 25-year-old smiled. "Obviously, this opportunity is very important to me. I'm just really happy to be here.
"To be honest with you, as soon as Tottenham Hotspur came through, it was a no brainer. It is a massive club with a brilliant coach, brilliant staff and the facilities are obviously unbelievable. So, for me, I'm very, very excited to be part of the team.
"I hope to be positive, hope to leave a good impact, hope to be able to prove my qualities as a player, hope to give something new and something enthusiastic for the fans. And obviously aim for the highest possible in every competition we are competing in."
Having had previous experience of playing in England, Arnaut is hoping he will be able to get up to speed in our colours in no time.
Spending two seasons on the south coast with Bournemouth between 2019 and 2021, the forward admits he already feels very attuned to English life and, if anything, the UK feels somewhat home.  
"I'm very excited (to be back). It is no debate that the Premier League is the best league in the world hence why, for me, I'm very excited to be here, especially at such a great club," he smiled. "It just gives me the opportunity to perform on a high platform and do what I love the most.
"If I look back on my career already, I think there are quite some few times where I didn't really need to adapt to the culture of the club, especially (as) coming to England for me is like coming home. I speak the language, I'm very used to the culture, I'm familiar with the people so I'm hoping I don't need too much to adapt. And I'll do my best to make sure I integrate into the team as quickly as possible."
Watch - Arnaut's first interview