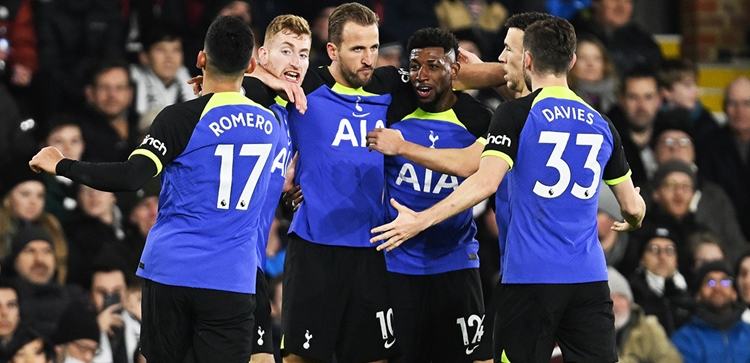 Antonio on Harry: "Only a world-class striker can score this type of goal"
@SpursOfficial
Tue 24 January 2023, 16:05|
Tottenham Hotspur
Antonio Conte spoke about Harry Kane the striker and team player after his record-equalling strike secured a valuable victory against Fulham on Monday evening.
Harry's matchwinner to take him to 266 Spurs goals alongside Jimmy Greaves came in the first minute of added time at Craven Cottage. Receiving the ball from Heung-Min Son with his back to goal on the edge of the area, he spun away from Tim Ream, got the ball out of his feet and whipped a shot across Bernd Leno into the bottom corner. A strong, assured defensive display and clean sheet ensured the goal was enough for the three points.
Report, video, stats, facts, gallery and more - Story of the Match
Antonio revealed afterwards that Harry felt somewhat under the weather on Sunday evening, but his availability was never in doubt.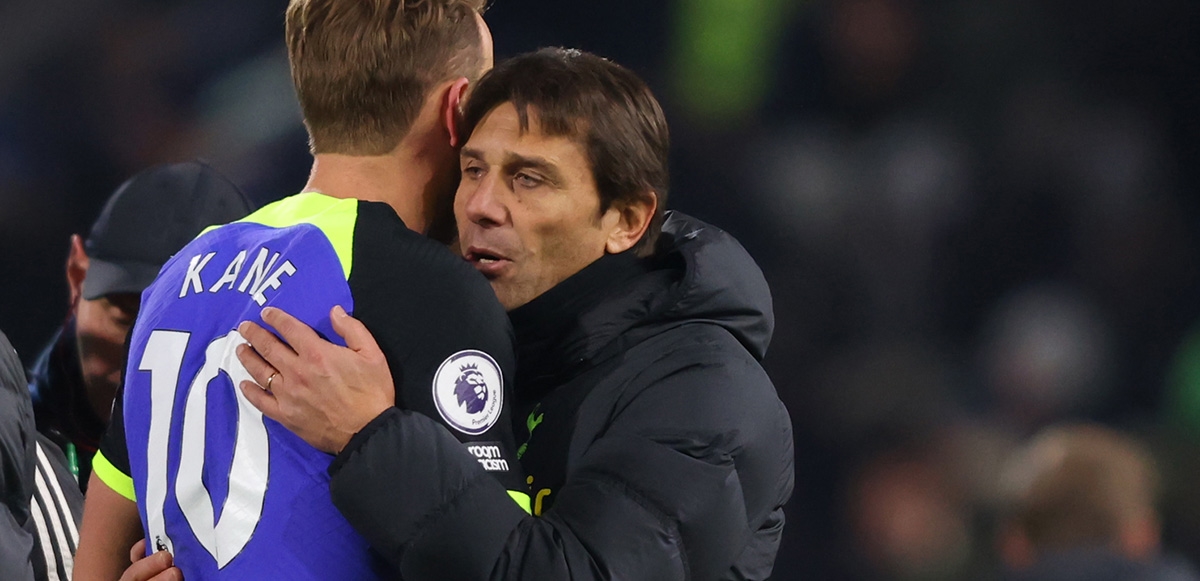 Speaking to SPURSPLAY by the tunnel next to the famous cottage at the stadium, Antonio told us: "Harry, he wasn't so well, with a bit of fever, and he wanted to play. It was a great example. Also, for the others. You can be a good team with good players but first of all, you have to be strong into the core. If the core is strong, you can overcome every difficulty.
"The goal was amazing. Only a world-class striker can score this type of goal. But, you know, we are talking about... we don't have words to describe the importance or the value of Harry.
"What I underline, every time, not only the part of the player, but also the man. I repeat, today, he wanted to play despite he wasn't 100 per cent. He understood the difficult moment of the team after two defeats and he wanted to stay to play, he scored, and fought a lot with the other players. I'm really happy."
Watch - pitchside view of Harry's strike
The '100 Club' - our all-time record goalscorers
1 = Jimmy Greaves - 1961-70 - 266 goals in 379 appearances
1 = Harry Kane - 2011- - 266/415
3 - Bobby Smith - 1955-64 - 208/317
4 - Martin Chivers - 1968-76 - 174/367
5 - Cliff Jones - 1958-68 - 159/378
6 - Jermain Defoe - 2004-2014 - 143/363
7 - George Hunt - 1930-37 - 138/198
8 - Heung-Min Son - 2015- - 137/351
9 - Len Duquemin - 1947-57 - 134/307
10 - Alan Gilzean - 1964-74 - 133/439
11 - Teddy Sheringham - 1992-2003 - 124/277
12 - Robbie Keane - 2002-2011 - 122/306
13 - Les Bennett - 1946-54 - 117/294
14 - Jimmy Dimmock - 1919-31 - 112/438
15 - Glenn Hoddle - 1975-87 - 110/490
16 - Bert Bliss - 1912-22 - 104/215
17= Billy Minter - 1908-19 - 101/263
17= Johnny Morrison - 1933-39 - 101/154
Records from joining the Football League in 1908/09
More from Craven Cottage - Harry's post-match