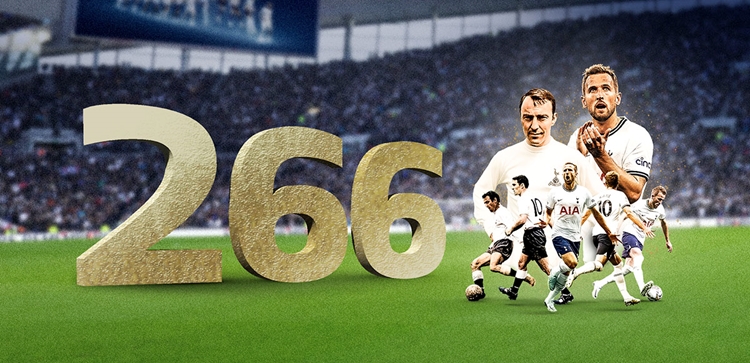 266 goals, 300 Premier League appearances - Harry's latest stats
@SpursOfficial
Tue 24 January 2023, 14:10|
Tottenham Hotspur
Harry Kane equalled Jimmy Greaves' long-standing Club goal record with his wonderful strike at Fulham on Monday night - as well as setting a new Club record mark for Premier League appearances as an outfield player.
Indeed, Harry became the first outfield player to chalk up 300 appearances for us in the Premier League, overtaking Darren Anderton, whose mark of 299 stood as the Club record in the competition until Hugo Lloris became the first to reach 300 at the start of last season, and had stood in terms of an outfield player since 2004 until Harry reached 300 at Craven Cottage.
Naturally though, Harry's goals, rather than appearances, are always in the spotlight and his match winner against Fulham took him to 266 goals in 415 appearances in all competitions for the Club, stretching all the way back to his first against Shamrock Rovers in the UEFA Europa League on 15 December, 2011.
He now needs one more to overtake all-time great Greavsie's record of 266 in 379 appearances for us between 1961-1970.
Watch - pitchside view of Harry's strike at Fulham
That's not all though!
Harry is now up to 199 goals in the Premier League - only two players have reached 200 in the competition's history since it debuted in 1992/93 - Alan Shearer (260) and Wayne Rooney (208). His first goal was against Sunderland at the Lane back on 7 April, 2014.
His goal at Fulham also stretched his record goals in Premier League London derbies to 48, while we can also add one to his record goal combination alongside Heung-Min Son, who claimed the assist at Craven Cottage - their mark is now 44.
The '100 Club' - our all-time record goalscorers
1 = Jimmy Greaves - 1961-70 - 266 goals in 379 appearances
1 = Harry Kane - 2011- - 266/415
3 - Bobby Smith - 1955-64 - 208/317
4 - Martin Chivers - 1968-76 - 174/367
5 - Cliff Jones - 1958-68 - 159/378
6 - Jermain Defoe - 2004-2014 - 143/363
7 - George Hunt - 1930-37 - 138/198
8 - Heung-Min Son - 2015- - 137/351
9 - Len Duquemin - 1947-57 - 134/307
10 - Alan Gilzean - 1964-74 - 133/439
11 - Teddy Sheringham - 1992-2003 - 124/277
12 - Robbie Keane - 2002-2011 - 122/306
13 - Les Bennett - 1946-54 - 117/294
14 - Jimmy Dimmock - 1919-31 - 112/438
15 - Glenn Hoddle - 1975-87 - 110/490
16 - Bert Bliss - 1912-22 - 104/215
17= Billy Minter - 1908-19 - 101/263
17= Johnny Morrison - 1933-39 - 101/154
Records from joining the Football League in 1908/09
Most Premier League appearances for Spurs
356 - Hugo Lloris
300 - Harry Kane
299 - Darren Anderton
276 – Jermain Defoe
268 – Ledley King
266 – Aaron Lennon
257 - Eric Dier
255 – Sol Campbell
251 - Heung-Min Son
240 – Ian Walker
238 – Robbie Keane
236 – Teddy Sheringham
236 – Michael Dawson
232 - Jan Vertonghen
226 – Stephen Carr
226 - Christian Eriksen
Premier League - top 10 all-time goalscorers
260 - Alan Shearer
208 - Wayne Rooney
199 - Harry Kane
187 - Andrew Cole
184 - Sergio Aguero
177 - Frank Lampard
175 - Thierry Henry
163 - Robbie Fowler
162 - Jermain Defoe (91 for Spurs)
150 - Michael Owen
Watch - Harry post-match at Craven Cottage