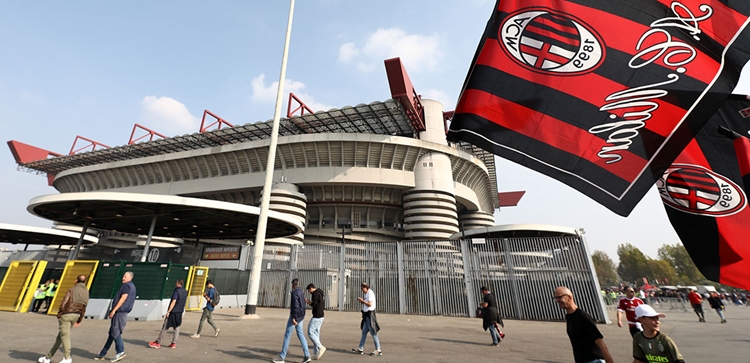 Information for fans travelling to Milan
@SpursOfficial
Mon 13 February 2023, 13:15|
Tottenham Hotspur
Supporters travelling to Italy for our UEFA Champions League round of 16 match against AC Milan on Tuesday 14 February are advised to take note of the following important information.
Kick-off is 9pm local time, 8pm UK time. Gates open at 7pm local time.
Supporters are advised not to travel to the stadium without a match ticket and to arrive at least one hour before kick-off.
Milan
We recommend fans familiarise themselves with the government's travel advice for Italy. Supporters requiring assistance from the British Consulate General in Milan should call +39 02 723001.
Alternatively, consular enquiries can be directed to www.gov.uk/contact-consulate-milan.
Information for tourists in Milan can be found here: https://www.yesmilano.it/en
Emergency numbers in Italy:
Police (Carabinieri) – 112
Ambulance – 118
Fire Brigade - 115
It is a legal requirement to carry an ID document at all times in Italy and supporters must be able to present passports for entry to the stadium. Photocopies will not be accepted.
The Club's Travel Line – +44 7917 880445 – will be available throughout the day and evening of the match for any supporters experiencing problems, including those who may be missing.
On matchday, supporters are recommended by local authorities to spend the afternoon in the area around Arco della Pace. The area has a range of bars and restaurants that will welcome visiting supporters. Local police will be present to offer supporters assistance travelling to the stadium.
The area is a ten minute walk from Domodossola Metro station, which is six stops on the M5 (lilac) line from San Siro Stadio Metro station, the closest to the stadium. The approximate journey time from Arco della Pace to the stadium is 30 minutes.
Supporters are advised to avoid the Piazza Axum near the San Siro before and after the match. No other areas of the city have been identified as areas to be avoided.
Street crime, including pickpocketing, can take place in Milan. Supporters are advised to be vigilant, take sensible precautions and ensure they have valid travel insurance.
The official currency of Italy is the Euro. 
Covid-19 advice
There are no Covid-19 related entry requirements for Italy and it is no longer mandatory to wear face coverings on public transport. However, travellers arriving in Italy, including minors, may be subject to random Covid-19 testing in airports and ports.
More information on Covid-19 in Italy, including what to do if you test positive can be found here: https://www.gov.uk/foreign-travel-advice/italy/coronavirus
Passport validity
Supporters are advised that passports must have been issued less than 10 years before the date of entry to Italy (check the 'date of issue') and be valid for at least three months after the day of departure (check the 'expiry date').
Passports issued before 1st October, 2018, may have extra months added to their expiry date which will not be valid when travelling to the EU. Supporters are advised to check their passports meet these requirements before travelling.
Getting to the Stadium
Supporters should plan their journey to arrive at the stadium no later than one hour before kick-off.
Supporters are advised to take the M5 (lilac) Metro line to San Siro Stadio - the closest station to the stadium and a short walk from the visitors' entrance.
Metro tickets will be required to travel as the cost is not included with match tickets. Tickets must be validated in a ticket machine before starting a journey with machines usually positioned in the entrance to platforms.
Supporters travelling to the stadium from other areas of the city are advised that the interchange from the M1 (red) line to the M5 (purple) line is expected to be very busy pre and post-match.
The Milan Metro system is wheelchair accessible. More information on the Metro system can be found here: https://www.milanpublictransport.com/metro-milan/
At the San Siro
Upon leaving San Siro Stadio station, all supporters are advised to follow the route in the map below to Via Federico Tesio from where the Visiting Supporters' Parking area can be accessed. The area serves as a dedicated entrance for all visiting supporters where tickets and passports will be checked and pat down searches may take place.
General admission supporters will be directed to turnstiles at Gates 5 & 6 through a protected corridor. From there, supporters will be directed to Tower 3 for entry to the stadium. Supporters may be held briefly during this time to maintain separation from home supporters. 
The visitors' section is located in Blocks 343-360 (excluding 349, 351 and 352 which are not in use) in the Green Section, in the third tier of the stadium. Access to the area is via the sloping path inside the tower.
Supporters who may have difficulty walking up the tower are asked to email the Club at supporterservices@tottenhamhotspur.com to request use of a lift. Use of the lift will be at AC Milan's discretion though Tottenham Hotspur staff will be on hand to provide assistance to supporters.
Supporters with Category 1 or wheelchair accessible tickets can find details of their final route to the stadium below.
Safety bars are positioned in front of seats in the visitors' section. Supporters are advised that the section has a steep incline and handrails should be used when moving up and down steps.
Supporters with Category 1 tickets
Upon leaving the Visiting Supporters' Parking area, supporters with Category 1 tickets will be directed to turnstiles at Gates 8 & 9. Category 1 tickets are located in Block S.
Accessibility
Upon leaving the Visiting Supporters' Parking area, supporters with wheelchair accessible tickets will be escorted by Tottenham Hotspur Access stewards through turnstiles at Gate 11, through the stadium to their location.
The location may be exposed to inclement weather so supporters are advised to prepare accordingly. Accessible toilets and concessions are located on a concourse directly behind the seating location.
Ambulant disabled supporters are located in the visitors' section and will be escorted by Tottenham Hotspur stewards via a lift to their seats.
Comprehensive and tailored travel advice will be sent directly to all disabled supporters.
Ticket Collections
Supporters requiring duplicate tickets can request them by emailing ticket.office@tottenhamhotspur.com. Details on where duplicate tickets can be collected in advance of travelling to the stadium will be provided.
Alcohol
Low alcohol beer is available in all areas of the stadium but cannot be consumed in the seating area.
Bag Policy
Bags of A4 size and smaller will be permitted in the stadium and will be searched on entry. There is no bag storage facility at the stadium.
Flags 
Flags and banners are permitted provided they are no larger than 2.5x1m and do not have a flagpole larger than 1m. All flags and banners will require advance permission from AC Milan.
To obtain permission, supporters should send a photo of their flag with its dimensions and fire safety certificate to supporterservices@tottenhamhotspur.com no later than 9am on Friday 10th  February.
Flags will be checked by AC Milan stewards before admission. Tottenham Hotspur stewards will be on hand to support if necessary.
Supporters are reminded that the Club's own Flags and Banners Policy is in operation at away matches.
Payments
Kiosks will accept card and cash payments for food and drinks.
Prohibited Items
The following will not be allowed into the stadium:
Air horns
Alcoholic beverages
Animals
Bags (see above for bag policy)
Banners / flags with offensive, political, racist, xenophobic, ideological, philosophical or commercial messages
Battery pack / power bank
Bottles
Cans
Drugs
Face coverings, including snoods or hoods which may obscure the face
Flags that have not been authorised (see above for flag policy)
Flagpoles larger than 1m
Glass
Helmets
Knives
Laser pointers
Long umbrellas (small, extendable umbrellas are permitted)
Musical instruments
Pyrotechnics and explosive materials
Weapons
Supporters will not be permitted to bring a battery pack / power bank into the stadium. Supporters bringing one to the stadium should contact a Tottenham Hotspur steward in the Visiting Supporters' Parking area so that it can be stored and collected post-match. 
Leaving the Stadium
Supporters will be held back within the stadium for at least 30 minutes after the final whistle for safety reasons. Access to toilets and food and drink from kiosks will be available during this time. Supporters are politely asked to remain patient until permitted to leave.
The Milan Metro operates until 12.30am though may operate later if required due to delays associated with the match.
Spurs Respects
We are proud of our superb and loyal support at home and away. We all have a responsibility to act as ambassadors of Tottenham Hotspur Football Club and act as considerate visitors to those who live and work in the cities and countries we visit. Please respect local customs and traditions by not placing flags or banners on local statues or monuments.
We recognise that most supporters want to watch a football match and not to listen to abusive or indecent language from the stands. Discriminatory or violent behaviour which includes shouting, chanting or actions such as racist, xenophobic, sectarian, homophobic, sexist or anti-disability behaviour is unacceptable.
If you witness incidents like these, please notify a steward immediately. The Club reserves the right to indefinitely ban supporters found guilty of using discriminatory language.
Unauthorised use of tickets
Supporters are reminded that the unauthorised reselling or passing on of tickets is strictly prohibited. In line with the Club's Sanctions & Banning Policy, supporters selling away match tickets above face value will receive an indefinite ban and deduction of all Ticketing Points.
Supporters passing on away match tickets equal to face value or less will receive a written warning and a 50% reduction of Ticketing Points.