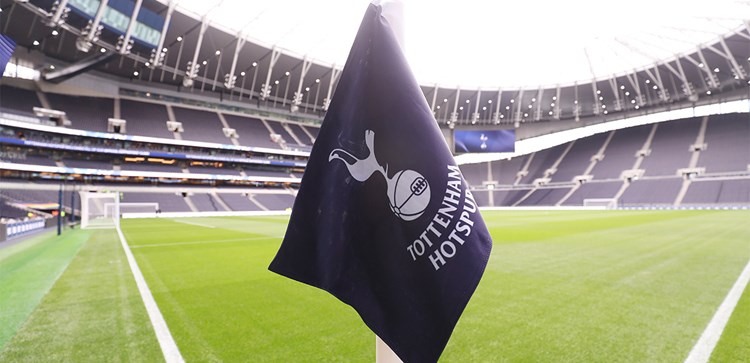 Financial results – year end 30 June, 2022
@SpursOfficial
Fri 10 February 2023, 09:00|
Tottenham Hotspur
• Total Revenue up 23% to £444m.
• Profit from Operations (EBITDA) up 16% to £112m.
• Loss after Tax reduced by 40% to £50m.
• Total Revenue for the year increased 22.7% to £444.0m (2021: £361.9m).
o Match receipts of £106.1m (2021: £1.9m) with the resumption of games being played in front of capacity crowds following two seasons of disruption from COVID, representing the first full season in the new stadium at capacity.
o UEFA prize money was £10.2m (2021: £23.6m) reflecting the difference between a COVID-enforced group stage exit from the Europa Conference League as opposed to competing in the Europa League in the prior year.
o TV and Media revenues were £144.2m (2021: £184.4m) due to a number of games and related TV and Media revenues from 2020 being played out and accounted for in 2021.
o Commercial revenues from sponsorship and merchandising grew £31.5m (a 20.7% increase) as a result of new sponsors, stores being open, growth of eCommerce and the start of new major events being hosted at the stadium throughout the year.
• Operating expenses (before football trading) increased 18.7% to £403.4m (2021: £339.8m) due to increased First Team costs and the return to full matchday operations.
• Profit from Operations, before depreciation, amortisation, player trading, interest and taxation increased 15.7% to £112.3m (2021: profit £97.1).
• The loss for the year after depreciation, amortisation, player trading, interest and taxation was £50.1m (2021: loss £83.8m).
• Over 90% of our financial borrowings of £852.6m, are at fixed rates, with an average interest rate of 2.81%. The average maturity of all our borrowings is 20.4 years, some of which stretch until 2051, ensuring limited impact on the Club's ability to invest in the playing squad.
• During the year the Club agreed a capital increase commitment with its majority shareholder, ENIC, of up to £150m via the issue of convertible A shares of which £100m were subscribed for during the year – and post year end these were converted into Ordinary permanent share capital – taking ENIC's shareholding from 85.56% to 86.58%.
• As with prior years no dividends have been paid.
Chairman's statement
This period represents the first full season with fans at the new stadium, some two years later than envisaged, due to the COVID-19 pandemic which resulted in the loss of circa £200m in revenue.
On the Pitch
Men's First Team
During this period we welcomed Antonio Conte and his coaching staff in November, 2021. When Antonio arrived we were eighth in the Premier League and in the Europa Conference League. We saw strong additions to the squad and finished the 2021/22 season with a run of 10 wins in our last 14 matches and qualified for the UEFA Champions League. Heung-Min Son's two goals on the final day at Norwich City made him joint winner of the Premier League's Golden Boot with Mohamed Salah.
Faced this season with the most congested fixture list in Premier League history, the commitment from our players and staff has been immense and everyone should be proud of what has been achieved so far this year. As I write this we are fifth in the Premier League, in the UEFA Champions League Round of 16 and in the fifth round of the FA Cup.
Women's First Team
Under Head Coach Rehanne Skinner, Tottenham Hotspur Women achieved the Club's highest finish of fifth in the Women's Super League, including reaching the semi-final of the Continental Tyres League Cup. We delivered a Women's team training facility to the west of our Training Centre in order to provide an elite environment for the players and we continue to invest in the Women's team.
Going forward it is crucial that fresh thought is given to the future development of the Women's game. We need to approach this differently to Men's football, which already has an established global following of over 50% of the world's population. Whilst we have seen growth, significant support does not currently exist at a level which attracts commercial income to grow the game in a sustainable manner. If clubs are to commit substantial resources for the long term, it is important that the sport's organising bodies deliver the appropriate regulatory framework and create attractive competitions that would deliver millions of fans around the globe.
Competitive Challenges
Since opening the stadium in April, 2019, we have invested over £500m in our Men's First Team squad – putting us in the top five of spending in the Premier League – with a further £47m commitment in the January window, as we continue to support the team in the world's most competitive league.
Our spend levels show we have invested in the team – however, we walk a fine line between long-term investment and short-termism. This is why our recruitment must be first class as mistakes at this level have a financial and sporting impact for future seasons. We have felt, and continue to feel, the financial impact of supporting player purchases which have not worked out as planned. We have taken steps to improve this area of operations and we believe the recent transfer windows reflect this.
Our aim has always been to combine the financial stability of the Club with remaining competitive on the pitch. We have to do what is right for us and sustainable in the long-term.
The landscape of the Premier League has changed significantly in the last decade. It is understandable that some fans call for more spending, much of which is unsustainable for many clubs. We are competing in a league in which we have seen increased sovereign wealth ownership and consortia finance; and in a league where the spending power is now vested in the hands of a few who dominate and have the ability to distort the market.
We welcome the changes to the governance of the game which will compel greater financial sustainability and financial fair play (FFP). Major changes have been introduced in Europe around FFP regulations, including the newly-launched UEFA financial sustainability rules, the full impact of which will be felt from season 2025/26. They are based on three pillars: solvency, stability and cost control and clubs will have three seasons to adjust to them. Many expect that these new rules will be a game changer for the sport. Even tighter regulations may follow.
Future growth
Stricter control of our cost base, increased commercial and sponsorship revenues and consistent European qualification are key to our ability to continue First Team investment and stay competitive.
Looking ahead, current world events and, lest we forget, the impact of Brexit, have led to rising costs in our supply chains, energy prices tripling, increased business rates and disruption to deliveries, all of which will collectively impact our Club. We shall look to manage our operations to minimise this where possible.
Outside of this period we extended our Club partnership with Nike until 2033 and we celebrated a decade in partnership with our principal partner, AIA – testament to the strength and collaboration of our work together. We are hugely appreciative of their support.
We added new sponsors during and outside of this period and continue to focus on growing our partnerships.
The completion of the stadium will deliver significantly increased revenues due to the larger capacity and ability to stage third party events.
We have had a two-year pandemic interruption, but we are now back on the planned journey of growth.
There has been an ongoing review of all our footballing activities to ensure we apply our values of innovation, drive and excellence.
Changes have been made and further improvements continue. Improved recruitment and ensuring a world-class Academy are key to our future progress.
We are working together to build a strong, deep squad with players that have a winning mentality, a blend of youth and experience. Our recruitment and player strategy includes continuous succession planning – Pape Matar Sarr and Destiny Udogie are examples of this. Our rebuild last summer brought the average age of new signings down to 23 years.
The January transfer window saw the Club sign two internationals, Arnaut Danjuma from Villarreal and Pedro Porro from Sporting Lisbon, while the Development Squad was strengthened by the arrival of Jude Soonsup-Bell, from Chelsea.
We share our supporters' frustrations at so many 'near misses' resulting in a lack of trophies. Over the last two decades we have been in 14 semi-finals, made it to six finals and only won one of them. It must be our hope that we are soon celebrating a trophy win. We are immensely grateful to our fans who have supported us throughout and we want nothing more than to see them rewarded for their loyalty and passion.
Fan Advisory Board
The Government's Fan Led Review was published in November, 2021. The Club is fully committed to improving fan communication and engagement. We have consulted with supporter groups during this period to agree the structure and mandate of our Fan Advisory Board and we are delighted that applications for this will be invited in the coming weeks. Thanks go to the Tottenham Hotspur Supporters' Trust, Proud Lilywhites, SpursAbility and Spurs REACH for their help and input. We look forward to greater structured communication and wider representation of our stakeholders.
Off the Pitch
We are strongly positioned to utilise the stadium to its full potential. This includes the development of Visitor Attractions (Stadium Tours and The Dare Skywalk and Edge), Conferencing & Events and Third Party Events.
It has been encouraging to return to normality, with the stadium busier than ever, full of fans and also visitors from around the world, home to football once again along with a variety of events, from boxing and rugby to welcoming the NFL back and becoming part of the global touring concert scene.
We are delighted that we have been able to secure priority ticket windows for third party events for Club members – an added benefit that has been hugely popular, particularly for high profile concerts such as Beyoncé and Red Hot Chili Peppers.
All of these activities create diversified sources of funding to invest in our principal core activity, football.
To Care is To Do
We are proud of all the work we do with our communities – it underpins our commitment to strongly held values.
We delivered two five-a-side pitches on the perimeter of the stadium during this period – the N17 Arena – a new community sports hub and football talent ID centre. Not only can the Club's Foundation deliver much-needed recreation and sport projects for the local community, we can also identify talented local youngsters right on our doorstep.
This period saw us donate thousands of tickets to local residents and school children, enabling them to participate in many of the exciting events we were proud to host and which drive much-needed spend in local businesses.
We remain mindful of our responsibility more than ever to environmental sustainability and once again, for the third year running, the Club topped the Premier League Sustainability table published by BBC Sport/Sport Positive. We have also signed up to the UN Sports for Climate Action 'Race to Zero', committing to halving emissions by 2030 and becoming Net Zero by 2040. During this period we hosted the first ever Net Zero carbon football match held at an elite level, in partnership with Sky. #GameZero was also named Best Sustainability Initiative at the 2022 Football Business Awards.
Having launched a new stadium with a multitude of environmentally friendly processes and actions – such as plastic free cutlery and an extensive vegan menu – we are determined to drive our passion for the planet, people and nature throughout all of our Club operations.
The OOF Gallery opened in Warmington House during this period, bringing a series of football-themed exhibitions, curated by leading contemporary artists, free to fans and local residents.
The London Academy of Excellence Tottenham, created, delivered and sponsored by the Club and located at Lilywhite House adjacent to the stadium, is a school where the brightest children from one of the poorest areas are taught by tutors from top independent schools. It continues to go from strength to strength. A-level results for 2021 saw 75% of our students achieve places at Russell Group universities, including 10 for Oxford and Cambridge. It is a phenomenal achievement by both the teaching staff and the pupils and represents very real evidence of education at the highest level positively impacting the lives of those children and their families.
We hosted two major job fairs, attracting 2,500 local jobseekers and 80 different employers from a range of industries. Whilst we continue to promote the regeneration of our neighbourhood we are ever-conscious that it is not just new homes that people need, it is education and jobs. Those are the two key drivers which change lives. In an area with such a high level of deprivation and one of the highest levels of unemployment in the country, it is vital that new plans create employment. We remain committed to working with all parties to deliver real meaningful growth for the community of North Tottenham.
In our thoughts
Outside of this period we celebrated the lives of two individuals who sadly passed away. The nation's beloved Queen's passing saw a coming together at the Leicester City match to thank Her Majesty for decades of selfless service – and God Save the King was heard for the first time at the stadium.
The sudden and unexpected loss of our dear colleague Gian Piero Ventrone, our Fitness Coach, was an impossibly sad time for us at the Club, in particular for Antonio, his coaching staff and the players. We took time to properly observe and pay our respects to a true gentleman, an inspiration on and off the pitch.
In Conclusion
We are immensely grateful to our staff who have managed an incredibly busy fixture schedule and embraced the new diversified activities now being delivered at our stadium. It has been both a challenging yet exciting time.
We welcomed back 12 players from the World Cup including gold, silver and bronze medalists – and three national captains. I should like to congratulate World Cup winner Cristian Romero on an outstanding tournament and the pride he brought Argentina.
Congratulations also go to Harry Kane on breaking Jimmy Greaves' long-standing record and becoming the Club's all-time leading goal scorer with number 267 in our game against Manchester City. To see a graduate of our Academy progress to the level Harry has achieved, both here at Spurs and with England, where he is just one goal away from becoming our nation's leading goalscorer, has been both a joy to watch and an inspiration for every young footballer who pulls on a Spurs shirt – an amazing achievement with no doubt more to come.
We are delighted that Antonio is recovering well from a recent operation and is back with us.
Our focus is now on the strongest possible finish to the season.
Our thanks go to all of our fans and staff for their support.
COYS
Daniel