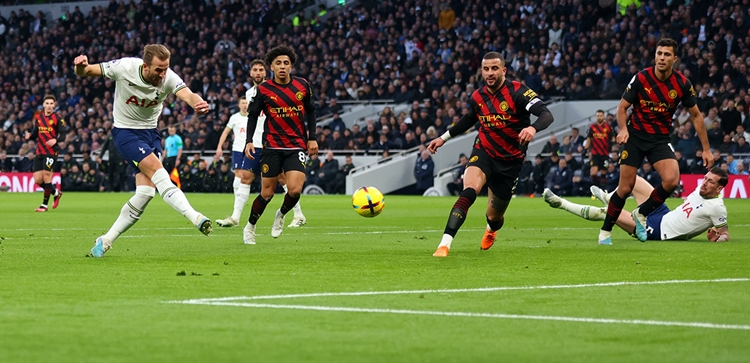 267 - Harry Kane becomes our all-time record goalscorer and hits 200 mark in Premier League
@SpursOfficial
Sun 05 February 2023, 20:10|
Tottenham Hotspur
Harry Kane has become the Club's all-time record goalscorer with his winner against Manchester City at Tottenham Hotspur Stadium on Sunday taking him to 267 goals in all competitions.
The goal, a close-range finish after Pierre Emile-Hojbjerg won possession, was enough for another outstanding home win against the reigning champions and took him ahead of Jimmy Greaves, who struck 266 for us in 379 appearances between 1961-70.
Check out how Harry beat Greavsie's record - and how we beat City - check out our new-look report!
If that wasn't memorable enough, the goal also took Harry to 200 goals in the Premier League.
In doing so, he becomes only the third player to reach 200 goals in Premier League history behind Wayne Rooney (208) and Alan Shearer (260). Don't forget, Harry is also level with Rooney's all-time England international record, currently on 53 goals in his 80 caps.
The '100 Club' - our all-time record goalscorers
1 - Harry Kane - 2011- 267 goals in 416 appearances
2 - Jimmy Greaves - 1961-70 - 266/379
3 - Bobby Smith - 1955-64 - 208/317
4 - Martin Chivers - 1968-76 - 174/367
5 - Cliff Jones - 1958-68 - 159/378
6 - Jermain Defoe - 2004-2014 - 143/363
7 - Heung-Min Son - 2015- 139/353
8 - George Hunt - 1930-37 - 138/198
9 - Len Duquemin - 1947-57 - 134/307
10 - Alan Gilzean - 1964-74 - 133/439
11 - Teddy Sheringham - 1992-2003 - 124/277
12 - Robbie Keane - 2002-2011 - 122/306
13 - Les Bennett - 1946-54 - 117/294
14 - Jimmy Dimmock - 1919-31 - 112/438
15 - Glenn Hoddle - 1975-87 - 110/490
16 - Bert Bliss - 1912-22 - 104/215
17= Billy Minter - 1908-19 - 101/263
17= Johnny Morrison - 1933-39 - 101/154
Records from joining the Football League in 1908/09
WATCH - Harry interviewed on the pitch post-City