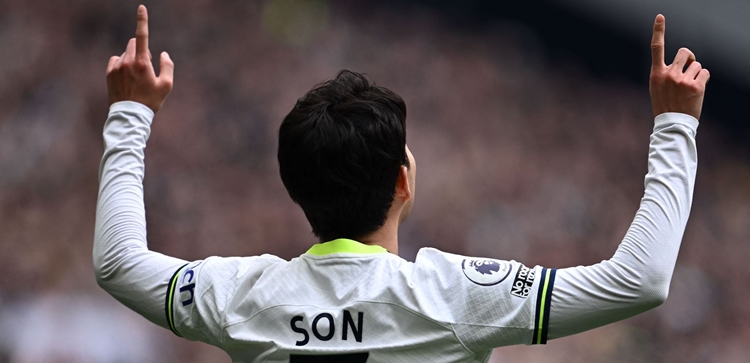 Sonny explains his celebration as he reaches his Premier League century
@SpursOfficial
Sun 09 April 2023, 09:00|
Tottenham Hotspur
As Heung-Min Son curled home in style in our 2-1 win over Brighton on Saturday afternoon, it was a very emotional moment for our number seven.
While it was certainly a goal which brought huge joy to Sonny, with it being his landmark 100th Premier League goal, and to the team, as it was a much-needed strike in a challenging fixture, it was also the South Korean's first goal since the recent passing of his grandfather - and so, instead of his traditional celebration, he took the moment to dedicate the goal to his grandad.
Usually, when Sonny scores a goal, he performs his now iconic 'camera' celebration - using his index finger and thumb on each hand to form a camera in the direction of the photographers capturing the game from pitchside.
However, as he joined the Premier League's '100 club', the electric forward instead dropped to his knees before pointing to the sky in tribute to his grandfather.
Speaking to BBC's Match of the Day after the game, Sonny said, "This was something that I dreamed for. It is an amazing achievement which I wouldn't have had without my team-mates. Scoring 100 goals in the Premier League is a massive thing.
"I was really emotional because I have had tough moments in the last few weeks. My grandad passed away and it was not easy. I want to send that goal to him."
Watch - Sonny's landmark Premier League goal
Watch - All 100 of Heung-Min Son's Premier League goals
Inside the dressing room - squad celebrates Sonny's century