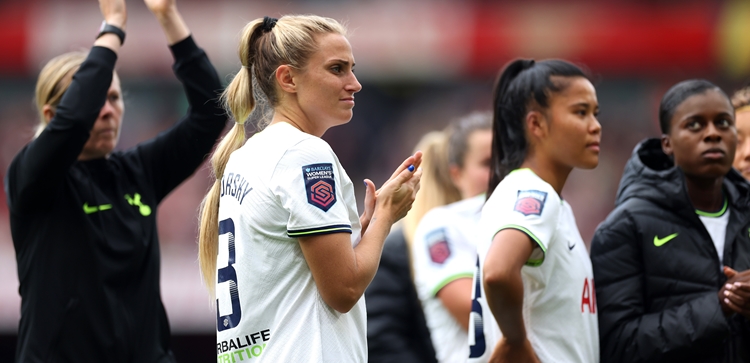 Shelina: 'A lot we can learn from this'
@SpursOfficial
Sat 24 September 2022, 18:40|
Tottenham Hotspur
Shelina Zadorsky was disappointed with our performance in Saturday's north London derby, but was pleased to be part of a historic day for women's football.
"It's very frustrating," she said. "Obviously on such a big occasion we want to put out a better performance and a better 90 minutes for us to be proud of and for our fans to be proud of. I think we just need to have a 90 minute performance where we're organised and disciplined, especially on set-pieces.
"I want everyone to be brave and continue to get on the ball and fight. This was always going to be a battle and we missed the mark."
53,737 tickets were sold for the Women's Super League clash at the Emirates Stadium - a new WSL record.
"Don't get me wrong, I'm a competitor so I'm thinking about the loss right now, but in the bigger picture of women's football, obviously this is an incredible moment and something that will hopefully continue to be the norm for women's football," Shelina said.
"To have this stadium full and a crowd that was loud... it's a derby game and to have that excitement should be the norm going forward, so obviously a lot of positives on that end.
"Our fans were class and wanted to lift our spirits. They know we can put in better performances as well. It's great to see young, aspiring kids who want to be in our position. We're lucky to do what we get to do, so seeing them after the game is a big positive. I'm just a competitor and I want all of us to do better."
Reading in the Conti Cup represents the next chance to do better next weekend.
"I think there's a lot we can learn from this game," Shelina said. "You can't dwell for too long but you need to look back as an individual and as a team to see what we can take forward. Going into the Conti Cup, we want to be able to get to finals of tournaments and put Spurs through that.
"We're going to have to bounce back, recover well and be able to get back on the training pitch."