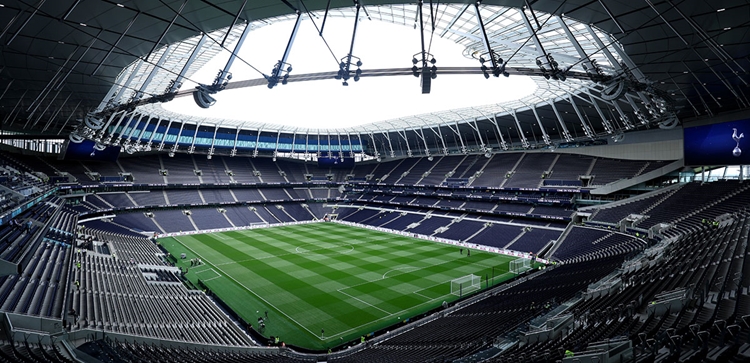 Club partners with LV8 Sport to launch new football training app, Grow Football
@SpursOfficial
Fri 30 September 2022, 09:30|
Tottenham Hotspur
We have joined forces with UK start-up technology business LV8 Sport to launch Grow Football, an innovative new football training app available to download now for players of all ages and abilities.
With unique movement tracking technology, Grow Football uses a smart phone's camera feed to enable football enthusiasts to film themselves taking part in fun, engaging and challenging drills and competitions, which have all been specifically created through collaboration with the Club.
The simplicity of Grow Football means that it can be used by anyone, anywhere, and at any time. All the user requires is an iOS smartphone and a football to take part and record their performance and scores, which can be uploaded to local, national and global leaderboards, as well as being able to share in private friendship groups within the app or on social media.
The launch of Grow Football follows two years of rigorous research and development with the aim of becoming an essential tool for many of the 265 million male and female players around the world who take to the pitch every week.
As a partner of Tottenham Hotspur, Grow Football benefits from the expertise and advice of coaching staff from the Club's Academy, ensuring that the app continues to apply best practice training and coaching methods for all users.
Grow Football has already been trialled with the help of Academy players at the Club's Training Centre – some of whom also demonstrate challenges within the app.
The technology capabilities behind the app have been developed alongside Undergraduate, Masters and PhD students from Imperial College London, led by Professor William Knottenbelt.
In partnering with Grow Football and becoming a shareholder of LV8 Sport, we are committed to the ongoing improvement and development of the app and will continue to offer consultation as the product grows and expands its capabilities.
Dean Rastrick, Academy Manager, Tottenham Hotspur, said: "Our Academy players and coaches have worked closely with the team at Grow Football throughout the app's development. We look forward to being part of this journey and offering our knowledge and experience to help Grow Football become an app that can genuinely enhance the way people around the world train and play. That commitment and belief in this app has only been strengthened by the Club becoming shareholders in the project."
LV8 Sport Chief Executive Francis Jago said: "Tottenham Hotspur's track record of developing players is among the best out there, which is why the Club's expertise and input has been, and will continue to be, so invaluable to us in developing Grow Football. Spurs' credentials in embracing innovative ideas on and off the pitch is well known and the fact they have supported our work on this app speaks volumes. With the help of the team at Imperial College London, we have created unique technology through a phone's camera that means the app can be used by anyone, anywhere. The straightforward functionality of the app means all you need is a ball and a phone. Our core aims are to make football fun and to help players of all ages improve their game. We believe Grow Football will not only change the way aspiring footballers and teams train but also get even more people active and into football."
Grow Football is now available to download on the App Store, with the first six months free (£2.49 a month thereafter).
During the partnership, we shall also be working with Grow Football on delivering fun activations for fans around home matchdays and through our One Hotspur Membership programme.
To find out more about Grow Football, visit https://www.grow.football or follow them on Instagram.