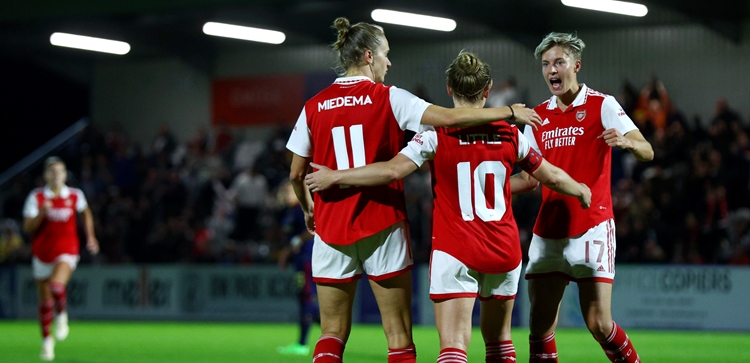 Arsenal analysis with football writer, Tim Stillman
@SpursOfficial
Wed 21 September 2022, 12:00|
Tottenham Hotspur
As we travel to The Emirates Stadium this weekend for Saturday's North London derby in the Women's Super League (1.30pm UK), Arsenal football writer and broadcaster Tim Stillman, who covers the Gunners regularly for Arseblog, gives us his insight into our opponents.
Held by Ajax
"It was a really really tough and intense game in the 2-2 draw on Tuesday. It's a strange one because a lot of people probably don't know much about Ajax but they're a team who presses really intensely and that's an approach Arsenal struggled with in the Champions League a few times last season. They really struggled with it in the first half on Tuesday, but in the second half they were much better. They really picked up the intensity. It was a really strange game actually because Ajax were the better team in the first half but it was 1-1 and Arsenal kind of got away with it. Then Arsenal were much the better team in the second half but it was 1-1 again. It felt a bit like a defeat in the end because the Ajax equaliser kind of came out of nothing, but it makes the second leg a really difficult game. I think we should've been expecting that anyway. If you look at the other qualifying results, nobody won by more than one goal and I think that tells you that the competition is pretty equal, even at this stage."
Coping with an aggressive press
"On The Emirates pitch it will be slightly different because it's a much bigger playing surface which will suit Arsenal. At the moment, I think Tottenham are still a better team without the ball than they are with it. This sort of game probably suits Spurs a little bit more than a team like Leicester. Like the game last season, I fully expect Tottenham to be physical and difficult to break down. Whether they'll be able to do the sort of pressing that we saw from Ajax on Tuesday on a smaller pitch, I'm not sure, but I'm certainly expecting a very physical approach from Spurs. I can certainly see the value in trying to do that."
'She's had seven shots from centre-back'
"One player to look out for is Rafaelle Souza. She had three shots against Brighton on Friday night and four on Tuesday, so seven shots from a centre-back. Most of them were headers from set-pieces, which she gets a lot of joy from. She's so good on the ball and dribbling past players, making interceptions high up the pitch. She's one of the players we didn't see much of last season because she was injured and I really think she gives Arsenal an extra dimension. She's quite similar to Leah Williamson but a left-footed version. She helps Arsenal to be able to play really high up the pitch. The fact that she's left-footed as well is something that Arsenal really missed before they signed her last season, when they had two right-footed players at centre-half."
Putting four past Brighton
"What you saw on Friday was an Arsenal side who were the only team not to start any new signings. They've only signed one outfield player and she was on the bench and I think you could see there was value in that for Arsenal. I watched the Chelsea game and they looked like they were integrating some new players. City have had a lot of turnover, whereas Arsenal just look like the Arsenal of the back end of last season really. I think there was definitely real value in that. All of us expect a similar kind of season to fight Chelsea for the title. It will probably come down to small margins again.
"I spoke to Jonas [Eidevall] and he said he wanted one more signing. Essentially, they signed a Brazilian forward, Gio Queiroz, and wanted her in the squad, but she's gone on loan to Everton because the World Cup is next year and she's on the cusp of the Brazil starting 11. She wants to play every week and at the moment at Arsenal she wouldn't get that because Beth Mead plays in her position. They've got the player in but she wanted to go on loan for a year, so I think ideally Arsenal would prefer to have her. Jonas said he wanted one more player and that was a forward, but he says he will address that in January."
'I think there will be more surprise results'
"I think the top two will look the same and third will be between City and United. Where the WSL is really exciting is in the middle. Tottenham got that best of the rest position last year and everyone is still investing. Villa brought in Rachel Daly and we saw the impact she made. I just think there is no way Villa could've won that game last season without a striker like that. Everyone's investing in strikers, Tottenham included, so I think there will be more surprise results. We nearly got one in the North London derby last year in the away game for Arsenal. I do think we will see more results like that, particularly when Arsenal and Chelsea have the Champions League as well. I do think the table will look slightly familiar. I don't think there's an obvious weak team this season, like in the last few years with Bristol City, Birmingham or Yeovil. They were teams you looked at and thought they'd probably go down, whereas this time I don't think it's as clean cut. I think there will be more teams earnestly playing for points because I think when you've got one relegation space and one really weak team, a team like Everton last season for example, I think they kind of gave up about half way through the season because there was nothing for them to play for. I don't think that's going to happen as much anymore. I think you'll see more surprise results, but I don't think the table will look that much different at this stage."
Saturday's occasion
"I'm hugely excited. If you'd have told me even six months ago that you'd be looking at 45,000 for a WSL game at The Emirates, it's just absolutely incredible and shows you how important what the England team achieved this summer was. Without that, I know Arsenal initially sold around 22,000 tickets for this fixture in March, which is still a really strong number, but that's doubled and we all know why that is - because of what England achieved at the Euros. In very simple terms, that's doubled ticket sales for one game, which shows you what a multiplying effect it has. I'm hugely excited, can't wait.
"Arsenal will have three players in the team who were playing at the Euros in front of crowds like that, but quite a lot who weren't and haven't done it quite as often. Most of them have probably done it at least once. That 45,000 is largely going to be Arsenal fans, so playing in front of that partisan support is different to 50,000 people turning up for an international or even a cup final, where lots of tickets are sold to schools. This is going to be really special for the players."