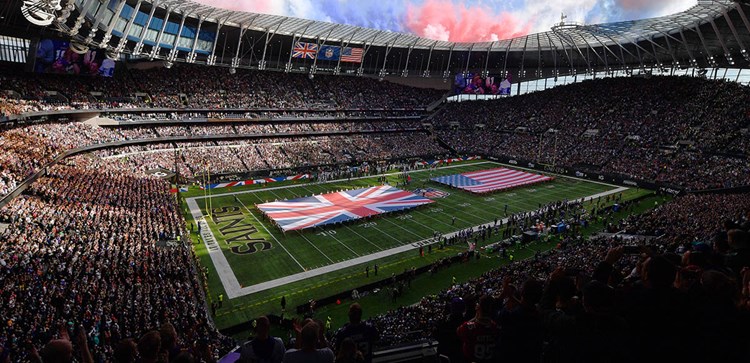 Vikings win a classic against Saints as NFL returns to Tottenham Hotspur Stadium
@SpursOfficial
Sun 02 October 2022, 18:15|
Tottenham Hotspur
Minnesota Vikings won a thriller 28-25 against New Orleans Saints as NFL returned to Tottenham Hotspur Stadium in spectacular style on Sunday.
In the end, it was a tale of two field goals from Saints kicker Will Lutz, both inside the final two minutes of the fourth quarter.
The first sailed over from 60 yards to tie the game at 25-25, but after Vikings responded with their own field goal from 47 yards from Greg Joseph to lead 28-25 with only 29 seconds remaining, Lutz lined-up again from 61 yards with one second left on the clock and the chance to take the game into overtime. Incredibly, his kick hit the inside of the left post, bounced down onto the crossbar and dropped in slow motion back in front of the posts, not through. That was that, the last play of the game, and Vikings held on for the 28-25 win.
As always, it was a packed house for the fifth NFL game in N17, and the fans were treated to an absolute classic.
Vikings led 13-7 at half-time after QB Kirk Cousins found Alexander Mattison for a touchdown and Joseph kicked two field goals. Saints responded with a four-yard touchdown as QB Andy Dalton found Chris Olave.
Another field goal from Joseph saw Vikings lead 16-7 early in the third quarter but Saints pulled it back to 16-14 when Latavius Murray went over from two yards and Lutz kicked the extra point.
A rollercoaster game was end to end in the final period. Joseph kicked his fourth field goal for 19-14 but then Saints moved ahead 22-19 when Taysom Hill ran in from two yards following a 75-yard drive and Dalton found Jarvis Landry for a two-point conversion. Vikings were ahead again at 25-22 with 4.17 minutes remaining as Cousins picked out Justin Jefferson for a touchdown, although Joseph missed the extra point.
That meant Lutz could level at 25-25 with his first 60-yard attempt for Saints - one of the longest successful field goals in their history - with 1.51 remaining, but a 39-yard pass from Cousins to Jefferson set up Joseph's fifth field goal, this time from 47 yards, to hand the Vikings the advantage again at 28-25 with 29 seconds left.
Saints still weren't finished though and with 24 seconds left, Dalton found Olave with a 32-yard pass, back in range for Lutz to attempt to level the scores from 61 yards with just one second left on the clock. The kick had the distance, but the 'double doink' of post and crossbar went against him and the Saints, leaving Vikings to celebrate a memorable victory.
We'll do it all again next weekend (Sunday 9 October) when Green Bay Packers - including one of the biggest names in the NFL, QB Aaron Rodgers - take on New York Giants at Tottenham Hotspur Stadium (2.30pm).