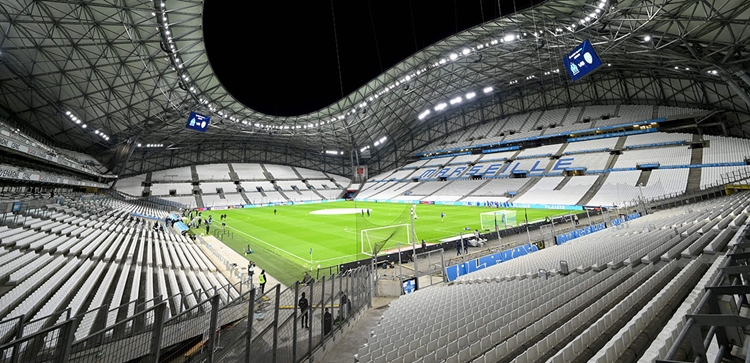 Information for fans travelling to Marseille
@SpursOfficial
Mon 31 October 2022, 11:15|
Tottenham Hotspur
Supporters travelling to France for our final UEFA Champions League group stage match against Olympique de Marseille on Tuesday 1 November are advised to take note of the following important information...
Kick-off is 9pm local time, 8pm UK time.
Supporters are advised not to travel to the stadium without a match ticket.
Important and critical
In preparation for this fixture and following serious disorder at the Olympique de Marseille v Eintracht Frankfurt match earlier this season, the Club has held a number of meetings with the regional Chief of Police, other local authorities, Olympique de Marseille and UEFA.
Supporters can expect a hostile environment around this fixture and should exercise caution at all times while in Marseille. The Club strongly urges all supporters to follow the guidance provided to ensure their safety and security during their stay in France.
Marseille
We recommend fans familiarise themselves with the government's travel advice for France. Supporters requiring assistance from the British Consulate in Marseille should call +33491157210, which is staffed 24 hours a day. Alternatively, consular enquiries can be directed to www.gov.uk/contact-consulate-marseille.
The Club's Travel Line - 07917 880445 - will be available throughout the day and evening of the match for any supporters experiencing problems.
Supporters are advised not to visit the Old Port (Vieux Port) area of Marseille during their stay. When visiting other parts of the city, supporters are advised not to wear anything that will identify themselves as Tottenham Hotspur supporters or congregate in large groups.
Street crime, including pickpocketing can take place in Marseille. Supporters are advised to be vigilant, take sensible precautions and ensure they have valid travel insurance.
Tuesday 1 November is a public holiday in France to celebrate All Saints' Day. While the majority of public facilities will be closed, bars and restaurants will be open.
The official currency of France is the Euro.
Traffic Order
A local traffic order will be in place prohibiting "any person claiming to be or acting as a Tottenham Hotspur supporter" from driving and parking vehicles at the following times in specific areas:
12pm Monday 31 October – 2am Tuesday 1 November
1st, 2nd, 6th and 7th arrondissements of Marseille
10am – 11.59pm on Tuesday 1 November
Boulevard Schlœsing, 
Boulevard de Sainte-Marguerite,  
Avenue Jean Bouin,
Boulevard Ganay, 
Boulevard Michelet, 
Boulevard Barral, 
Avenue de Mazargues, 
Avenue du Prado, 
Rue Jean Mermoz, 
Boulevard Lord Duveen,  
Avenue du Prado, 
Boulevard de Louvain, 
Rue du Rouet,
Boulevard Rabatau jusqu'au boulevard Schlœsing
Covid-19 advice
There are no Covid-19 related entry requirements for France and it is no longer mandatory to wear face coverings on public transport.
More information on Covid-19 in France, including on how to book a test can be found here: https://www.gov.uk/foreign-travel-advice/france/coronavirus
Passport validity
Supporters are advised that passports must have been issued less than 10 years before the date of entry to France (check the 'date of issue') and be valid for at least three months after the day of departure (check the 'expiry date').
Passports issued before 1 October 2018 may have extra months added to their expiry date which will not be valid when travelling to the EU. Supporters are advised to check their passports meet these requirements before travelling.
Getting to the stadium
Local authorities require all Tottenham Hotspur supporters with tickets in the visitors' section to use a complimentary bus service from Place de la Joliette in the La Joliette area of the city. Accessible buses will take supporters direct to the visitors' section turnstiles, which are inside the stadium.
La Joliette has bars and restaurants where supporters can base themselves on the day of the match, prior to the start of the bus service. Additional toilets, food and drink facilities and a DJ will be provided in Place de la Joliette, which will welcome supporters from 11am.
For security reasons, under no circumstances should supporters with tickets in the visitors' section take alternative transport to the stadium.
The buses will travel in multiple convoys with a police escort and the first convoy will begin boarding buses at 4pm, so supporters are advised to be at the departure point prior to this time.
Supporters will have match tickets checked before boarding buses and will be able to bring food and drinks with them for the journey. Please note, food and drink cannot be taken into the stadium.
At Orange Vélodrome
The stadium will be open to visiting supporters on arrival.
Upon leaving the buses, supporters will have tickets checked and be subject to a body search upon arrival. No ID checks will be required on entry to the stadium.
The visitors' section is seated and located in the Tribune Jean Bouin on the western side of the stadium.
Tottenham Hotspur stewards will be present at the entrance and inside the stadium, designated as Visiting Fan Support.
Safety netting is in place across the entire visiting area.
Supporters with Category 1 tickets
Category 1 tickets are located in Blocks S and T in the Tribune Jean Bouin on the western side of the stadium. In line with UEFA requirements, Category 1 tickets are located in the home section of the stadium. Supporters are reminded not to wear anything that would identify themselves as Tottenham Hotspur supporters.
Information regarding travel to the stadium will be sent directly to supporters.
Accessibility
Wheelchair spaces are located on a designated platform within the visitors' section. Some PA seats are located in a row directly in front of the designated platform.
Tottenham Hotspur Access stewards will be present in the area.
Comprehensive and tailored travel advice will be sent directly to all disabled supporters, including a recommended route to the stadium.
Ticket collections
Supporters requiring duplicate tickets can request them by emailing ticket.office@tottenhamhotspur.com. Details on where duplicate tickets can be collected in advance of travelling to the stadium will be provided.
Alcohol
Following a request from the Club, Olympique de Marseille will make alcohol available to visiting supporters at the stadium.
Bag Policy
Only small women's bags and purses will be permitted into the stadium. A bag storage facility is located next to the visitors' turnstiles for anyone with a larger bag.
Flags and banners
Flags and banners are permitted and will require advance permission from Olympique de Marseille. To obtain permission, supporters should send a photo of their flag with its dimensions and fire safety certificate to supporterservices@tottenhamhotspur.com.
Flags will be checked by Olympique de Marseille stewards before admission. Tottenham Hotspur stewards will be on hand to support if necessary.
Supporters are reminded that the Club's own Flags and Banners Policy is in operation at away matches.
Payments
Kiosks will accept card and cash payments for food and drinks.
Prohibited items
The following will not be allowed into the stadium:
Air horns
Alcoholic beverages
Animals
Bags (see above for bag policy)
Banners / flags with offensive, political racist, xenophobic, ideological, philosophical or commercial messages
Battery pack / power bank
Bottles
Cans
Glasses
Helmets
Knives
Laser pointers
Long umbrellas
Pyrotechnics and explosive materials
Safety footwear
Tools
Video cameras
Weapons
Supporters will not be permitted to bring a battery pack/power bank into the stadium.
A bag drop facility next to the visiting turnstiles will be in operation and supporters will be able to leave battery packs / power banks there for collection after the match.
Leaving the stadium
Supporters will be held back within the stadium for at least 30 minutes after the final whistle for safety reasons. Access to toilets and food and drink from kiosks will be available during this time. Supporters are politely asked to remain patient until permitted to leave.
Buses will take supporters back to La Joliette upon leaving the stadium. The Marseille Metro network closes at 12.30am. Supporters requiring onward transportation after this point are advised to use Uber or local taxis to reach their final destination.
Spurs Respects
We are proud of our superb and loyal support at home and away. We all have a responsibility to act as ambassadors of Tottenham Hotspur Football Club and act as considerate visitors to those who live and work in the cities and countries we visit. Please respect local customs and traditions by not placing flags or banners on local statues or monuments.
We recognise that most supporters want to watch a football match and not to listen to abusive or indecent language from the stands. Discriminatory behaviour which includes shouting, chanting or actions such as racist, xenophobic, sectarian, homophobic, sexist or anti-disability behaviour is unacceptable.
If you witness incidents like these, please notify a steward immediately.
The Club reserves the right to indefinitely ban supporters found guilty of using discriminatory language.
Unauthorised use of tickets
Supporters are reminded that the unauthorised reselling or passing on of tickets is strictly prohibited. In line with the Club's Sanctions & Banning Policy, supporters selling away match tickets above face value will receive an indefinite ban and deduction of all Ticketing Points.
Supporters passing on away match tickets equal to face value or less will receive a written warning and a 50% reduction of Ticketing Points.