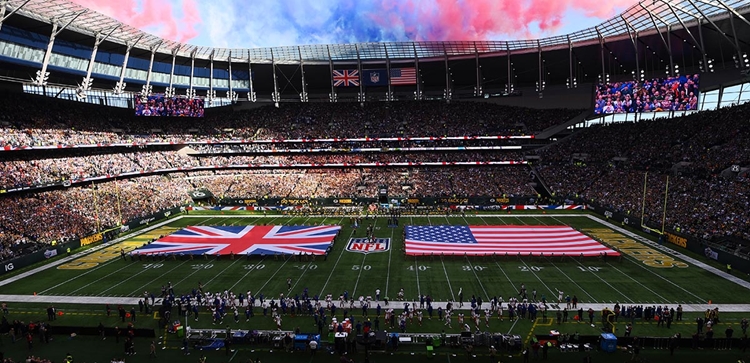 Giants topple Green Bay in another NFL classic at Tottenham Hotspur Stadium
@SpursOfficial
Sun 09 October 2022, 18:30|
Tottenham Hotspur
Two heavyweights of the NFL went head-to-head at Tottenham Hotspur Stadium on Sunday - with Saquon Barkley leading New York Giants home against Aaron Rodgers' Green Bay Packers in another thriller in N17.
A four-time and reigning league Most Valuable Player (MVP), this was QB Rodgers' first visit to London, and things looked to be going his and Green Bay's way when he threw his second touchdown pass for a 17-3 lead in the second quarter.
However, RB Barkley sparked Giants' revival with a 40-yard run late in the second quarter, leading to Daniel Bellinger's touchdown for 17-10. Mason Crosby kicked a field goal to extend Green Bay's lead to 20-10 at half-time, but they would only score two more points as first Gary Brightwell and then Barkley scored touchdowns to completely turn the game around in the final quarter.
Green Bay's last chance arrived with only seven seconds remaining but Rodgers, needing to throw a 'Hail Mary' from over 60 yards, was sacked and Giants ran out 27-22 winners.
Crosby kicked a field goal on Green Bay's first possession, then Rodgers found Allen Lazard from four yards, Crosby kicking the extra point for a 10-0 lead. Graham Gano kicked a field goal to get Giants on the board at 10-3, but it was soon 17-3 as Rodgers connected with Marcedes Lewis from two yards.
Giants got back into the game in style at the end of the second quarter with a double reverse touchdown run in by Bellinger, only for Crosby's field goal to make it 20-10. Gano was successful from 37 yards with the only score of the third quarter to reduce Green Bay's lead to 20-13, and then Giants took over.
Brightwell bundled over from close range to level the scores at 20-20, and with just over six minutes left on the clock, Barkley darted to the right and went in at the corner for 27-20. Green Bay were denied by the Giants defence, taking the clock down to one minute remaining. Giants gave away a safety for 27-22, then punted downfield, leaving Rodgers with seven seconds to be a hero again, but it wasn't to be as Oshane Ximines got to the QB before he could launch the ball forward, securing Giants' victory.