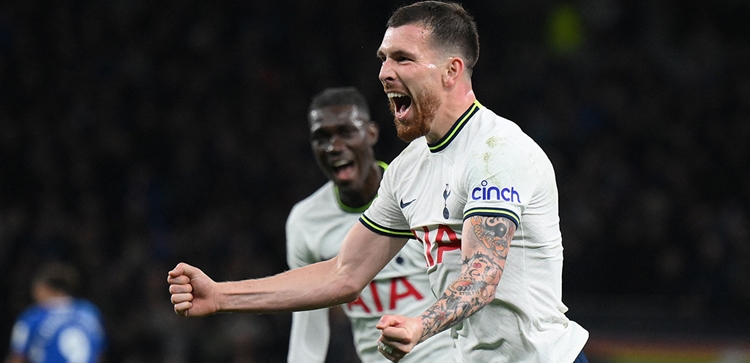 23 points - our best tally after 10 games in the Premier League
@SpursOfficial
Sun 16 October 2022, 08:00|
Tottenham Hotspur
Saturday's fine win against Everton took us up to 23 points after 10 matches in the 2022/23 Premier League campaign - our best start after 10 games in 30 years of the Premier League era.
It means Antonio Conte's squad have pipped Harry Redknapp's team from 2011/12 by a point.
We've won seven of our 10 league games so far this term, with just one loss.
Told of the 10-game record afterwards during his post-match interview with SPURSPLAY, Antonio said: "Yes, 23 points after 10 games, honestly, if you'd asked me to sign for this at the start of the season, maybe... but I like to win every game, and to have 30 points! But I know 23 points is a lot of points and we have to know that the important thing isn't the way you start, but the way you finish. At the same time, if you start well, it puts you in the best position to continue to do your best."
20-plus points after 10 matches
Figures show win-draw-loss...
2022-23 - 7-2-1 = 23 points
2011-12 - 7-1-2 = 22
2020-21 - 6-3-1 = 21
2018-19 - 7-0-3 = 21
2016-17 - 5-5-0 = 20
2017-18 - 6-2-2 = 20
Premier League history - first 10 games
1992-93 - 2-4-4 = 10 points
1993-94 - 5-3-2 = 18
1994-95 - 4-2-4 = 14
1995-96 - 4-3-3 = 15
1996-97 - 4-2-4 = 14
1997-98 - 2-4-4 = 10
1998-99 - 4-2-4 = 14
1999-00 - 5-2-3 = 17
2000-01 - 4-2-4 = 14
2001-02 - 4-2-4 = 14
2002-03 - 6-1-3 = 19
2003-04 - 3-3-4 = 12
2004-05 - 3-4-3 = 13
2005-06 - 5-4-1 = 19
2006-07 - 3-3-4 = 12
2007-08 - 1-4-5 = 7
2008-09 - 1-3-6 = 6
2009-10 - 6-1-3 = 19
2010-11 - 4-3-3 = 15
2011-12 - 7-1-2 = 22
2012-13 - 5-2-3 = 17
2013-14 - 6-2-2 = 20
2014-15 - 4-2-4 = 14
2015-16 - 4-5-1 = 17
2016-17 - 5-5-0 = 20
2017-18 - 6-2-2 = 20
2018-19 - 7-0-3 = 21
2019-20 - 3-3-4 = 12
2020-21 - 6-3-1 = 21
2021-22 - 5-0-5 = 15
2022-23 - 7-2-1 = 23