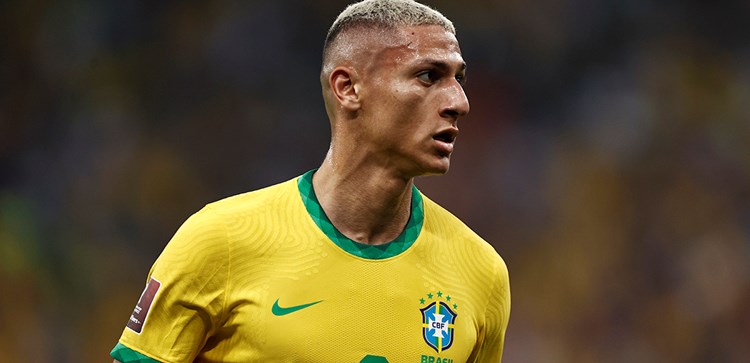 Sandro on Richarlison and Brazil's love for the World Cup: "We are born this way!"
@SpursOfficial
Wed 23 November 2022, 13:00|
Tottenham Hotspur
Sandro is backing Richarlison to shine in the famous yellow of Brazil on the world's biggest stage in Qatar.
The striker recovered from a calf injury that ruled him out for three weeks to feature in our last two matches, starting the 4-3 win against Leeds United on 12 November before joining A Seleção for a tournament indelibly linked with Brazil, the five-time winners.
'Richy' has been in fine form for his country, scoring seven goals in his five appearances so far in 2022, taking his tally to 17 goals in 38 caps.
A favourite at Spurs between 2010-2014, Sandro, 33, capped 17 times by Brazil between 2009-2012, including playing at the 2012 Olympics in London, has no doubts that the striker from Nova Venecia can impress in Group G, as Brazil take on Serbia, Switzerland and Cameroon, kicking-off against Serbia on Thursday evening (7pm).
Sandro on... Richarlison
"Brazil fans love him. It's putting a lot of expectation on him, but I believe he can handle this very well. Everyone looks at Neymar, but it's Richarlison as well. He's doing well. I hope he starts well, with power. Maybe the injury break might have done him some good, because he was able to rest a little. I think myself and Richarlison are similar in mindset. My attitude was always when I'm on the pitch, I'm going to give 100 per cent, all the time. He's like that. He does everything, always trying, back and forward, giving everything. You know football means so much to him."
Sandro on... Brazil and the World Cup
"Brazilians are born this way! My dream was always to play in the World Cup. This is us. Maybe it's because we've all been brought up with the World Cup. I grew up watching Brazil win the World Cup, learning all about Brazil in the World Cup, the history. I saw how happy it makes every person in Brazil, all my family crying in the street. It's so beautiful. We are born like this. We dream, 'I will be a footballer, I will play in the World Cup'. It's so special. Everyone in Brazil is watching the games, out in the streets, parties, having fun. It's a special time."
Sandro on... just missing out in 2010
"For me, I was selected in the first squad list for the 2010 World Cup, when the list came, I thought, 'oh man, I'm in', I felt part of the group. I didn't go to the World Cup, but I was there to be called up if anyone was injured. Neymar as well. Now, looking at it, it's hard. I dreamed about going to the World Cup, it's the only thing I didn't get in my career."