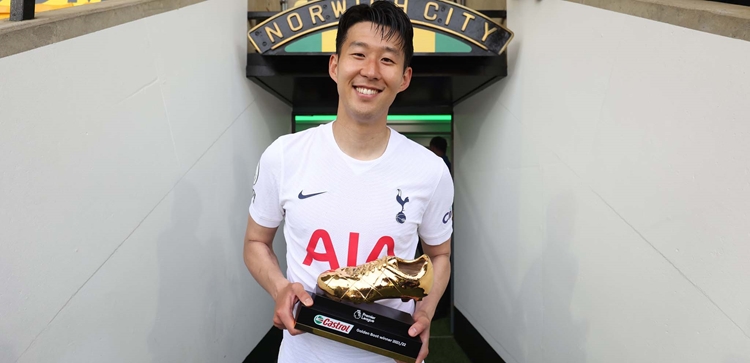 Heung-Min Son makes history as he joins our list of Golden Boot winners
@SpursOfficial
Sun 22 May 2022, 23:02|
Tottenham Hotspur
Heung-Min Son's brace in Sunday's comprehensive win at Norwich City saw him become the joint-winner of this season's Premier League Golden Boot – making him the first Asian player ever to claim the award.
The South Korean superstar's second-half brace took him to 23 league goals for 2021/22 – the same amount as Liverpool's Mo Salah, with whom he shares this term's prize.
Remarkably, though, none of Sonny's goals have been penalties – quite an achievement for the ever-popular forward.
He's only the third Spurs player to win the Golden Boot in the Premier League era after Teddy Sheringham in the competition's inaugural year (1992/93) and Harry Kane, who claimed it for a third time last season.
As a Club, we've now had a player at the top of the goalscoring chart in the top flight on 13 occasions, either in the old First Division or the Premier League. Bobby Smith was our first leading marksman in 1957/58, followed by Jimmy Greaves, who won it four times, then Steve Archibald, Clive Allen, Gary Lineker, Teddy, Harry (three times) and now Sonny.
The 29-year-old's double against the Canaries rounded off a dominant 5-0 win at Carrow Road which secured a top four finish and a place in next season's Champions League, although there was a time in the game when it didn't look like it was going to be his day, with the forward missing a couple of big chances before finally hitting the target.
"Today I missed the easy chances but I scored one of the toughest chances!" Son joked after the game. "I'm very happy and I'm really grateful to the team, they helped me along all season but especially in this game today because after 3-0, everyone was like, 'come on Sonny, you've got to do it, you deserve this' and I really appreciate that."
Son's latest honour comes after he swept the board with our Player of the Season awards after last week's final home game of the season against Burnley.
Spurs players to finish as top goalscorer in the top flight
1957/58 - Bobby Smith - 36 goals in Division One
1962/63 - Jimmy Greaves - 37 goals in Division One
1963/64 - Jimmy Greaves - 35 goals in Division One
1964/65 - Jimmy Greaves - 29 goals in Division One (tied with Andy McEvoy, Blackburn)
1968/69 - Jimmy Greaves - 27 goals in Division One
1980/81 - Steve Archibald - 20 goals in Division One (tied with Peter Withe, Aston Villa)
1986/87 - Clive Allen - 33 goals in Division One (record 49 all competitions for a Spurs season, also won European Golden Boot as the top league goalscorer across all European leagues)
1989/90 - Gary Lineker - 24 goals in Division One
1992/93 - Teddy Sheringham - 22 goals (21 for us, one for Forest) in Premier League (introduction of Premier League Golden Boot, first winner)
2015/16 - Harry Kane - 25 goals in Premier League
2016/17 - Harry Kane - 29 goals in Premier League (highest total for us in a Premier League season)
2020/21 - Harry Kane - 23 goals in Premier League
2021/22 - Heung-Min Son - 23 goals in Premier League
Sonny on Spurs TV