Tottenham Hotspur Stadium to host second major Jobs Fair of the year
@SpursOfficial
Tue 29 March 2022, 10:00|
Tottenham Hotspur
Tottenham Hotspur Stadium is set to host its second major Jobs Fair in the space of six weeks as the Club continues to drive employment opportunities for people within its local community.
The latest event on Tuesday 5 April will be delivered in partnership between Tottenham Hotspur Foundation and London Stansted Airport following the removal of all remaining travel restrictions in the UK, bringing a much-needed boost to jobs within the travel industry.
As a result, a major recruitment drive is underway at London Stansted as the airport aims to recover from the pandemic and look ahead to what is expected to be a busy Easter holiday period and summer season.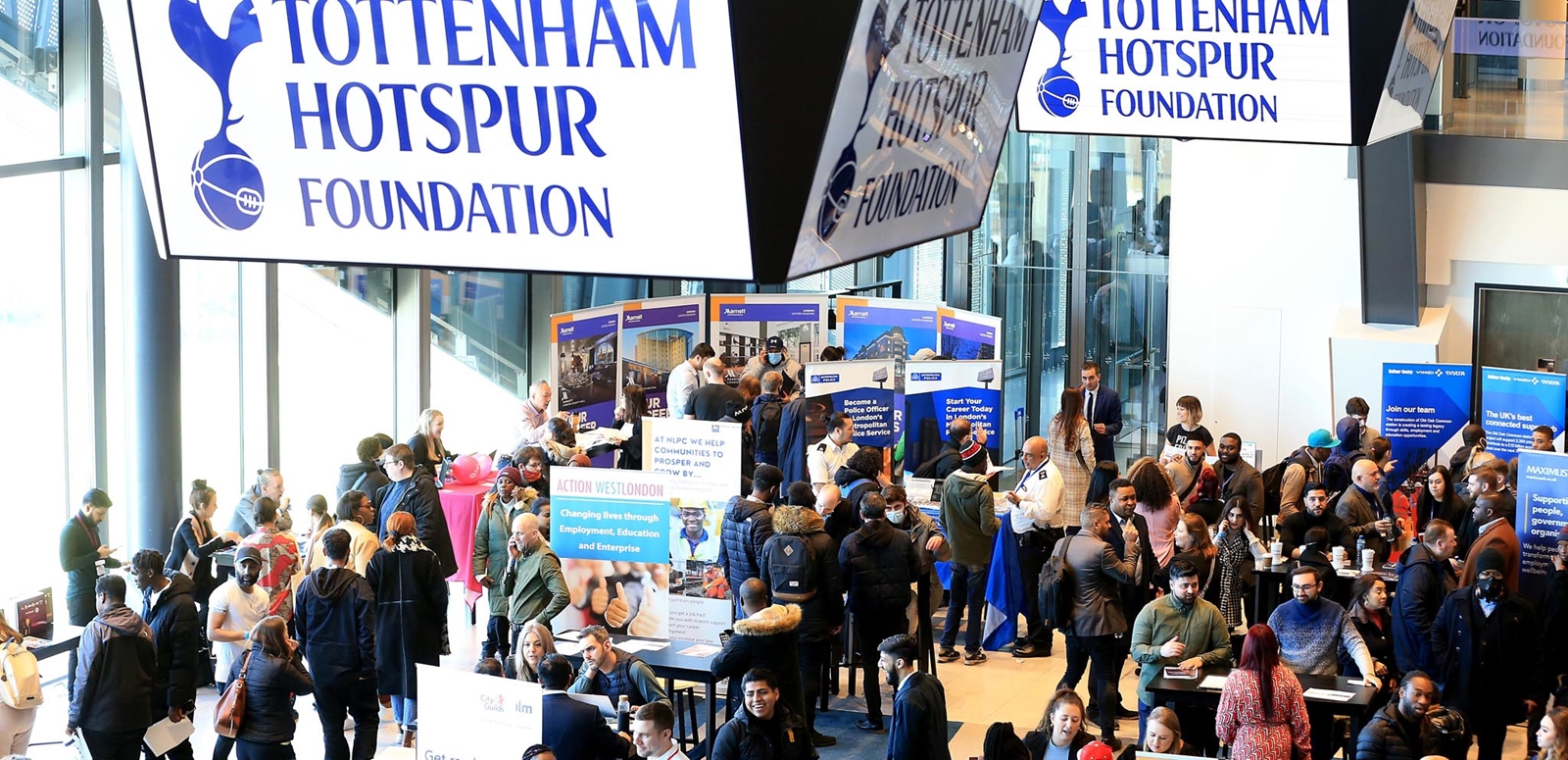 Stadium to host second major Jobs Fair
• Latest Jobs Fair to be hosted in partnership between Tottenham Hotspur Foundation and London Stansted Airport following the lifting of all travel restrictions in the UK, bringing a much-needed boost to employment within the travel industry.
• Event on Tuesday 5 April aims to build on the success of recent Jobs Fair that took place at the stadium in February, attended by over 2,000 local people.
• London Stansted is easily accessible via public transport to people in the Tottenham area, with direct trains and staff shuttle buses.
• Over 1,000 vacancies will be available on the day as the Club continues to drive employment opportunities within its community.
In February, the Club hosted its first Jobs Fair since the pandemic in a bid to help local people back into work, with over 2,000 jobseekers in attendance on the day.
At the latest fair, a wide range of employers based at the airport will be exhibiting, with more than 1,000 live vacancies on offer. Available roles including Security Officers, Customer Service, Chefs, Baggage Handlers, Cabin Crew, Waiting staff, Baristas, Drivers and Warehouse Operatives.
Local employers, including the Club itself and stadium contractors, will also be exhibiting live vacancies to jobseekers on the day.
Tottenham Hotspur Stadium is at the centre of a major Club-led regeneration of North Tottenham, responsible for creating over 4,000 jobs for local people and boosting the local economy by an estimated £300m a year.
It is the ideal location for London Stansted to recruit from, with the airport easily accessible to Tottenham residents via the Stansted Express that serves both Tottenham Hale and Northumberland Park rail stations. There is also the Night Run (North London) shuttle bus which connects the Airport Coach Station to bus stops in Tottenham.
All airport employees are entitled to purchase an Airport Travelcard, which offers up to an 80 per cent discount for unlimited travel within zones at varying distances from Stansted.
In 2019, London Stansted served over 28 million passengers and was the fourth busiest airport in the UK, flying to 200 destinations across 40 countries. The airport acts as a key driver for economic growth within the East of England, and the Innovation Growth Corridor running from North London, Harlow and London Stansted to Cambridge, employing around 12,000 people across 200 airport companies pre-pandemic.
London Stansted People Director, Liz Austin, said: "London Stansted is delighted to link up with Tottenham Hotspur to host our latest jobs fair with the Club's iconic new stadium providing a stunning backdrop for the event.
"Now all UK travel restrictions have finally been removed, and with passengers now able to book their flights and holidays with real confidence, it has never been a better time to join the team at London Stansted.
"An airport job is ideal for people taking their first steps on the work ladder or looking for a new career direction, and a perfect fit for those with strong people skills, drive for success and interested in being part of the exciting and dynamic aviation industry."
Tottenham Hotspur Foundation, the Club's charitable body, has supported the Club's delivery of local jobs through weekly drop-in sessions, vocational courses, interview skills training and employability programmes targeted at groups including over-50s and those with special educational needs and disabilities.
Sarah Ebanja, Chief Executive of the Foundation, said: "We are excited to be able to build on the success of our recent Jobs Fair at Tottenham Hotspur Stadium and engage more local people around the fantastic employment opportunities available at London Stansted Airport.
"Attendance at the event in February showed there is a real appetite for people to get back into work and kick-start their careers following the pandemic – we are looking forward to once again opening our doors."
The Jobs Fair takes place from 10am – 2pm at Tottenham Hotspur Stadium on Tuesday 5 April, with attendees able to register online here.