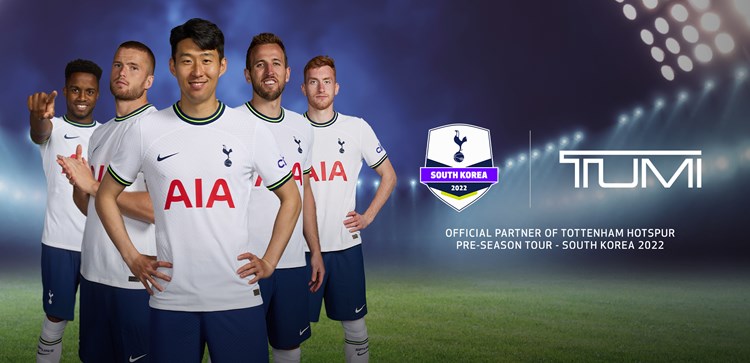 Tottenham Hotspur announces partnership with TUMI
@SpursOfficial
Fri 01 July 2022, 14:00|
Tottenham Hotspur
Tottenham Hotspur is proud to announce TUMI today as an Official Partner of the Club's pre-season tour to South Korea this July
TUMI, the international travel and lifestyle brand, specialises in products featuring elevated craftsmanship, durability, and resilience.
During our upcoming tour, TUMI will outfit Head Coach Antonio Conte, staff and players with personalised travel luggage and lifestyle accessories including items made from recycled materials. TUMI is committed to preserving the planet and is a supporter of global environmental initiatives through annual corporate contributions.
The Club has a long-standing commitment to sustainability and, earlier this year, finished top of the Premier League's sustainability table produced by the UN-backed Sport Positive for the third year running. The Club also joined the UN Race to Zero, committing to halve its carbon emissions by 2030 and become net zero by 2040.
The new partnership will see both parties collaborate on content for our pre-season matches in the Coupang Play Series whilst out in Korea this July.
South Korea Men's national team captain and Premier League Golden Boot winner, Heung-Min Son, is already a TUMI brand ambassador.
Speaking about the Club's new partnership with TUMI, Son said: "I'm so happy that my partner TUMI is supporting my club this summer for our tour.  I'm excited to have my teammates join me in my home country. It's perfect for them to arrive in style thanks to TUMI."
Todd Kline, Chief Commercial Officer at Tottenham Hotspur, said: "We know our team and delegation lead active lifestyles and have to travel frequently. Therefore, we wanted to equip the team with high-quality travel products, offering them style and function, so they can keep performing to the highest standard. The Club and TUMI share the same uncompromising standards and determination to drive excellence, so this partnership with TUMI is the perfect way to give our travelling group exactly what they need."
Jay Jeong, Brand Head of TUMI Korea, added: "We are committed to perfecting the journey and have been long inspired by Son's unwavering dedication to be the best he can be, both for his team and representing his home country. We couldn't be more thrilled to expand our partnership to support his full team on this momentous trip and look forward to welcoming them to Korea."