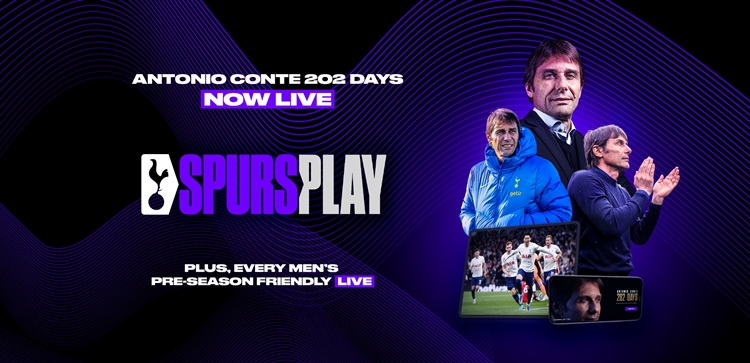 SPURSPLAY launches – subscribe today!
@SpursOfficial
Tue 05 July 2022, 15:15|
Tottenham Hotspur
We are delighted to launch SPURSPLAY!
Our new home for exclusive live and on-demand video, SPURSPLAY is the only place to watch all of our Men's First Team's pre-season friendlies this summer.
All the action kicks off next Wednesday (13 July) against Team K League in Seoul, but don't wait until then to sign-up as, in the meantime, there is plenty to enjoy straightaway on the platform.
Starting with our offering of original documentary series, the first exclusive to feature on the platform - Antonio Conte – 202 Days - is one not to miss as our Head Coach provides a unique and in-depth take on all the key moments and matches from last season after he took charge in November before guiding us to a top four Premier League finish.
Subscribers can watch Antonio Conte – 202 Days from today while further original series, as well as our growing library of archive footage, are also available to watch. Subscribing today will also see supporters set-up and ready to get the most out of our pre-season schedule as, with the players now back in training at Hotspur Way, we will be taking you behind the scenes at our Enfield training base as well as on our tour of South Korea, before all the action from our pre-season fixtures.
For an annual subscription of £45 – reduced to £35 for Season Ticket Holders and One Hotspur Members – fans will also be able to gain access to all our premium content, including:
LIVE Men's pre-season friendlies, home U18s and U21s matches, select U21s away games and additional Women's matches.
An enhanced matchday offering including full-match replays of EVERY fixture.
Exclusive, feature-length documentaries and brand-new original series.
Hundreds of hours of archive footage celebrating the most exciting moments and legendary players in the Club's history.
The live match action kicks off shortly after the launch of SPURSPLAY – and what a way to start with our game against Team K League - a match that sold out to fans in Korea within 25 minutes of going on sale.
 Our full Men's pre-season friendly schedule is as follows:
Team K League vs Spurs*, Wednesday 13 July, 12pm KO (UK time), Seoul
Spurs vs Sevilla FC*, Saturday 16 July, 12pm KO (UK time), Suwon. *Matches broadcast live on SPURSPLAY globally except in Asia – fans in Korea can watch live on Coupang Play, with further Asia broadcast info to be confirmed.
Rangers vs Spurs, Saturday 23 July, 3pm KO, Ibrox
Spurs vs AS Roma, Saturday 30 July, 7.15pm KO (UK time), Haifa
How to subscribe to watch SPURSPLAY Premium content
From today (Tuesday 5 July), supporters can subscribe to SPURSPLAY Premium via play.tottenhamhotspur.com - you must subscribe via the website, and not the Spurs Official app.
When you arrive on the site, a selection of free content will be available to view immediately, with premium content available only to those with a subscription.
Season Ticket Holders and One Hotspur Members have today been sent a SPURSPLAY Pass via email to redeem against their exclusive subscription price at the checkout.
Hit 'Subscribe' or click on the Premium video you want to watch and you will either be asked to log in using the existing Client Reference Number/email address you have registered with us or to create an account.
Then, once you're logged in and subscribed, you're good to go! Sit back and enjoy hours of content either via play.tottenhamhotspur.com, tottenhamhotspur.com or the new Spurs Official app - download the latest version from your app store.
The mobile experience has been optimised so you can enjoy videos anywhere, anytime, whether on a computer, smartphone or tablet while videos are available in high definition with excellent picture and sound quality. Those watching on the Spurs Official app can also use Apple Airplay or Chromecast to watch live matches and all other video material on their preferred screen.
For our frequently asked questions please visit our SPURSPLAY Ask Spurs article here.