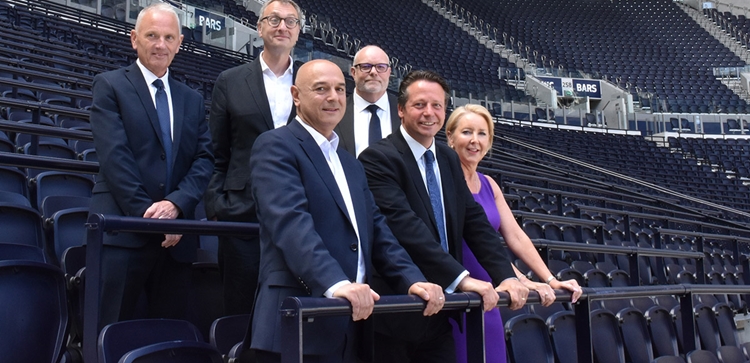 Minister announces roll out of safe standing from next season during visit to Tottenham Hotspur Stadium
@SpursOfficial
Mon 04 July 2022, 18:00|
Tottenham Hotspur
Sports Minister Nigel Huddleston has confirmed that Premier League and Championship clubs wishing to introduce safe standing areas at their stadiums will be permitted to do so from the start of next season, following an announcement at Tottenham Hotspur Stadium today (4 July).
For many years, the Club has campaigned for safe standing to be introduced and was one of five clubs chosen to take part in the Early Adopter Scheme, which saw safe standing trialled at grounds from 1 January.
Tottenham Hotspur Stadium opened in 2019 with areas future-proofed for safe standing in its South Stand and away supporter section.
Our 'safe seating' design provides the same comfort and leg room as in all other areas of the stadium, with an ergonomically profiled bar set at 900mm for clear sightlines. The seat in its folded position is slim, allowing the stepping clearway to be maximised, with a purpose-designed lock to ensure the seat can be stowed when required.
The Club's home FA Cup fixture against Morecambe on 9 January was one of the first at which standing was allowed in this country for nearly 30 years.
Subsequent research by CFE Research, commissioned by the Sports Grounds Safety Authority (SGSA), has now concluded that licensed safe standing areas have had a positive impact on spectator safety and improved the matchday experience in both home and away sections.
Speaking today from the South Stand of Tottenham Hotspur Stadium, the Sports Minister has recommended that clubs be given the opportunity to follow the Club's lead and implement licensed standing areas from the beginning of the 2022/23 Premier League and Championship seasons, provided they meet relevant criteria outlined by the SGSA.
Sports Minister, Nigel Huddleston, said: "Based upon what I have experienced, and we have learnt through the pilot programme, safe standing is set to deliver an electric atmosphere at our football stadiums. Fans have long campaigned for its introduction and we have worked carefully with supporters' groups, including the families affected by the tragic Hillsborough football disaster.
"I am proud of the work that has gone into this rigorous process and that we have delivered on our manifesto commitment to get fans back on their feet in stadiums."
Tottenham Hotspur Chairman, Daniel Levy, said: "The Club has led on lobbying the Government for safe standing at stadia for many years, which is why we were delighted to be selected as an early adopter of licensed safe standing. When we built our stadium in 2019, we did so with safe standing in mind, future-proofing sections within both the home and away sections with a well-designed, integrated safety bar within the normal seating.
"Since January we have been delighted to facilitate safe standing at our stadium which has helped to create an unbeatable atmosphere at our home matches as well as ensuring choice, comfort, and, most importantly, safety for our fans. We are pleased that the early adopter scheme has been such a success and that the Government will now permit clubs to benefit from safe standing next season."
Sports Grounds Safety Authority Chief Executive, Martyn Henderson OBE, said: "We welcome the controlled return of standing for the modern era, which has been made possible by a very close collaboration with the Government.
"This is a historic moment for football - and, most importantly, for the fans who have campaigned for this change and will be safer as a result of today's decision."