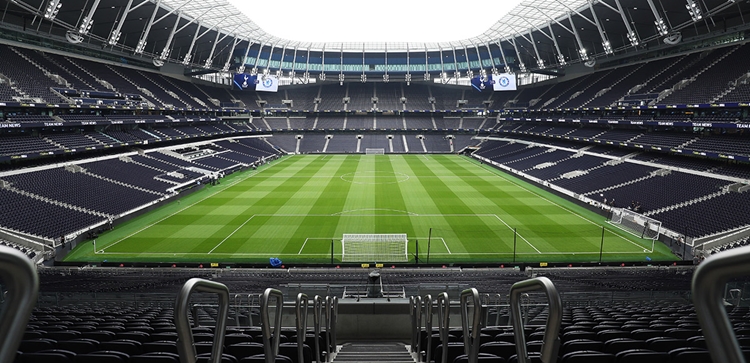 Club becomes first in the UK to launch Ticketmaster's 3D Virtual Venue technology
@SpursOfficial
Thu 20 January 2022, 11:00|
Tottenham Hotspur
We are excited to become the first Club in the UK to launch Ticketmaster's 3D Virtual Venue technology, giving fans a unique life-like view of their seats when purchasing a ticket.
Using the cutting-edge technology delivered by our Ticketing Innovation Supplier, fans will be able to digitally preview 360-degree views and sightlines, compare sections and check time-of-day viewpoints in real time when selecting their match seats.
With incredible 3D-quality visuals and pinpoint accuracy, fans will have the opportunity explore all areas of our stadium on their mobile or desktop, including Premium areas, to choose the seat that is right for them.
The Club has previously utilised virtual 3D technology for fans to experience Premium areas and select their Season Ticket seats ahead of our stadium opening.
You can now view our bespoke 3D Virtual Venue platform here.
From Wednesday 26 January, the Virtual Venue platform will be fully integrated as part of our ticketing journey.
Ian Murphy, Head of Ticketing and Membership, Tottenham Hotspur, said: "We're proud to be the first Club in the UK to introduce Ticketmaster's latest innovation, 3D Virtual Venue, as we continue to explore ways of taking our fan experience to the next level.
"With such a wide range of seating options on offer at our stadium, including licensed safe standing and Premium areas, this cutting-edge technology will give fans the best possible insight into what their matchday experience will be like before making their selection."
Chris Gratton, Chief Operating Officer, Ticketmaster Sport, said: "Every fan is different, and so is their definition of the 'best seat in the house' – so, why not give them the technology to view, compare and select themselves?
"Our team is constantly working to elevate the fan experience and Virtual Venue will fundamentally transform how fans buy a ticket, while enhancing conversion and setting a new gold standard for Clubs and venues across the industry."
The news comes off the back of the Club renewing an exclusive long-term partnership with Ticketmaster Sport as our Official Ticketing Innovation Supplier.