Rehanne: 'We can't be waiting until the last 15 minutes to have an impact'
@SpursOfficial
Mon 24 January 2022, 01:16|
Tottenham Hotspur
Rehanne Skinner rued the manner of the goals conceded in Sunday's 3-0 defeat to Manchester United Women, but drew encouragement from the way her depleted squad was still competing hard in the closing stages at Leigh Sports Village.
We went into the game without the services of Kyah Simon, So-hyun Cho and Jiali Tang, all of whom are away on international duty at the Asian Cup, which meant Rehanne could only name five substitutes for the second fixture in a row, including Academy player Isabella Lane, who came on for her league debut in the closing moments.
With the match coming at the end of a hectic week in which we drew with West Ham and then knocked Liverpool out of the Continental League Cup to reach the semi-finals of the competition for the first time, United took the upper hand with two goals from Vilde Boe Risa and Hayley Ladd as half-time approached, before Leah Galton made it three in the second half.
Nevertheless, we kept battling and Rosella Ayane and Rachel Williams had good chances to score – something that impressed Rehanne as she reflected on what might have been.
"I'm proud of the way that we finished the game," she said. "It's been a long week with the games we've had and off the back of that, with the size of the squad that we've got this week, a lot of people have put in a lot of work and that's credit to them to still come out and be in a position to (create chances). I think the last 15 minutes was the best spell of the game for us, so I'm proud of them for that, they've shown a lot of fight and resilience again.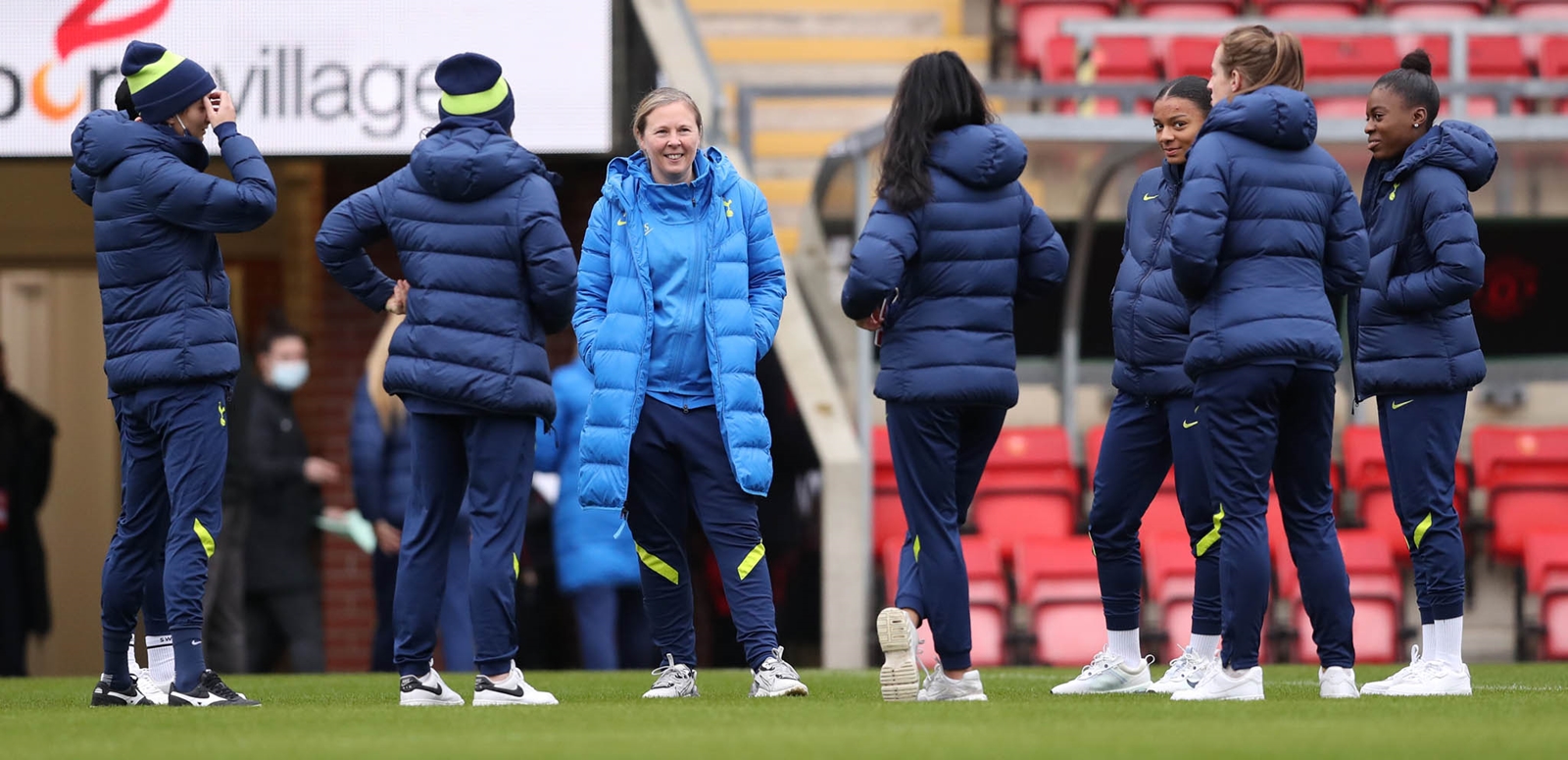 "We started the game in a way that allowed United to get at us in the first 10 minutes a couple of times, but I thought we solved the problem fairly quickly with that, so we reduced their opportunities when we realised how to manage the rotations and we actually had a very good chance to go 1-0 up from Jess (Naz), so that's an opportunity missed where we could have taken the lead and that puts us in a different position. I think there's a couple of mistakes made that we've got to be better at when conceding the first two goals – they're things where we haven't been conceding from those types of situations.
"When we went in at half-time, we knew we had a struggle and we were going to need to pick everything up a little bit more but the team stayed pretty positive and the thing that's pleasing I suppose, if you can pick things out of a 3-0 scoreline, is the chances that we created in the last 15 minutes, but we all know that we can't be waiting until that stage of a game to have that kind of impact. Rachel Williams has had two great headed opportunities and Rosella has had a great opportunity as well, so we've created some good chances, on a different day we might take them and it's a different scoreline but we are where we are this time, we've got to look at that and move on."
Rehanne hinted that the players would have a lighter schedule over the next couple of days as we start to build towards next weekend's Women's FA Cup tie with Leicester City.
"Now we've got an opportunity to try to regroup the squad a little bit and be in a stronger position going into next week," she added. "I think it's important we have a little bit of rest and recovery over the next couple of days so that we're in the best possible position to come back fresh. Invariably when your squad is a little bit smaller, it does put more pressure on certain individuals to be producing consistently and so we need to give them the chance to be able to do that."
Rehanne on Spurs TV