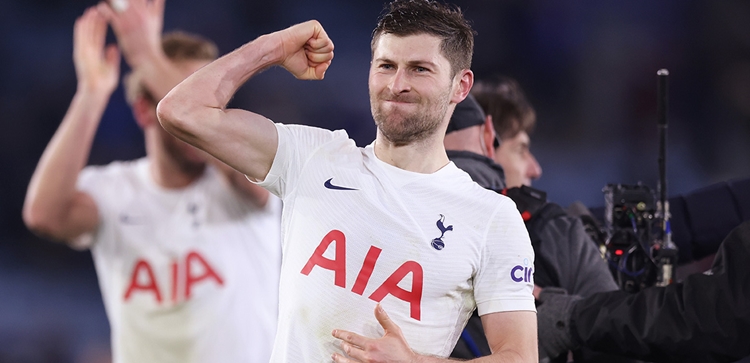 Ben's 250, Harry's 250, a late, late record and half-term stats...
@SpursOfficial
Thu 20 January 2022, 15:45|
Tottenham Hotspur
Ben Davies reached the 250 appearance milestone for the Club in all competitions in last night's thriller at Leicester City.
The Welsh defender becomes the 70th player to make it to 250-plus since we joined the Football League in 1908. He also joins five team-mates on the 250-plus mark - Dele (269), Eric Dier (301), Harry Kane (365) and Hugo Lloris (395).
Ben, 28, joined us from Swansea in the summer of 2014. The late, late 3-2 win at the KP last night was his 158th appearance for us in the Premier League, alongside 16 in the FA Cup, 18 in the League Cup and 58 in Europe, where he sits proudly in the top five of our all-time appearance makers.
250 appearances and counting... 🔥

Congratulations, @Ben_Davies33! 👏 pic.twitter.com/GHdvSA9M39

— Tottenham Hotspur (@SpursOfficial) January 19, 2022
250 career goals for Harry
Harry Kane reached his latest goalscoring milestone when he opened the scoring at the KP last night. That marked his 250th career goal since his league debut on loan for Leyton Orient against Rochdale back in January, 2011. He went on to score five goals in that spell for the O's and in quite a year, made his first team debut and scored his first goal for Spurs, against Shamrock Rovers in the Europa League.
He scored 16 goals in loan spells at Orient (5), Millwall (9) and Leicester City (2) before a cluster of goals back at Spurs at the end of the 2013/14 season. He established himself the following season, 2014/15, scoring 31 goals, and hasn't looked back since.
Now second in our all-time list with only the great Jimmy Greaves (266) in front of him, Harry has racked up 234 goals in all competitions for us - 171 in the Premier League, 12 in the FA Cup, seven in the League Cup and 44 in Europe.
Premier League - half-term report...
Last night's win at Leicester City was our 19th game and therefore completed the first half of this season's Premier League campaign - and the statistics make promising reading.
That late, great victory inspired by Stevie Bergwijn extended Antonio Conte's unbeaten start since taking over as Head Coach in November - a run now standing at six wins and three draws in nine matches - and took us to 36 points after 19 matches.
That ranks fourth for us in the Premier League era - including totals after 19 matches before the league moved from 22 to 20 teams in 1995/96. Whisper it, every time we've had 35 points or more after 19 games, we've finished in the top four...
Our best totals after 19 matches:
45 points - 2018/19 - ended with 71 points, finished 4th
42 points - 2011/12 - ended with 69 points, finished 4th
39 points - 2016/17 - ended with 86 points, finished 2nd
36 points - 2021/22
35 points - 2015/16 - ended with 70 points, finished 3rd
The late, late show...
We created a little history in the Premier League last night. Our win at Leicester represented the latest a team has been behind in a match and turned it around to win. Stevie Bergwijn scored the equaliser with 94.52 on the clock and then the winner on 96.11. The previous mark was set by Manchester City as they won the title on the final day of the 2011/12 season. They were trailing 2-1 against QPR when Edin Dzeko levelled on 91.14 before Sergio Aguero's title-winning strike moments later.
Watch the highlights from the KP