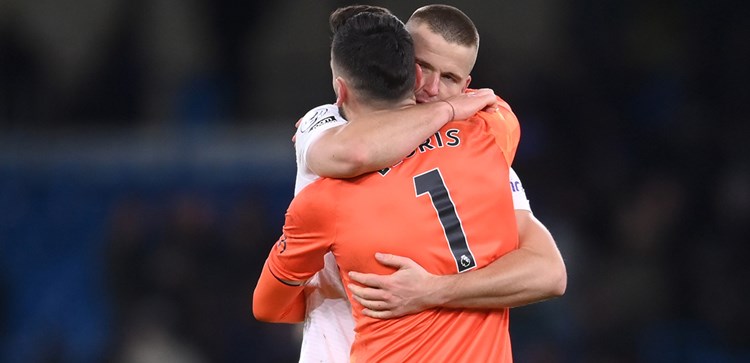 'I call him Benjamin Button' - Dier's tribute to 400-up Hugo
@SpursOfficial
Tue 22 February 2022, 12:00|
Tottenham Hotspur
Draw a line through Eric Dier's career at Spurs - now at 303 games and approaching eight years - and Hugo Lloris will be there.
Hugo joined us in 2012, Eric in 2014. By midway through Eric's first season, 2014/15, Hugo was appointed captain. As we hit a crucial spell of 2021/22, he still wears that armband will pride, now with 400 appearances in all competitions under his belt.
Now 35, Hugo became only the 12th player to reach the 400-appearance mark for the Club in Saturday's thrilling 3-2 win at Manchester City. He marked the day with one of his great saves as we won 3-2, a full-length dive to his left to claw away Ilkay Gundogan's curler bound for the top corner. Gundogan looked like he was ready to celebrate, Raheem Sterling's look was one of disbelief.
The Club's record appearance maker in the Premier League (321), one of only 16 goalkeepers to keep 100-plus clean sheets in the competition (112), Hugo is also France's second most-capped player (136, just behind Lilian Thuram's 142) and a World Cup (2018) and UEFA Nations League (2021) winner.
Most importantly, he's as good as ever. "I call him Benjamin Button," said Eric at Hotspur Way on Monday, referring to the film character played by Brad Pitt who ages in reverse.
"I watched some clips of his saves over the years and it's the way he reads players so well, he's so strong one-on-one, his timing is so good, he moves his feet so well and he's definitely not slowing down, hence the nickname!
"He's a fantastic goalkeeper. The saves he makes... there are an elite group of goalkeepers who make saves you don't expect them to make, and he's in that group.
"The save from Gundogan, as that ball goes past me, I'm thinking he will be there. It's crazy to think it, but I'm thinking, 'don't worry, Hugo will be there'.
"There was another chance in the first half where Cancelo got through and instead of going across to him, and I'm worried about going across to him because it then frees up the cut back, you have complete trust in Hugo and for Cancelo to beat him from that angle would have to be something extraordinary.
"The saves, his sheer consistency, what he's done... to be honest, I think he still goes under the radar."
More tributes - Harry Kane
"Congratulations to Hugo, he's a fantastic guy, a fantastic captain. His consistency... year after year, he's been one of the best goalkeepers in the Premier League, for sure. That save from Gundogan, it looked like it was bending into the top corner. That's what Hugo does. He manages to get across. He's so quick to get across his line and pull out some of the best saves. Full credit to him. It's great to have him in my team, great to know him as a person, as a friend, and hopefully there are many more appearances to come."
Antonio Conte
"First of all, a great compliment for Hugo, because to make 400 appearances, it means you reach a great achievement for this player and for Tottenham. He's our captain and not only an important player, but also an important person for the dressing room. He loves Tottenham. We are happy he stays with us and is our goalkeeper."
Watch - Hugo's best saves