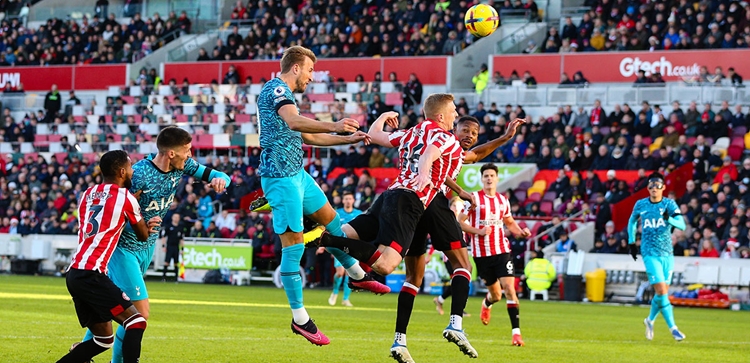 Boxing Day stats - 16 unbeaten, Harry sets record in Premier League
@SpursOfficial
Tue 27 December 2022, 11:30|
Tottenham Hotspur
Harry Kane has set another goalscoring record - he's now the Premier League's all-time record goalscorer on Boxing Day after his brilliant header in our comeback draw at Brentford.
The striker did what he does best, timing his leap and connection to perfection to meet Clement Lenglet's cross and power his header past David Raya after we'd trailed 2-0 at the Gtech Community Stadium.
That made it 2-1 on 65 minutes and the comeback was on against a Brentford side that hadn't lost any of their matches after going ahead in the Premier League, winning 13 of 16. Pierre-Emile Hojbjerg's calm finish six minutes later brought us level and we had the chances to win - Harry later struck the crossbar while both Davinson Sanchez and Heung-Min Son tested Raya.
Harry's goal took him one ahead of Robbie Fowler on 10 goals on Boxing Day, and he's now struck in all seven of his Premier League appearances on 26 December, the longest such run in the competition's history.
That wasn't all - the goal against the Bees means Harry has scored a goal against every Premier League team he's ever faced, a run now up to 32 teams.
Meanwhile, the team's unbeaten run goes back to 2003, our last defeat on 26 December, a 2-0 loss at Portsmouth. Since then, we've reeled off 12 wins and four draws in 16 matches, scoring 40 goals and conceding only 10 in that run.
We've played 26 times on Boxing Day in the Premier League era, winning 15, drawing eight and losing just three.
Boxing Day goalscorers - Premier League
10 - Harry Kane
9 - Robbie Fowler
8 - Robbie Keane, Alan Shearer
7 - Thierry Henry
6 - Jermain Defoe
5 - Dimitar Berbatov, Andrew Cole, Steven Gerrard, Frank Lampard
Our Boxing Day record in the Premier League
92-93 - 0-0 v Norwich A
93-94 - no game on Boxing Day (1-3 v Norwich A - 27/12)
94-95 - 2-0 v Norwich A - Barmby, Sheringham
95-96 - 0-0 v Southampton A
96-97 - 3-1 v Southampton H - Iversen 2, Nielsen
97-98 - 1-4 v Villa A - Calderwood
98-99 - 1-1 v Coventry A - Campbell
99-00 - 4-0 v Watford H - Sherwood 2, Ginola, Iversen
00-01 - no game on Boxing Day (0-2 v Southampton A - 28/12)
01-02 - 0-1 v Southampton A
02-03 - 2-2 v Charlton H - Keane, Iversen
03-04 - 0-2 v Portsmouth A
04-05 - 2-0 v Norwich A - Brown, Keane
05-06 - 2-0 v Birmingham H - Defoe, Keane
06-07 - 2-1 v Villa H - Defoe 2
07-08 - 5-1 v Fulham H - Defoe, Keane 2, Huddlestone 2
08-09 - 0-0 v Fulham H
09-10 - 0-0 v Fulham A
10-11 - 2-1 v Villa A - Van der Vaart 2
11-12 - no game on Boxing Day (2-0 v Norwich A - 27/12)
12-13 - 4-0 v Villa A - Bale 3, Defoe
13-14 - 1-1 v West Brom H - Eriksen
14-15 - 2-1 v Leicester A - Eriksen, Kane
15-16 - 3-0 v Norwich H - Kane 2, Carroll
16-17 - no game on Boxing Day (4-1 v Southampton A - 28/12)
17-18 - 5-2 v Southampton H - Kane 3, Dele, Son
18-19 - 5-0 v Bournemouth H - Son 2, Lucas, Eriksen, Kane
19-20 - 2-1 v Brighton H - Dele, Kane
20-21 - no game on Boxing Day (1-1 v Wolves A - 27/12)
21-22 - 3-0 v Palace H - Kane, Lucas, Son
22-23 - 2-2 v Brentford A - Kane, Hojbjerg