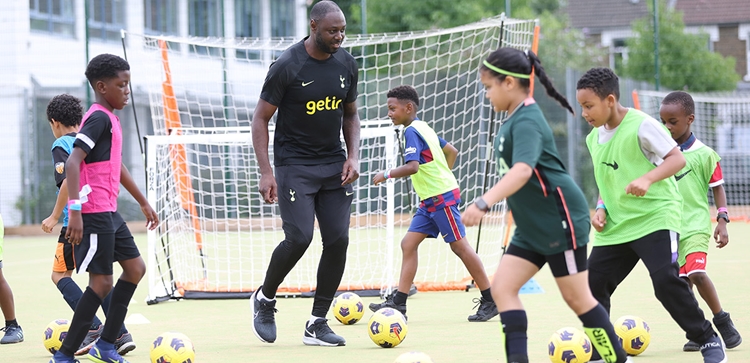 Summer of Spurs kicks off in style!
@SpursOfficial
Tue 02 August 2022, 17:15|
Tottenham Hotspur
Our Summer of Spurs kicked off in style earlier today as Club Ambassador Ledley King joined local young people to sample the range of free sporting activity that will be available in N17 throughout August.
From football, basketball, to NFL flag football, there was something on offer for everyone at the N17 Arena and Duke's Aldridge Academy today as young people of all ages and abilities kicked off their summer holidays alongside friends and neighbours in the shadow of Tottenham Hotspur Stadium.
Each Tuesday, Wednesday, and Thursday throughout August, a range of sports will be on offer from 11am-5pm. Later, from 5pm-9pm, coaches from the Club's Global Football Development team will deliver technical player development sessions with a chance for those taking part to access the Club's talent ID and coaching excellent pathways.
A range of special guest appearances, performances and giveaways will also take place throughout the month - keep an eye on our social media platforms for updates. In the final week of August two back-to-back family fun days will take place at N17 Arena on Wednesday 24th and Thursday 25th August celebrating the diversity of the culture that exists in Tottenham with international music, performers, and street food.
Ledley said: "It was fantastic to kick-off the Summer of Spurs and see so many young people from across our community come along to take part. Keeping young people entertained throughout the summer holidays is so important and there really is something for everyone here. There are several special guest appearances planned too so you never know who you might bump into!"
To sign up to Summer of Spurs you can register online or email thf.activities@tottenhamhotspur.com.