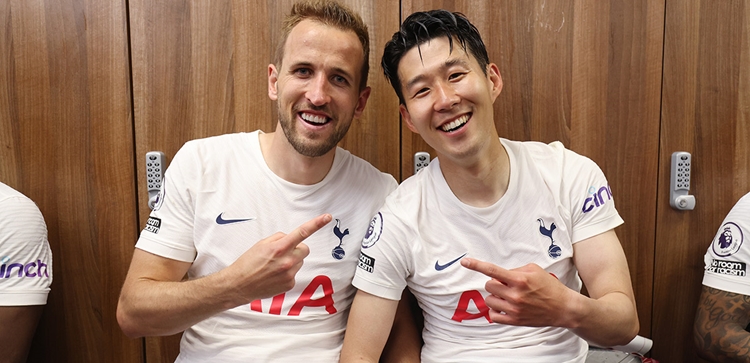 Harry, Sonny shortlisted for Ballon d'Or, Hugo for Yashin Trophy
@SpursOfficial
Fri 12 August 2022, 19:45|
Tottenham Hotspur
Harry Kane and Heung-Min Son have been shortlisted for the 2022 men's Ballon d'Or award and goalkeeper Hugo Lloris nominated for le Trophée Yachine.
Harry and Sonny are two of 30 names competing for the Ballon d'Or, which recognises the best player in the world. It's the fourth time Harry has been nominated (previously 2017, 2018 and 2021) and the second time for Sonny (previously 2019).
Meanwhile, Hugo is on a shortlist of 10 for le Trophée Yachine, named after all-time great, Lev Yashin of the USSR, introduced in 2019 and recognising the best goalkeeper in the world.
It was a memorable 2021/22 for all three players, consistent performers at the very top level for Spurs and internationally.
Sonny won the Premier League's Golden Boot alongside Liverpool's Mo Salah after a late brace on the last day at Norwich City took him to 23 goals, spearheading our run to fourth place and a return to the UEFA Champions League. During the course of the campaign, Sonny became only the ninth player to reach 50 European appearances for us, passed 200 appearances in the Premier League, passed 300 games in all competitions for the Club, won the Premier League's EA SPORTS Player of the Month award for October and broke into the Club's all-time top 10 goalscorering list. In total, Sonny featured in 45 of our 53 matches in all competitions, scored 24 goals and at the end of 2021/22, stood at 325 appearances in all competitions, and 131 goals.
Harry enjoyed a full season in 2021/22, scoring 27 goals in 50 matches in all competitions. As always, records continued to tumble and milestones were reached. In January, he scored his 250th career goal, in February, his goal in the FA Cup against Brighton was his 300th for Club and country. In March, 2022, he climbed above Thierry Henry in the all-time Premier League goalscoring list. He also delivered when it mattered at the end of the season - two goals in a crucial victory over Arsenal, the only goal of a must-win game against Burnley, on target in our final day win at Norwich City - as we secured fourth place and a return to the UEFA Champions League.
As a partnership, Harry and Sonny made history last season when they broke the record for most goal combinations in the Premier League. That came in February when Harry set up Sonny during our 4-0 win at Leeds - their 37th combination. That tally is now up to 41.
Hugo kept a personal best 16 clean sheets in 2021/22. He also completed the Premier League campaign ever-present, playing all of our 38 games to rack up 3,420 minutes, the most in the 2021/22 season alongside Manchester United's David de Gea. That's a feat Hugo, 35, has achieved in back-to-back seasons, with his current run of successive starts in the Premier League going back to March, 2020. Back in August, 2021, he became the first player to reach 300 appearances for us in the Premier League, overtaking Darren Anderton's previous best of 299, his record now stretching to 336.
Internationally, the all three players captain their countries, and helped take England, South Korea and France to this winter's World Cup in Qatar. Harry became only the second player to reach 50 goals for England in June, and is only three away from Wayne Rooney's record of 53. Sonny hit the milestone of 100 caps for South Korea also in June, and has 23 goals to his name. World Cup-winning captain in 2018, Hugo is closing in on France's caps record - he has 139, Lilian Thuram on 142.
Presented annually since 1956 by France's weekly football magazine France Football, the Ballon d'Or – previously known as the European Footballer of the Year and the FIFA Ballon d'Or – was based on voting by football journalists until 2006. After 2007, coaches and captains of national teams were also given the right to vote.
Originally it was an award for players from Europe before being expanded in 1995 to include all players from any origin that have been active at European clubs. The award became a global prize in 2007 but was not given out in 2020 due to the COVID-19 pandemic.
The Club's Ballon d'Or nominations
1957 - Danny Blanchflower
1958 - Danny Blanchflower
1960 - Bobby Smith
1961 - Danny Blanchflower, Jimmy Greaves
1962 - Jimmy Greaves
1963 - Jimmy Greaves
1964 - Jimmy Greaves
1968 - Jimmy Greaves
1971 - Martin Chivers
1973 - Pat Jennings
1975 - Pat Jennings
1985 - Pat Jennings
1987 - Glenn Hoddle
1989 - Gary Lineker
1990 - Paul Gascoigne (finished 4th in voting), Gary Lineker
1991 - Gary Lineker
1994 - Jurgen Klinsmann
1999 - David Ginola
2007 - Dimitar Berbatov
2013 - Gareth Bale
2016 - Hugo Lloris
2017 - Harry Kane
2018 - Harry Kane, Hugo Lloris
2019 - Hugo Lloris, Heung-Min Son
2021 - Harry Kane
2022 - Harry Kane, Heung-Min Son
Our Trophée Yachine nominations
2019 - Hugo Lloris
2022 - Hugo Lloris