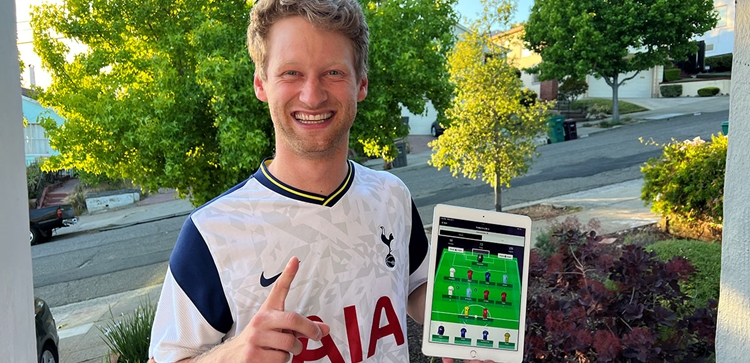 FPL advice from last season's winner - Spurs fan, Jamie Pigott
@SpursOfficial
Thu 04 August 2022, 18:30|
Tottenham Hotspur
Over nine million people entered last season's Fantasy Premier League competition - and it was won by a Spurs fan, Jamie Pigott, from Oakland, USA. Now, with the new Premier League season set to kick-off with Arsenal's visit to Palace on Friday evening, Jamie has offered advice to Spurs fans putting their FPL teams together for 2022/23...
First up, Spurs...
Jamie: "Well, it's worth mentioning from the start that you can only name three players from one club! For me, Harry Kane (11.5m)  is always one of the first players on my teamsheet. I'm confident he'll hit the ground running, so he's high up on my list. Heung-Min Son (12.0, down as a midfielder) is, of course, great as well. Dejan Kulusevski is 8.0 (midfield). The other I've got my eye on is Ivan Perisic (5.5, defender). If you watched him in the Roma game, he takes up such good positions it's hard to ignore. I want a piece of that!"
Goalkeepers
Jamie: "It's different this season because of the way the 'premium' goalkeepers are priced. They are more attractive than in previous seasons. I like to start with a 4.5 goalkeeper, it's cheaper and often cheaper goalkeepers make more saves, so if you can find one who keeps clean sheets and makes saves, you could pick up an 11-point haul in any given week. Having said that, looking at the fixtures, I'm not in love with any of the 4.5 goalkeepers! I'm looking at a couple of 5.0 options and, yes, Aaron Ramsdale at Arsenal is one of those! Ederson (City) and Allison (Liverpool) are both good options at 5.5."
Defenders
Jamie: "I used a lot of wing-backs last season, and this time it all depended on their prices. Trent Alexander-Arnold (Liverpool) at 7.5, Andy Robertson (Liverpool) at 7.0, Joao Cancelo (City) at 7.0, those attacking wing-backs have both clean sheet and attacking potential. Often, they are playing more like wingers. There is so much value there, so I'll probably stick with wing-backs again, like Perisic. Maybe Kieran Trippier (Newcastle, 5.0) in there as well, or Matty Cash (Villa, 5.0). I'll probably start with five at the back because on a points-per-million spend, defenders tend to be better value."
Midfielders
Jamie: "The first midfielder everyone should consider is Mo Salah (13.0), he's the best asset. He'll probably be in my team, and a lot of teams. There are a number of good picks around the 8.0 bracket, like Phil Foden, Riyad Mahrez and, of course, Dejan Kulusevski. Luiz Diaz is also 8.0, Bukayo Saka as well. On the flip side, there are also budget options that have become popular. Wolves have good fixtures, for example, and Neto is an option at 5.5. Gabriel Martinelli at 6.0 at Arsenal, Leon Bailey at Villa is at 5.0. You'll have to pay a premium price for Sonny (12.0). It's all about finding a balance."
Strikers
Jamie: "Harry is the obvious starter, and the first name on my teamsheet. Last season, it was a struggle to find forwards scoring on a consistent basis. I think it will be different this season with the likes of Erling Haaland at City (11.5), Arsenal have Gabriel Jesus (8.0), Darwin Nunez at Liverpool (9.0), all new faces, and I'm willing to wait to see how they do, maybe then I'll pivot to make them fit. Off the bat though, I like Jamie Vardy at Leicester (9.5), he's an option, then in the promoted teams, there's Dominic Solanke at Bournemouth (6.0) and Aleksandar Mitrovic at Fulham (6.5). Again, it's maybe worth waiting on them."
Any bargains?
Jamie: "We've covered those in midfield - Neto, Martinelli, Bailey - but the bargains typically come from players who you don't expect to play the minutes, but then emerge in GW1 and they play 90 minutes every week and we just have to get them in, for example, a defender priced around 5.0 who then allows us to spend on the team elsewhere."
One piece of advice...
Jamie: "I would say plan ahead, maybe a couple of weeks ahead, knowing which player(s) you want to bring in and in a similar vein, really look at the fixtures. If you can bring a player in ahead of a good fixture run, instead of just chasing whoever scored the previous week, that puts you ahead of the curve, so try to bring in players before they score big, not once they've started a good run."