38 years ago - Hoddle's masterful display against the Dutch master
@SpursOfficial
Tue 19 October 2021, 15:45|
Tottenham Hotspur
As we prepare to face Vitesse Arnhem this week, and turn our minds to European nights against Dutch opposition, of course, Lucas Moura's hat-trick and that night of all nights against Ajax to reach the Champions League Final in May, 2019 immediately springs to mind.
However, Spurs fans of a certain vintage will also cast their minds back 38 years ago today - 19 October, 1983 - and a glory, glory night against Feyenoord at the Lane where Glenn Hoddle mastered one of the all-time greats, the Dutch master himself, Johan Cruyff.
Cruyff was 36 at the time, and in his last season of a glittering career that had brought 10 titles (eight at Ajax, one at Barcelona, one at Feyenoord), three European Cups at Ajax and three individual Ballon d'Or awards. World Cup runner-up with Holland in 1974, he also won the FIFA Golden Boot in that tournament. In a playing career spanning 20 years, Cruyff was named Dutch Footballer of the Year in 1968, 1972 and 1984.
No wonder there was such intrigue ahead of our UEFA Cup second round, first leg tie as Cruyff, also Feyenoord's technical director, decided to mark our midfield maestro. Hoddle responded with arguably his best 45 minutes in a Spurs shirt and played an integral part in all four goals as we raced into a 4-0 lead by half-time. His pass released Chris Hughton to set-up Steve Archibald for 1-0, he then crossed for Tony Galvin to make it 2-0, Mark Falco latched onto Hoddle's pass for the third, his shot parried before Archibald tapped home and the pick of the bunch, a 40-yard pass into Galvin for 4-0.
"It had to happen, I suppose," reported Clive White in his report in The Times. "Johan Cruyff placed in the wings by an opposing number 10. But who better to take over the mantle from the great but ageing champion than our own darling, Glenn Hoddle."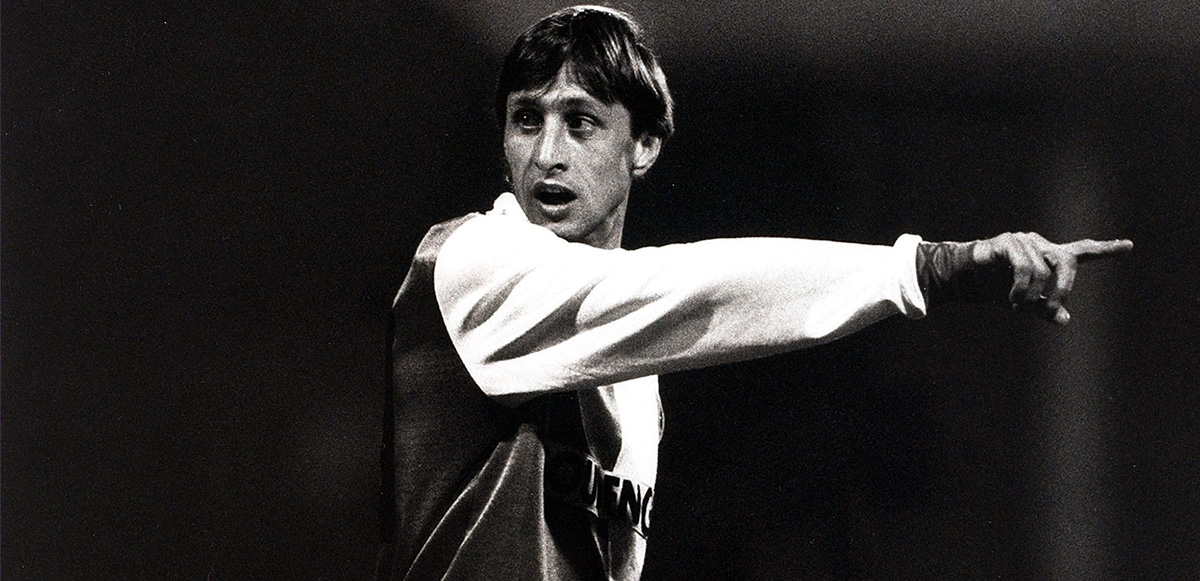 Speaking in 2013, on the 30th anniversary of the match, Tony Galvin said: "I can't remember us playing much better in one half of football as we did in that first half against Feyenoord. Glenn was just absolutely outstanding. He was on fire in that particular period of his footballing career, and I don't think he'd ever played a better half for Spurs. If he had, there can't have been many, because he was absolutely outstanding.
"I remember Glenn crossing one ball and for some reason I finished up in the middle of the goal. I couldn't really miss it. I had to head it, I didn't have to jump, it landed on my head. The other one, I ran through the middle and again it was a pass through from Glenn and I put it beyond the goalkeeper.
"It was a big game - Feyenoord were fancied, but we were playing with a lot of fluidity that night, there was a lot of movement and Glenn's passing - well, I mean, it was second to none. If you made the run he'd find you."
Cruyff gave Glenn the highest of compliments afterwards. "I wanted to test myself against the young star of the present," he reflected. "Glenn was a great player in my book. He played football the way that I wanted to see it played.
"I thought I could mark him and keep him quiet. The result shows that I could not. It was only on the pitch that I realised how good he really was. I was a shadow without any presence."
Feyenoord came back in the second half to make it 4-2, but we won the second leg 2-0 at De Kuip for a 6-2 win on aggregate. It was the second step on the journey that would take us all the way to glory and that famous penalty shoot-out win in the final against Anderlecht at the Lane in May, 1984.