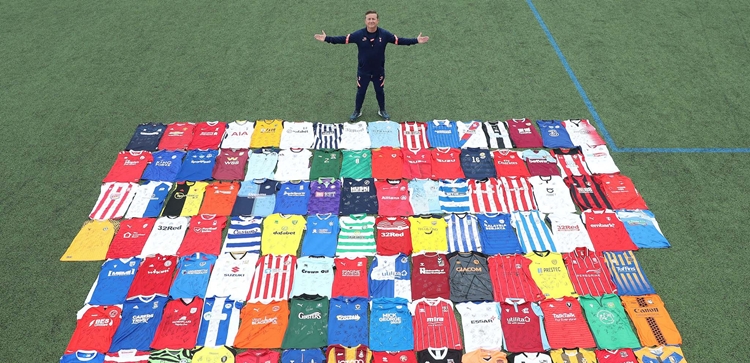 Last chance to bid in kit man Steve's poignant auction
@SpursOfficial
Sat 22 May 2021, 10:30|
Tottenham Hotspur
A unique football shirt auction launched by our Head of Kit and Equipment Steve Dukes in memory of his late father closes on Sunday.
Charlie Dukes tragically lost his life last May at the age of 73 after a cycling accident. Found unconscious beside a track by a passer-by with serious head injuries, he was taken to hospital but died five days later.
In honour of his dad, Steve has called on his friends and colleagues throughout the football industry to bring together shirts from all 92 English football league clubs which he is now auctioning off to raise awareness of the importance of wearing cycle helmets, while raising funds for the Essex & Herts Air Ambulance service charity.
Clubs from outside England including Celtic and Rangers have also contributed shirts, as have the national teams of England, Scotland, Wales, Northern Ireland and Republic of Ireland. There are even signed rugby shirts from Scotland, Wales and Saracens, taking the overall total up to a staggering 106.
The online auction began on Friday 14 May and closes this Sunday (23 May), the first anniversary of Charlie's passing.
Separately from the auction, anyone who wishes to make a donation to the cause, however big or small, can do so via Steve's JustGiving page.
"I wanted to occupy myself and keep myself focused for my dad, so I thought this was a good opportunity," said 'Dukesy'.
"My dad would ask what all the fuss is about, but he'd be proud. I hope he's looking down on us. He was a keen cyclist and did London to Brighton, London to Cambridge and those sorts of routes to raise money for charity.
"Perhaps if dad was wearing a cycle helmet on that day last May, he might have stood a better chance of surviving. I don't know, but if we can help to raise awareness of the importance of wearing protective items like that, it would give me some comfort to know that because of my dad, perhaps lives can be saved in future. It also gets Essex & Herts Air Ambulance out there and allows people to understand that it's a charity and they need funding. It will be brilliant for them and hopefully allow them to save a lot more lives too."
Very much 'one of our own', Dukesy is a stalwart of the Club who began working at White Hart Lane as a steward in 1987. He later became a tunnel steward, then assistant kit manager in 2005/06 before assuming main kit manager duties a few months later. A selfless individual, he's worked tirelessly over the years to oversee the distribution, maintenance and safe-keeping of all the Club's kit and equipment, including a large-scale laundry operation, with the support of his team of staff. A popular figure among players and staff, he remains friends with many of our current and former players.