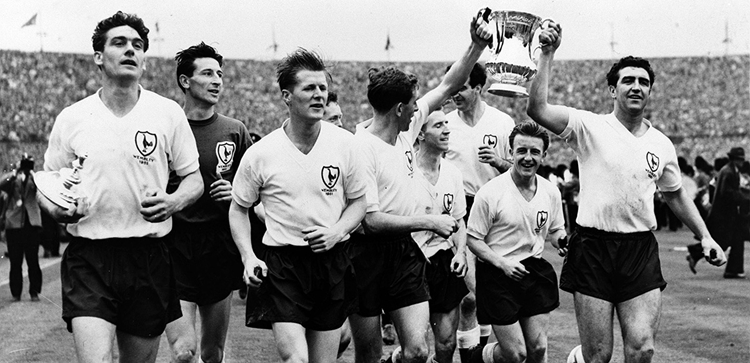 60 years on, our Double heroes recall the 'glory, glory' years
@SpursOfficial
Thu 06 May 2021, 12:33|
Tottenham Hotspur
Saturday 6 May 1961 - a date that will forever resonate with Tottenham Hotspur. That was the day, 60 years ago, that our Club achieved what many felt was impossible, by securing the 'Double' of the First Division Championship and FA Cup. It was the first Double of the 20th century, a feat last achieved by Aston Villa in 1896/97.
They did it in style, as well. Bill Nicholson's team won their first 11 matches of the season - a record that still stands - drew the 12th, and then won the next four. They didn't lose until mid-November and wrapped up the title with three matches remaining on 17 April with a 2-1 win against Sheffield Wednesday.
The 'Double' was secured three weeks later with a 2-0 win against Leicester City at Wembley, thanks to goals from Bobby Smith and Terry Dyson. Ten players played over 36 of the 42 league games and the team scored 115 league goals, spearheaded by Smith (28) and Les Allen (23). Three more players hit double-figures - Cliff Jones (15), John White (13) and Dyson (12).
The team reached the semi-finals of the European Cup and retained the FA Cup in 1961/62 and were then runners-up in the league before making history at the end of 1962/63 by becoming the first British team to win a European trophy, the Cup Winners' Cup, via a 5-1 thumping of Atletico Madrid in the final in Rotterdam.
There are seven survivors from the 17 players who played in the Double season - Les Allen, Terry Dyson, Cliff Jones, Terry Medwin, Maurice Norman, Tony Marchi and Frank Saul - and we've spoken to them all as we celebrate the 60th anniversary of our greatest-ever season.
Here are the 'glory, glory' boys, 60 years on...
Les Allen
Inside left - 49 appearances/27 goals in 1960/61 (42/23 league)
137 appearances/61 goals for Spurs, 1959-65
Now 83
How's your health, Les?
"I'm not too bad, not 100 per cent, but ticking along. I had a heart bypass a few years ago, had one or two little problems with that, but besides a few other bits and pieces, a couple of cancers - thankfully it seems they're alright - we just go from day to day."
What memories stir when we speak about the 'Double', 60 years on?
"It all goes too quickly, and you don't take it all in at the time, but when you look back... we were all on the basic £20 a week, and you played your heart out for your £4 bonus! We were like a big family. Everyone looked after everyone else. We had a pretty regular team, that helped, a settled, stable team. You could tell the year before that something was building. Bill Nicholson put a lot into how the team performed and worked on everything that we needed. The results came from that hard work. We didn't realise what we'd achieved at the time. Now, we're all getting old! I'd just like to give my regards to all the fans around the world."
Terry Dyson
Winger - 47 appearances/17 goals in 1960/61 (40/12 league)
209 appearances/55 goals for Spurs, 1954-65
Now 86
How's your health, Terry?
"I'm fine, yes, touch wood. No issues."
What memories stir when we speak about the 'Double', 60 years on?
"It's a different era, obviously, but looking back at it, we didn't realise how good we were. We took some beating. We had some class players. We had a brilliant captain in Danny Blanchflower, Dave Mackay, he loved to win and threw everything into it. Looking through the team, good goalkeeper, Bill Brown, the full-backs were very good and just defended, did their jobs, Peter and Ron. Maurice at centre-half, he just stopped everything. Then we had Danny, he led by example, always wanted the ball, passed it well. I remember I'd just joined the Club, I was still in the Army, I came to a game, watched Danny and thought, 'what a player'. Good captain as well, took on all those responsibilities. Cliffy Jones, John White, Bobby Smith, Les Allen and myself, that forward line. What a team. We just blended, won the first 11 games, and after two or three we were thinking 'we're quite good, you know'. We never expected to lose in those days. Bill Nicholson trained us well and the fans liked to watch us play. I was best mates with Dave, we used to go around a lot together. He was an inspirational figure. We were close to the fans. They'd travel with us on the same train. The FA Cup Final... the only shame was we didn't play as well as we did for most of the season. We made history that day. People always remember firsts - Roger Bannister's mile, Hilary climbing Everest - and people can't take that away from us."
Cliff Jones
Winger - 35 appearances/19 goals in 1960/61 (29/15 league)
378 appearances/159 goals for Spurs, 1958-68, Club's fifth all-time top goalscorer
Now 86
How's your health, Cliff?
"I'm okay. I've been diagnosed with the early stages of dementia, but, physically, I'm okay. I'm still out and about, still golfing, still exercising. I can still do press-ups, sit-ups so, yes, I'm okay."
What memories stir when we speak about the 'Double', 60 years on?
"I've amazing memories, especially the attachment between the players and the supporters. After a game, we'd go down the High Road to the Bell or the Corner Pin (pubs) and we'd be in there with the supporters. Then, we'd all go our separate ways. A few of the boys, Bobby Smith, Terry Dyson, they'd maybe go to Haringey or Walthamstow Greyhounds, that was their thing. Joan and I would go to a restaurant and have a nice meal. Bill Nicholson was, of course, the main man. He would always say the most important people at this Club weren't the players, wasn't the manager, but the supporters. He'd say, 'they work 40 hours a week, they come through those turnstiles and pay your wages, never forget that'. That worked for us. We were the first to do it, the Double, and the first British team to win a European trophy. And it was all done with style. I always say, we had three players - Danny Blanchflower, John White and Dave Mackay - and if they played well, we all bounced off them. We were so strong down the spine of the team with Maurice Norman, Dave Mackay and Bobby Smith. We were a family. We were pals off the field and we took that onto the field. That can take you a long way. I'm still in touch with Terry Medwin, Terry Dyson. As I said, amazing memories, special times, and I treasure them."
Tony Marchi
Half-back - 6 appearances in 1960/61 (all league)
260 appearances/7 goals for Spurs, 1950-65
Now 88
How's your health, Tony?
"I'm doing okay, as much as an 88-year-old man can do! Sometimes I have to breathe a bit deeper, sometimes I just have to sit down and take a rest, but apart from that, I can't see what else I can be doing!"
What memories stir when we speak about the 'Double', 60 years on?
"How did it feel? At that time it didn't seem to be historic, the games just went on and on, and we kept on winning. I don't think we felt that much about it, you just wanted to keep winning. I can't believe it was 60 years ago, that is true. It's gone too quickly! It was only probably in January or February time  (in the 60/61 season) when the cup ties were played and we were winning, suddenly we got to the semi-final and we're top of the league with so many points advantage and the club started to think, 'we're going to do something here, we're going to win the league, it doesn't matter there, but if we win this cup it's going to be something big'. Of course, that's how we felt as it went on, and we did it in the end. I don't think we realised the importance of it. We were all happy, obviously, and very proud, but at the time we didn't think it was that big, as you might say."
Terry Medwin
Winger - 15 appearances/5 goals in 1960/61 (14/5 league)
215 appearances/71 goals for Spurs, 1956-63
Now 88
How's your health, Terry?
"I'm okay. We all have our problems, and I don't think I've much chance now of playing again at 88! We still go out for walks every day, for an hour, we have a huge family, and that's great."
What memories stir when we speak about the 'Double', 60 years on?
"Sixty years ago! That makes me feel even older! They were great days. That Spurs team was great. Dave Mackay, Danny Blanchflower, he was a great captain. Cliffy Jones, my mate, came from Swansea as well two years later. He did well, Cliffy. We lived near each other in Swansea, went to the same school together, married local girls, and then we were living quite close in Palmers Green! Jimmy Greaves, what a player, lovely fella as well. I played 15 times in the double season, then more the next season. It was great to play in the 1962 FA Cup Final, but I broke my leg in Cape Town in 1963. We'd just won the Cup Winners Cup in Rotterdam and we flew from there to South Africa. I had to have it set and I never played again. I always remember John White, my great friend. I was with him at 12.20pm on the day he was struck down by lightning (at Crews Hill GC, 1964). That's the saddest thing that's ever happened, especially at his age. He was a class player and a class bloke. Looking back, those were brilliant days. I enjoyed every minute of it."
Maurice Norman
Centre-half - 48 appearances/4 goals in 1960/61 (41/4 league)
411 appearances/19 goals for Spurs, 1955-65, one of 11 players to make 400-plus appearances for the Club
Now 86 (87 on Saturday)
Interview conducted via correspondence with Maurice's wife, Jacqueline...
First of all, Jacqueline, how is Maurice?
"To all Spurs supporters, please accept my words as those of Maurice. After 60 years of marriage, I feel I can answer honestly for him. His family have decided that you, his loyal fans, should know his real condition now. Maurice will be 87 on 8 May, but he has been suffering for several years with heart problems and vascular dementia, that is at an advanced stage. It means that as the conditions are progressive he has become more and more withdrawn and needs care 24/7. He still loves watching Norwich, Spurs and England play and his few words are usually, 'glory, glory days' and always about you, the fans, the adulation and support. He has always said without the supporters he would be nobody."
What memories stir when we speak about the 'Double', 60 years on?
"At the time, Maurice kept saying how Danny Blanchflower had been telling the team that they really would complete the Double. In fact, Danny said how much stronger the team was. It must not be forgotten that this feat was considered unwinnable, but Tottenham had perhaps the best season in the Club's history. Bill Nicholson, always a strong disciplinarian, accepted nothing less than full commitment and a resolve not to lose! He wanted and got a team with a simple ideal of playing as one. No player was bigger or better than another. The aim was to play the ball first time, knowing exactly where the other players were on the pitch and this enabled fast, accurate play as one. Maurice's memories are more about the build up to that season. He says they all felt that something (perhaps the Double) was looming. The players worked hard in training and enjoyed being together, the results then fell into place."
Frank Saul
Forward - 6 appearances/3 goals in 1960/61 (all league)
129 appearances/45 goals for Spurs, 1960-67
Now 77
How's your health, Frank?
"I'm okay, but I'd best be getting on, my wife has got the tea on!"
What memories stir when we speak about the 'Double', 60 years on?
"It was brilliant. At that time, it was a great feeling because I was only 17 when I first played in the first team. I was on the outside looking in really and I looked up to all of the great players that we had. I was five or six years younger than most of them, but I used to get in the side every now and again and it was a pleasure to have been part of such a great team. In those days, when we won, we got a £4 bonus and if you drew you got £2 and now, when I go shopping with my wife, you see loaves of bread for £2 and you think how everything has changed so much. I know I played just over 125 games and scored 45, nearly 50 goals, which is not too bad!"