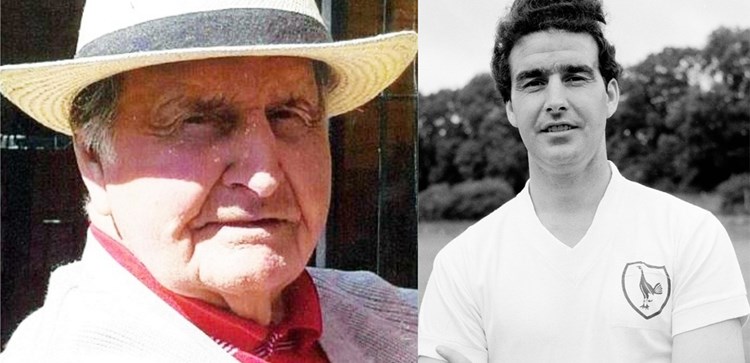 60 years on, a poignant interview with Maurice Norman, rock of the 'glory, glory' years
@SpursOfficial
Wed 05 May 2021, 08:55|
Tottenham Hotspur
Cliff Jones often refers to the spine of our famous 'Double' team of 1960/61. "Bobby Smith, Dave Mackay and Maurice Norman, our defensive rock at the back. We were so strong down the middle. You wouldn't mess with either of them, and they could all play as well..."
For 10 years, Maurice was that rock as the likes of John White, Cliff Jones, Terry Dyson, Les Allen, Bobby Smith and Jimmy Greaves wreaked havoc at the other end of the pitch. He played 411 times for us having been signed aged 21 from Norwich City, where the boy from the village of Mulbarton, Norfolk, began his career. No member of the double team went on to play more for Spurs.
Maurice started 48 of 49 matches as we won the First Division and FA Cup in 1960/61. Under the guidance of Bill Nicholson, we retained the FA Cup in 1962 and then made history, the first British team to lift a European trophy when we claimed the Cup Winners' Cup in 1963. He also won 23 England caps and was part of the 1958 and 1962 World Cup squads in Sweden and Chile, alongside the likes of all-time greats Bobby Moore, Tom Finney, Billy Wright, Johnny Haynes, Bobby Charlton and his Spurs team-mates, Bobby Smith and Jimmy Greaves.
Sadly, tragedy struck in November, 1965, when Maurice suffered a double leg fracture playing in an exhibition match against a Hungarian Select XI. Despite giving everything to return, the injury forced him to retire in 1967.
For the purpose of this interview, we've corresponded with Jacqueline, Maurice's wife of 60 years. Indeed, they were married during the Double season, 27 March, 1961, and recently celebrated their Diamond Anniversary.
Health
First of all, Jacqueline, how is Maurice?
Jacqueline: "To all Spurs supporters, please accept my words as those of Maurice. After 60 years of marriage, I feel I can answer honestly for him. His family have decided that you, his loyal fans, should know his real condition now. Maurice will be 87 on 8 May, but he has been suffering for several years with heart problems and vascular dementia, which is at an advanced stage. It means that as the condition is progressive he has become more and more withdrawn and needs care 24/7. He still loves watching Norwich, Spurs and England play and his few words are usually, 'glory, glory days' and always about you, the fans, the adulation and support. He has always said without the supporters, he would be nobody."
Memories
Does the mention of the Double stir any particular memories?
Jacqueline/Maurice: "At the time, Maurice kept saying how Danny Blanchflower had been telling the team that they really would complete the Double. In fact, Danny said how much stronger the team was. It must not be forgotten that this feat was considered unwinnable, but Tottenham had perhaps the best season in the Club's history. Bill Nicholson, always a strong disciplinarian, accepted nothing less than full commitment and a resolve not to lose! He wanted and got a team with a simple ideal of playing as one. No player was bigger or better than another. The aim was to play the ball first time, knowing exactly where the other players were on the pitch and this enabled fast, accurate play as one. Maurice's memories are more about the build up to that season. He says they all felt that something (perhaps the Double) was looming. The players worked hard in training and enjoyed being together, the results then fell into place."
60 years ago
On 6 May, 1961, we beat Leicester City in the FA Cup Final to clinch the Double. Did it all sink in?
Jacqueline/Maurice: "The team stayed at Hendon Hall overnight. After breakfast, we had a short team talk. Then it was onto the coach and off to Wembley. The roads were already packed! Maurice said that they were all beginning to feel the excitement. Danny was still talking about the double and we were all feeling the tension. Princess Marina was presented to us before the match. Maurice says it seemed a good, feisty game (not the best of games!) but the Wembley jinx hit Leicester. Remember, there were no substitutes in those days and Len Chalmers (Leicester full-back) was injured and could only stay on the pitch to try to be a nuisance to Spurs out on the wing. Suddenly, it was all over. We had won. It seemed so unbelievable. We had won! Now it can be told of a little problem that happened to Maurice. Some years earlier, Maurice's upper front teeth were elbowed out during a match, and he had a plate made. Knowing that, win or lose, they would pick up medals from Princess Marina, Maurice and Bill Brown (our goalkeeper) thought of putting Maurice's plate in Bill's cap and then, after the game, Maurice would wear it to meet the Princess. Just as they were called to go up the great old Wembley steps, Bill said he couldn't find the plate! Therefore, Maurice was unable to smile! As the time came nearer to leave the stadium and go to the celebrations, Maurice and Bill trampled around both goalmouths to find the plate. They found it just in time in one of the areas - unbroken! In recent times, when Maurice was fitter, he loved telling that story to his two great-grandsons!"
Emotions
60 years on, when you look back at everything you achieved - the Double, retaining the FA Cup, the first British team to lift a European trophy in 1963 - what emotions do you feel?
Jacqueline/Maurice: "Maurice remembers the big crowds, the high expectations and being inspired to get out there and fulfil all those hopes and dreams. He still feels connected to Tottenham and still watches, and he's only happy when we win! We just seemed like one big family. Bill Nick wanted us to win with panache, to entertain and please the fans. It was every player's dream to play in an FA Cup Final at the old Wembley, then we did it again in 1962. No matter where we went, or who we played, the fans always did us proud, always there in such great numbers. Long live the supporters, without them, sports people are nobody."
Pride
Finally, what are you most proud of?
Jacqueline/Maurice: "Maurice always used to talk about his humble beginnings, born in a thatched cottage in the village of Mulbarton in Norfolk. There was no electricity or running water, and the family had to use the village water pump. He had one thought, that he would be a footballer. Even school was of no interest. He never had a proper football or boots until he was 13. The boys in the village would stuff a pig's bladder with newspapers and that would have to do. Leaving school at 14, he worked on a local farm (all work done by hand, then). He played in several teams growing up, and eventually he was approached by Norwich City and began training on evenings after farm work. If he missed the last bus, he would walk five miles back home – and still have to feed the pigs! He played 35 first team games for Norwich after two years conscription in the Army. The then manager of Norwich, Mr Parker, wished to sell him to Tottenham (he said he needed the transfer fee to build floodlights at Carrow Road). Arriving at Spurs was extraordinary, meeting the great players already there. And then putting on that shirt, the famous Spurs shirt, he could not believe that he was to be part of this great Club. From 1955, when he was the new boy at Tottenham, until that tragic night in November, 1965, when his career all came to an end (he was seriously injured in a friendly against a Hungarian XI), it was all like a fantastic dream. Meeting and playing against such formidable teams and with such success. Proud of all achievements, proud to have played and been a Club player. Enjoyed the fun and the camaraderie of the players, life-long friends, and the opportunity to play around the world."
Coming tomorrow...
On the 60th anniversary of winning the FA Cup - 6 May 1961 - we speak to the surviving players who achieved what many thought was impossible, completing the league championship and FA Cup double.