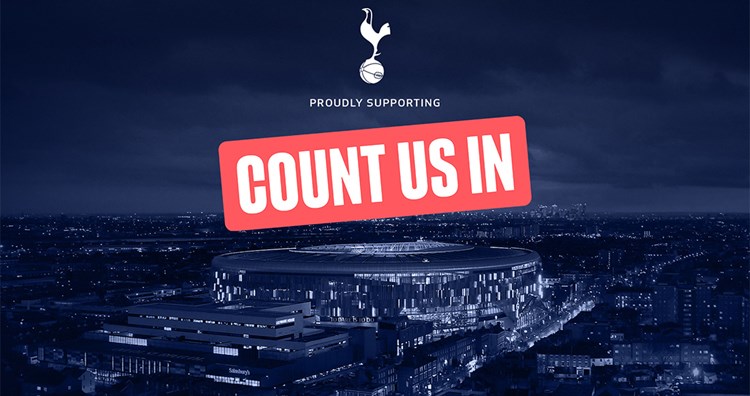 Tottenham Hotspur supports historic World Record attempt to combat climate change
@SpursOfficial
Thu 08 July 2021, 09:00|
Tottenham Hotspur
• Club partner, Count Us In, is attempting a Guinness World Record for the most climate actions taken in one month between 18 June-17 July
• Spurs fans are encouraged to take a step via a dedicated online platform and be entered into a prize draw to win a new Home shirt
• UN Ambassador Sacha Dench - taking on the first circumnavigation of mainland Britain by electric paramotor - will land at the Club's training centre during the month of action
• Spurs were named the Premier League's greenest club earlier this year following a study carried out by BBC Sport and the Sport Positive Summit
The Club continues to proudly support a historic Guinness World Record attempt for the most people taking climate action in the space of a month.
The attempt was launched by Count Us In on 18 June - a global platform aiming to mobilise 1 billion people over the next decade in the fight against climate change, and of whom the Club is a founding partner.
Between now and Saturday week, 17 July, 140,001 people are needed take one of the 16 simple steps advocated by Count Us In - such as cutting down on food waste, walking and cycling more, or eating more plants - to break the record.
We encourage our fans to get involved via Count Us In's unique online platform - by taking a step on the dedicated Tottenham Hotspur page, you can be entered into a prize draw to win a personalised 2021-22 Nike Home shirt - made from recycled plastic bottles.
Sacha Dench, UN Ambassador for Convention on Migratory Species and Founder of Conservation Without Borders, has committed to taking on the challenge by attempting a World Record of her own.
The Round Britain Climate Challenge set off from Scotland at the end of June and aims to be the first and fastest circumnavigation of mainland Britain on an electric paramotor.
During the ground-breaking 3,000 mile plus expedition, Sacha will be landing frequently, meeting with and gathering information from industry, innovators and entrepreneurs, local heroes, communities, schools, farmers and individuals - anybody involved in addressing the effects of climate change in their areas.
One of Sacha's stops will be the Tottenham Hotspur Training Centre in Enfield - a facility designed with environmental protection and sustainability in mind, complete with wildlife ponds, bug hotels, bat houses, a wildflower meadow and an organic Kitchen Garden.
Known as the 'Human Swan', Sacha said: "This is the first time an electric paramotor will have ever been used in a long journey - and it's going to be an exciting challenge.
"I want to capture the imaginations of the young and old, rural and urban, and focus on answers to the climate crisis - not problems - and encourage everyone to get involved. Just one person pledging to take an action through Count Us In will help us get that Guinness World Record!
"As well as investigating how climate change is affecting different regions of the country, we will be showing - in a visually stunning and exciting way - what is happening to help cut carbon and preserve and restore our environment. We'll be finding the likely and unlikely heroes and discovering where and what works."
Tottenham Hotspur is dedicated to minimising the environmental impacts of its activities across all Club operations.
Earlier this year, Spurs were named the English Premier League's greenest club following a study carried out by BBC Sport and the UN-backed Sport Positive Summit.
The Club is a signatory of the UN Sports for Climate Action Framework, demonstrating its commitment to playing its part to ensure the sports sector is on the path to a low-carbon future, in line with the aims of the Paris Agreement.
For more on the Club's range of sustainability measures, click here or follow the link below...