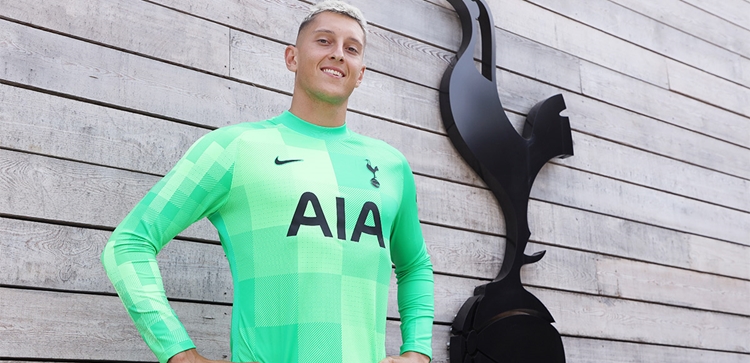 Pierluigi: "This is an amazing feeling"
@SpursOfficial
Sat 24 July 2021, 13:07|
Tottenham Hotspur
Pierluigi Gollini described himself as 'blessed and proud' to join Spurs as he spoke to us for the first time after joining the Club on a season-long loan from Atlanta, with an option to make the transfer permanent.
The Italian international has plenty of experience under his belt age the age of 26, including leaving home to join Manchester United as a youngster, and then returning to England for a spell in the Championship at Aston Villa in 2016/17.
But it's his time at Atalanta that has caught the eye, with Pierluigi racking up 108 appearances at a club that has finished third in three successive seasons in Serie A, qualified for the Champions League and reached the Coppa Italia final last term.
"This is an amazing feeling," said Pierluigi, taking in his new surroundings at Hotspur Way. "I'm very happy for this opportunity. It's a massive club, a very good chance for me, a big chance. I'm really blessed and proud to be here. I'm so happy just to be part of this club and to join this team of great players."
Of course, Pierluigi walks into a goalkeeping team already boasting the talent and experience of Club captain Hugo Lloris, Joe Hart and promising youngsters like Alfie Whiteman and Brandon Austin.
What were his targets? "I'm young, but not too young, and I'm here to show that I can be the future of Tottenham," he stated. "Obviously, now I'm here with Hugo and I have huge respect for him. He is a legend of this club, captain, world champion. For me, it's a privilege, an honour to work with him and to train with him, and I'm sure I can learn a lot from him.
"When I look at this team and this group of guys, I think the squad is really, really good and I think, as a team, we have to be really ambitious. We should try to win something, because it's a big team, a big club and winning has to be the goal."
Look out for more from Pierluigi next week...
Pierluigi is pictured in our all-new Nike Goalkeeper Kit - buy yours now!
Pierluigi - first interview on Spurs TV