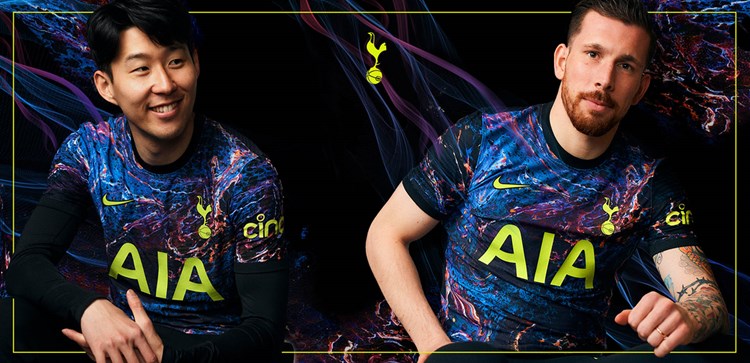 Introducing our new 2021/22 Nike Away Kit
@SpursOfficial
Thu 22 July 2021, 08:00|
Tottenham Hotspur
We are delighted to officially unveil our new Nike Away Kit for the 2021/22 season.
With a bold, vibrant look, the new kit puts future creators at the heart of its design, with an expressive print that represents collective creativity from local minds.
The dark base of the jersey acts as the perfect canvas for the progressive design, with its vibrancy accentuated by blue trim detail and a Venom Green Nike Swoosh, Club crest and sponsor logos. The shirt is complemented by black shorts and socks.
The kits that will be worn on the pitch, as well as the replica shirts available for supporters to buy, are constructed with 100 per cent recycled polyester fabric, which is made from recycled plastic bottles. This creates kits that helps to deliver peak performance with a lower impact on the environment.
No other sport captures global attention like the beautiful game and we, along with Nike, see this as an opportunity to scale more sustainable solutions in order to help protect the future of sport.
As part of their wider Move to Zero initiative – a journey towards zero carbon and zero waste – Nike are focused in scaling the usage of lower-carbon material alternatives. Recycled polyester reduces carbon emissions by up to 30 per cent compared to virgin polyester and, since 2010, Nike has been using this material to produce football kits.
Tottenham Hotspur is equally dedicated to minimising the environmental impacts of its activities across all Club operations and was this year named the Premier League's greenest club following a study carried out by BBC Sport and the UN-backed Sport Positive Summit.
The 2021/22 Tottenham Hotspur Away Kit, along with selected items from the new Express Collection, are available to order now via Spurs Shops and online.