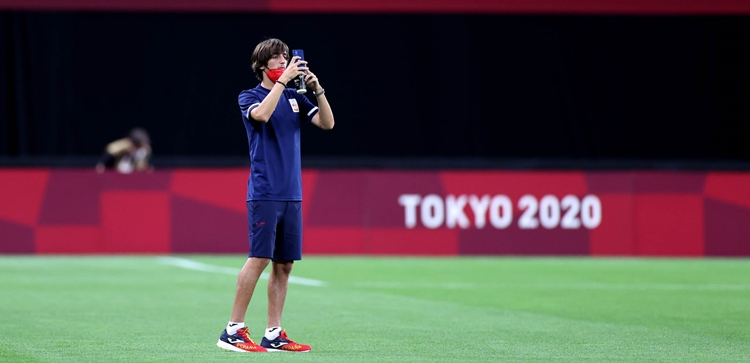 Bryan Gil exclusive: "I'm very proud to join Spurs"
@SpursOfficial
Tue 27 July 2021, 19:00|
Tottenham Hotspur
Bryan Gil has pledged to "give everything in every minute" from the first time he pulls on a Spurs shirt.
The exciting winger, 20, on Monday completed his move to the Club from Sevilla and will report for duty with us following his participation at the Olympic Games in Japan as part of the Spain men's football squad.
Speaking exclusively to us from his nation's camp, where he's preparing for a clash with Argentina in Saitama on Wednesday, Bryan declared: "I'm very proud to join Spurs. To represent the badge of a world-class club like Tottenham and be able to play in the Premier League feels great.
"I'm coming to Spurs to win points and give everything in every minute. As a player, on top of hard work and sacrifice, I want to contribute dribbling, goals and assists.
"The Premier League is the world's elite. The pace is non-stop, which is really attractive for players and fans. I can't wait for the season to start!"
A team-mate of Sergio Reguilon at Sevilla during the first half of the 2019/20 season, our new man shone during subsequent loan spells at Leganés and Eibar, but revealed he's been in touch with our all-action left-back about his move to north London.
"We haven't linked up much on the pitch but he's spoken very positively to me about the Club and the city," Bryan added.
Turning his attentions back to matters immediately at hand on the world stage, Bryan spoke of his pride at the chance to represent his nation in Japan.
"Playing in the Olympics is a very special thing, although due to COVID they can't go ahead as they should do (with fans), which is a shame," he said. "Even so, it's still a unique event and one I've always dreamed of competing at. Hopefully we can come back with a medal."