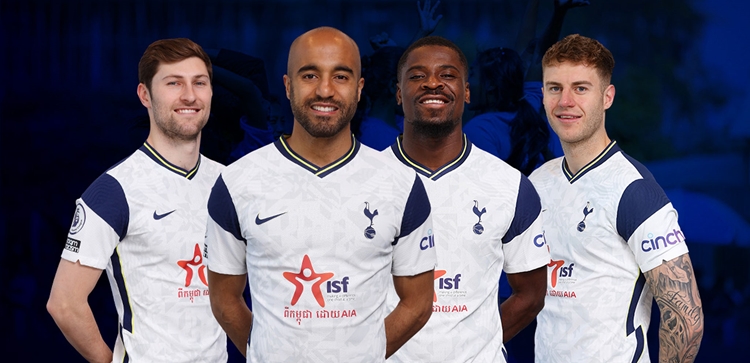 AIA shirt auction raises staggering amount for charity
@SpursOfficial
Wed 14 July 2021, 10:45|
Tottenham Hotspur
The auction of signed shirts worn by the men's team against Sheffield United in the Premier League on Sunday 2 May, in aid of ISF Cambodia and the Tottenham Hotspur Foundation, has raised a grand total of £62,106. We should like to thank all our fans that took part.
As part of AIA's long-term partnership with Tottenham Hotspur, their logo on the front of the team's shirt for the match was replaced to raise awareness for ISF Cambodia (ISF), a charity dedicated to using education to support the most underprivileged children in Cambodia.
Signed items auctioned off included shirts worn by Gareth Bale, who scored a hat-trick in a Man of the Match performance, and Heung-Min Son, who also added his name to the scoresheet on the day.
The funds raised will now go towards ISF and the Tottenham Hotspur Foundation - the Club's own charitable arm that is dedicated to creating-life changing opportunities for people across its local community.
With the money raised, ISF will be able to support 40 students in their Catch-up Education Programme for a whole year.
The aim of the programme is to give each student the foundation of a quality education, improve their health and nutrition, build their confidence, and give them the opportunity to build a brighter future.
Through the programme, students and their families have access to a wide variety of ISF services including health and medical care, employment support and monthly food parcels. By offering children and parents opportunities to learn new skills and better employment opportunities, it increases the likelihood of students staying in school and living in a more secure and safe environment.
Andrew Loh, CEO of AIA Cambodia, said: "We are humbled to be able to create more awareness about the ISF, promote their development programmes and showcase AIA Cambodia's support of local charities with just a single match. We thank everyone involved for their big-hearted support and for raising sufficient funds to better the life of 40 underprivileged children, and believe this act of generosity exemplifies not only how sport can bring us all together, but just how caring we can be towards one another during a time of need."
Vicheka Chourp, Country Manager at ISF Cambodia, said: "Thank you, Tottenham Hotspur and AIA Cambodia, for your incredible support and collaboration. Our team is delighted to share that, with your generous donation, we can enrol 40 students in our Catch-Up Education Programme for the year. These students have never had the opportunity to attend school or had to drop out to support their families. With the funds raised, we can help build students and their families a brighter future."
Sarah Ebanja, CEO of Tottenham Hotspur Foundation, said: "After what has been a challenging year for so many, the money raised from the auction will enable Tottenham Hotspur Foundation to offer more to our local communities who have struggled during the pandemic. On behalf of everyone at Tottenham Hotspur Foundation, thank you to all our generous fans who took part in the auction."